10 apartment kitchen ideas: smart ways to update a studio
7 min read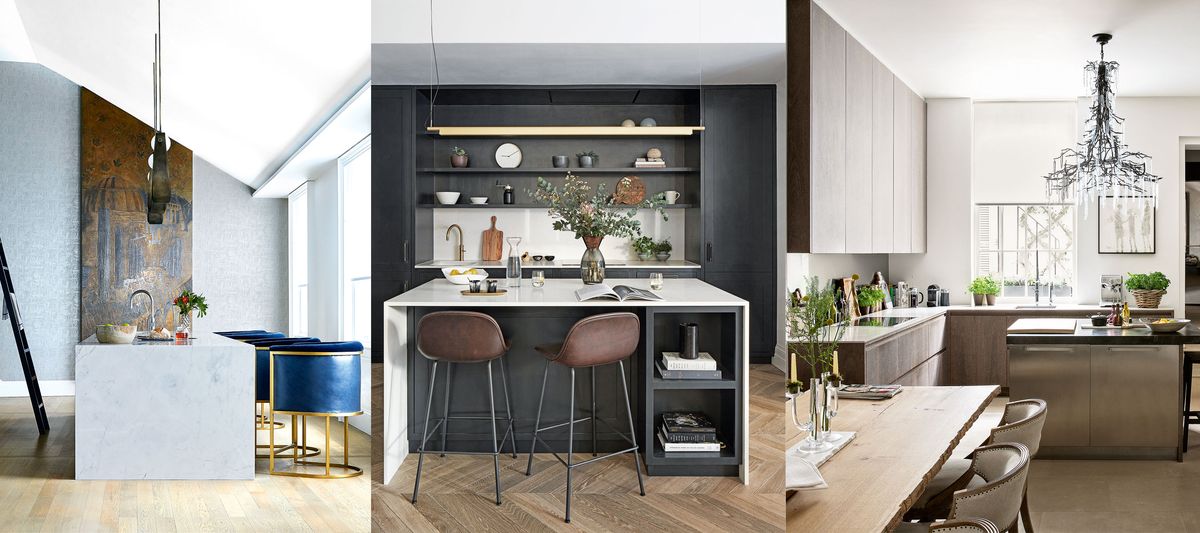 If you are looking for apartment kitchen ideas, then you'll be more than aware of the tricky task of making a small kitchen look much bigger than it actually is, while also trying to make every corner stylish as well as functional. 
Though it can be challenging to find the right kitchen ideas for apartments, there are several benefits to compact living. For a start, when designing a small kitchen for an apartment, you'll soon realize that it's easy to keep everything to hand. Plus, there is a wealth of clever small kitchen storage ideas available to get the very best out of every inch. 
Here we explore the very best apartment kitchen ideas, with expert advice from a selection of our favorite kitchen designers.
Apartment kitchen ideas – 10 ways to enhance a studio or rental space
One of the main advantages of a apartment kitchen is the convenient accessibility of everything that's needed. Easy maintenance is another reward. All you have to do now is to find the perfect kitchen layout ideas, color palette, cabinetry and kitchen storage ideas to suit your space. These apartment kitchen ideas will help inspire you to achieve the space of your dreams, no matter its size.
1. Team different materials together for a modern look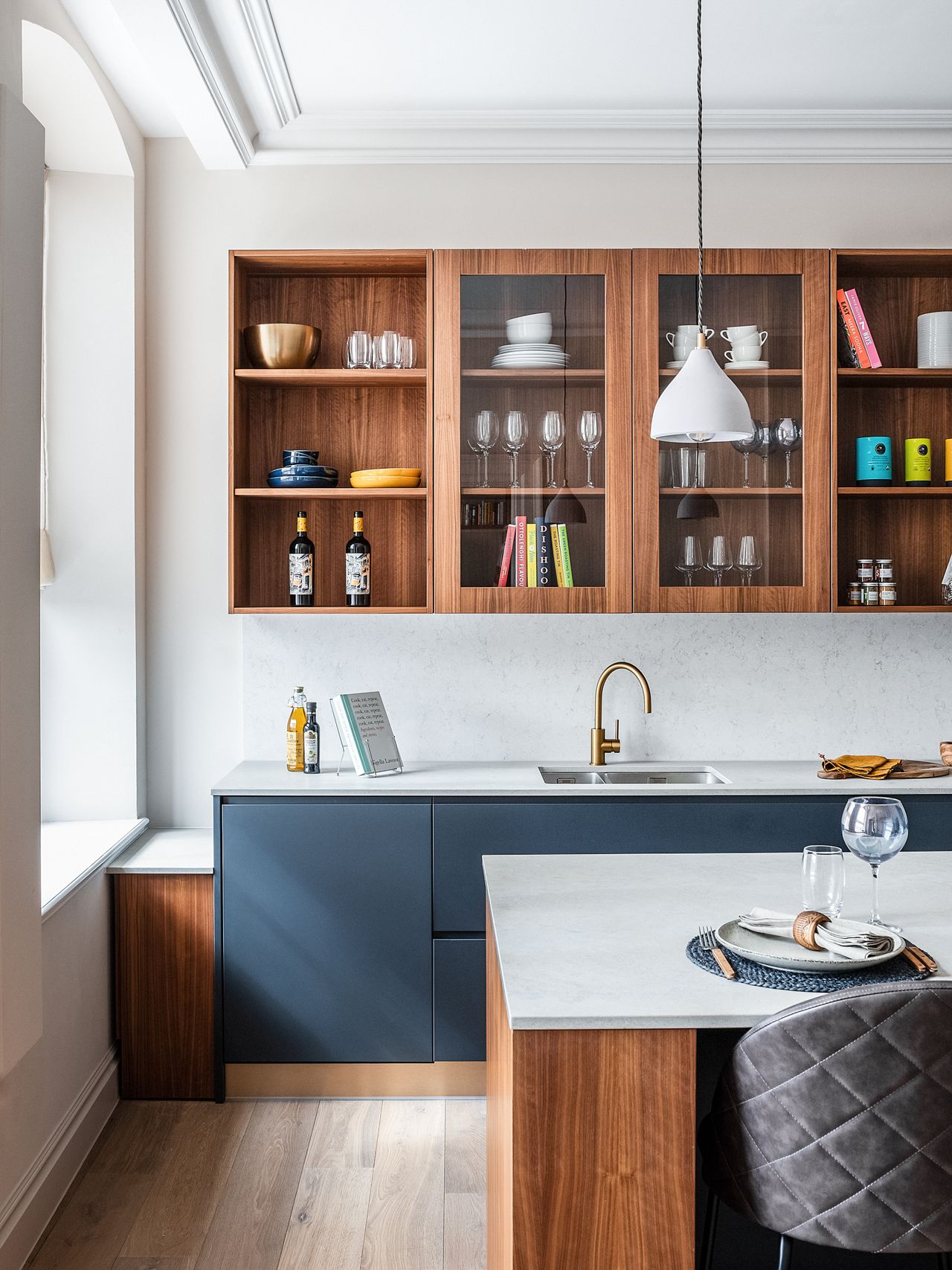 Stop your apartment kitchen from looking dull or dated by mixing materials for added interest. Since the past year has forced us to adapt our kitchens to fit several different roles – versatility has taken on an entirely new meaning. However, versatility doesn't need to be boring. In fact, according to home designer at Neptune, George Miller, versatility in an apartment kitchen is vital. And, mixed material kitchens allow you to shake up your scheme as you desire.
'For a recent apartment in Covent Garden, we complemented the stone-topped cabinetry with satin gold taps, distinctly warm tones and added padded faux-leather bar stools for a contemporary yet practical look,' says Rosie Ward, creative director at Ward & Co.
2. Zone the kitchen area with a bold red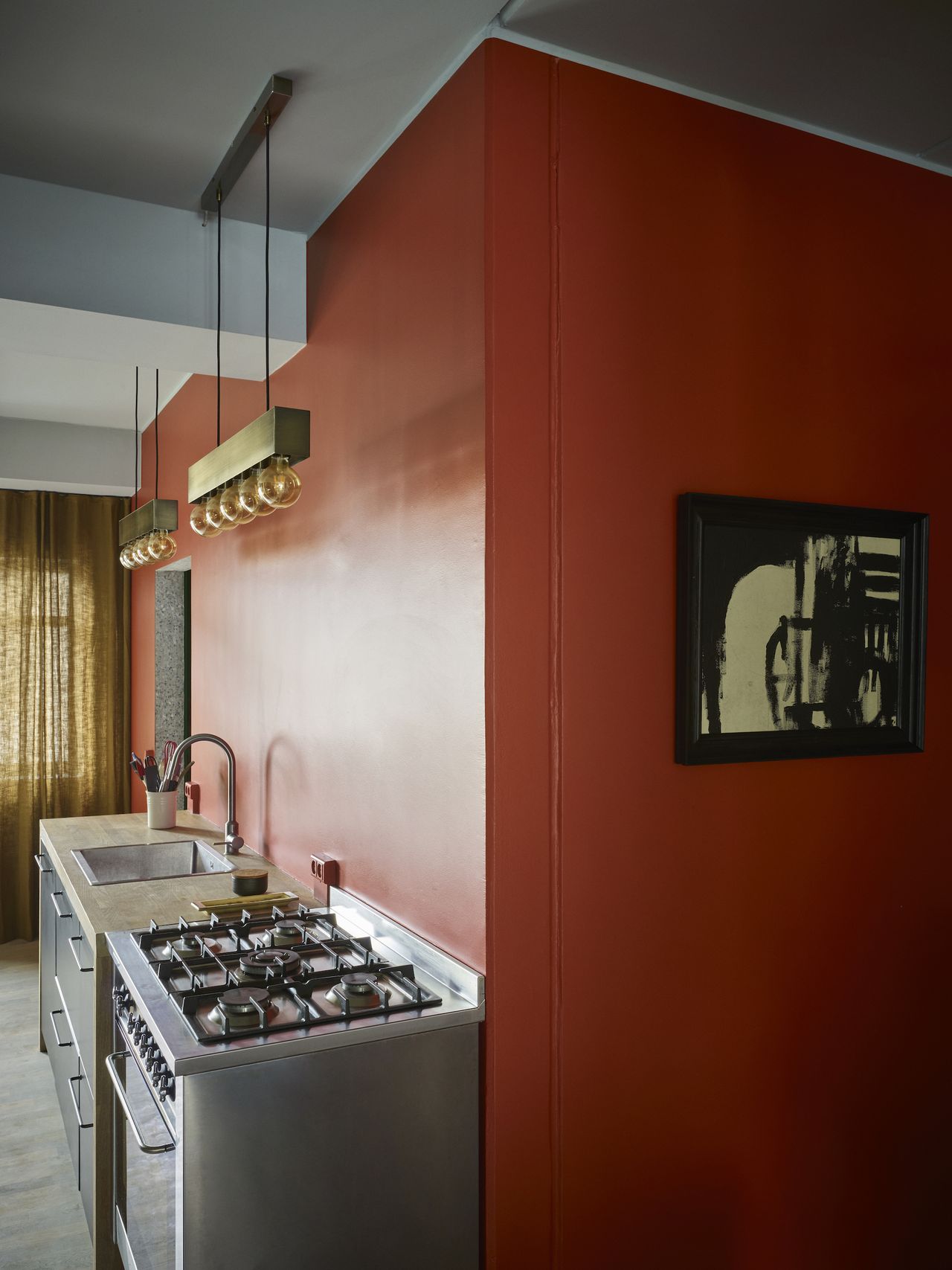 If you are looking for kitchen color ideas that will never date, a red kitchen is certainly one to consider. 
'Apartment kitchens usually act as multi-functioning areas, so color zoning can be a simple solution to creating different spaces within one room,' says Patrick O'Donnell, brand ambassador at Farrow & Ball. 'It can be as easy as painting a contrasting color on furniture or a bookcase or larder cupboard, or an accent wall in the kitchen area with a bold pop of color such as the warm Terre D'egypte.'
When it comes to using color in the kitchen, Ruth Mottershead, creative director, Little Greene agrees: 'As well as the walls, consider your kitchen cabinets and storage: highlighting these essential elements within an apartment kitchen is a fantastic way to deliver design impact. Are there architectural features or areas of interest to draw attention to? Color is a fantastic way to highlight a favorite feature. If you don't want to use a bold color all over, highlight the back of your shelving in a contrasting color or opt for a dynamic two-tone color scheme by adding one color to the lower cabinets and contrasting colors for walls and upper cabinets.'
3. Use the same floor in an open plan space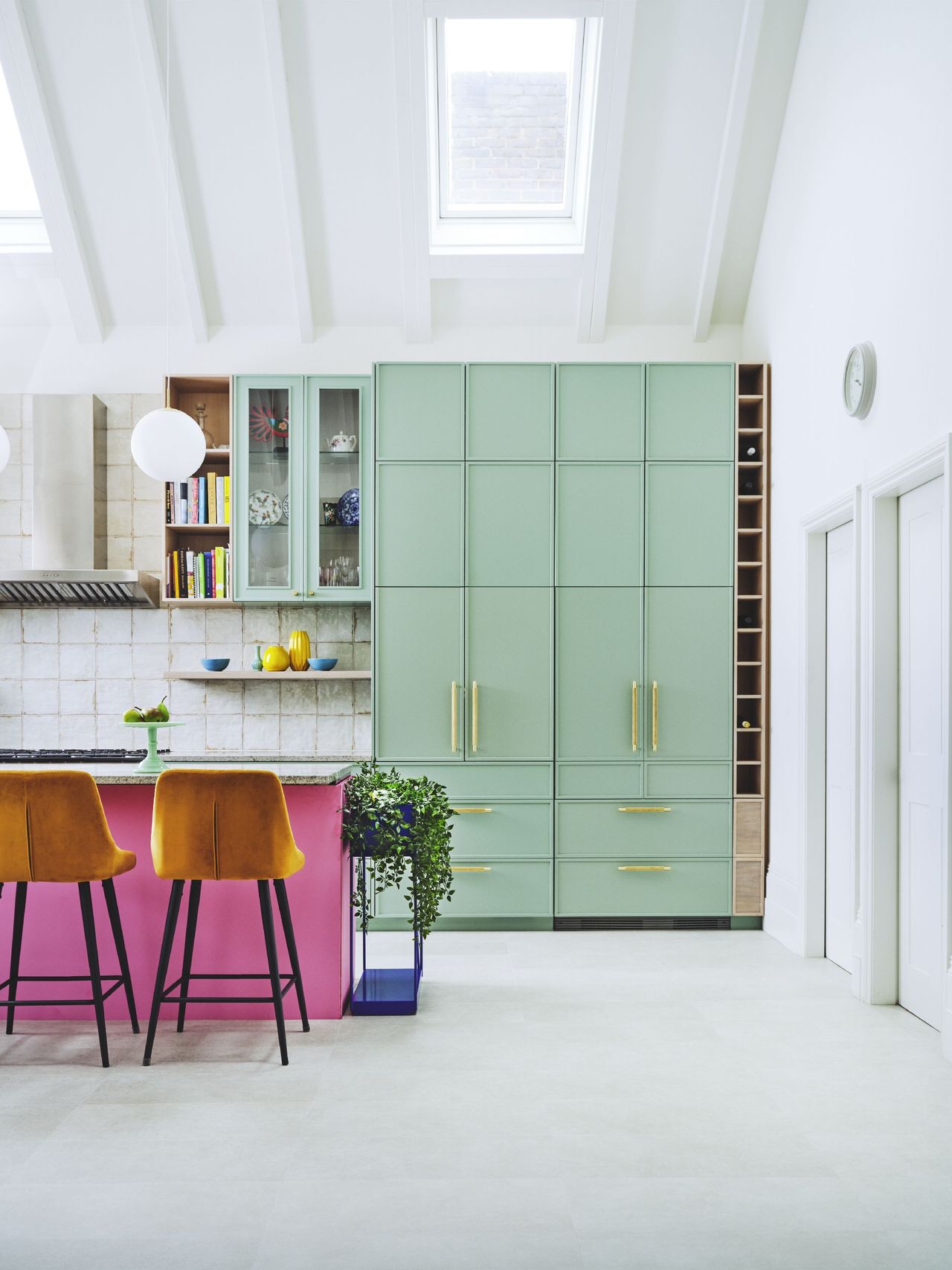 'Space is usually at a premium in apartments, so making sure each room or zone feel spacious is important,' says David Snazel, hard flooring buyer at Carpetright. 'Where you have an open plan kitchen, one of the best ways of achieving this is to use a single type of flooring to unify the spaces. Using a durable material such as wood, laminate or luxury vinyl means that if your space includes a kitchen, the flooring can withstand the bumps and spills of everyday life.'
4. Let in the light with glass doors and a pale floor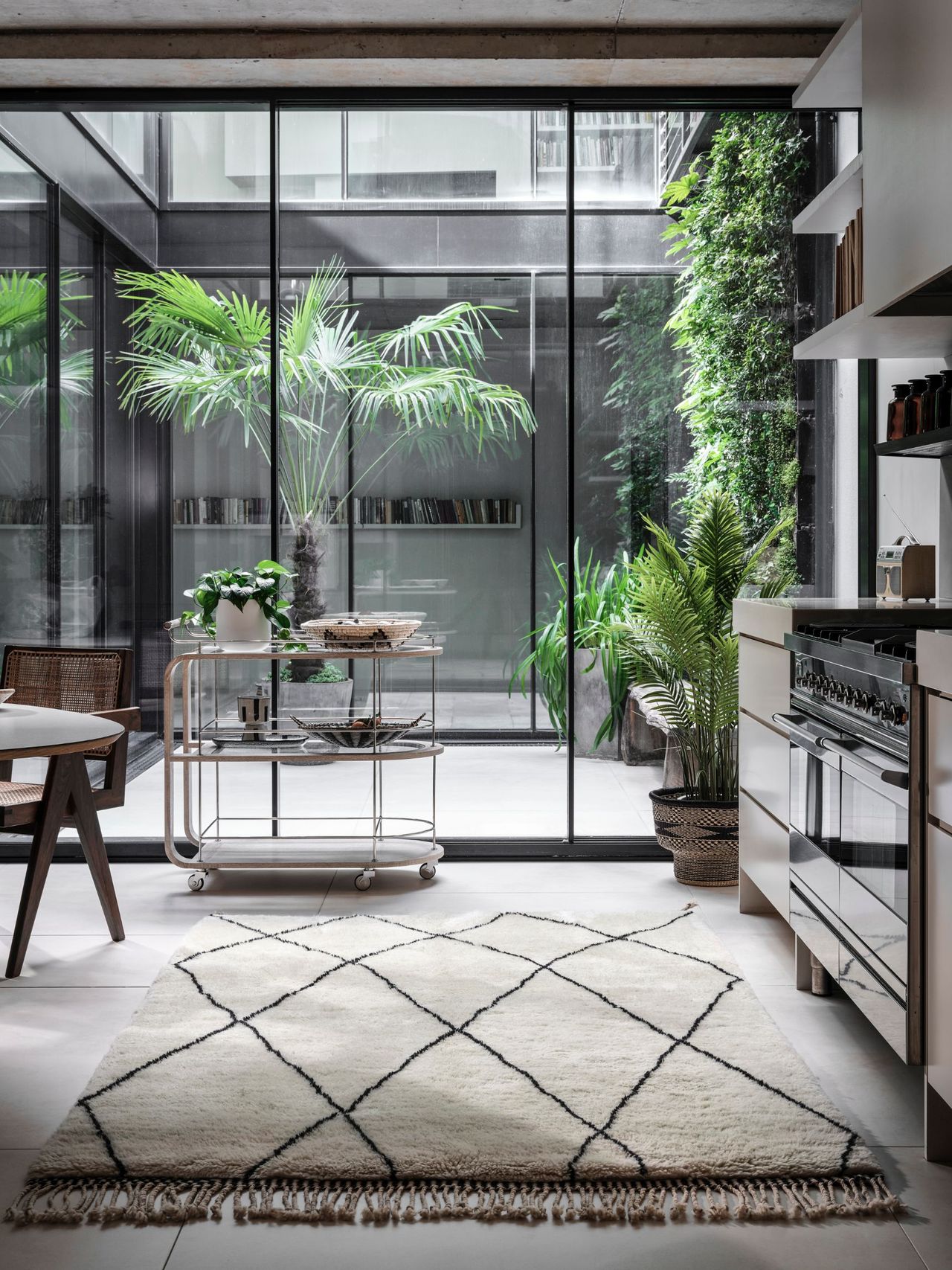 'A ground floor apartment kitchen may be lacking in natural light, to combat this use glass doors where possible and choose neutral colored cabinets and a pale stone floor,' says Lucy Searle, global editor in chief, Homes & Gardens. 'Introduce textures like wood, metal and a tactile rug to soften the edges visually.
5. Use warm colors for a cozy feel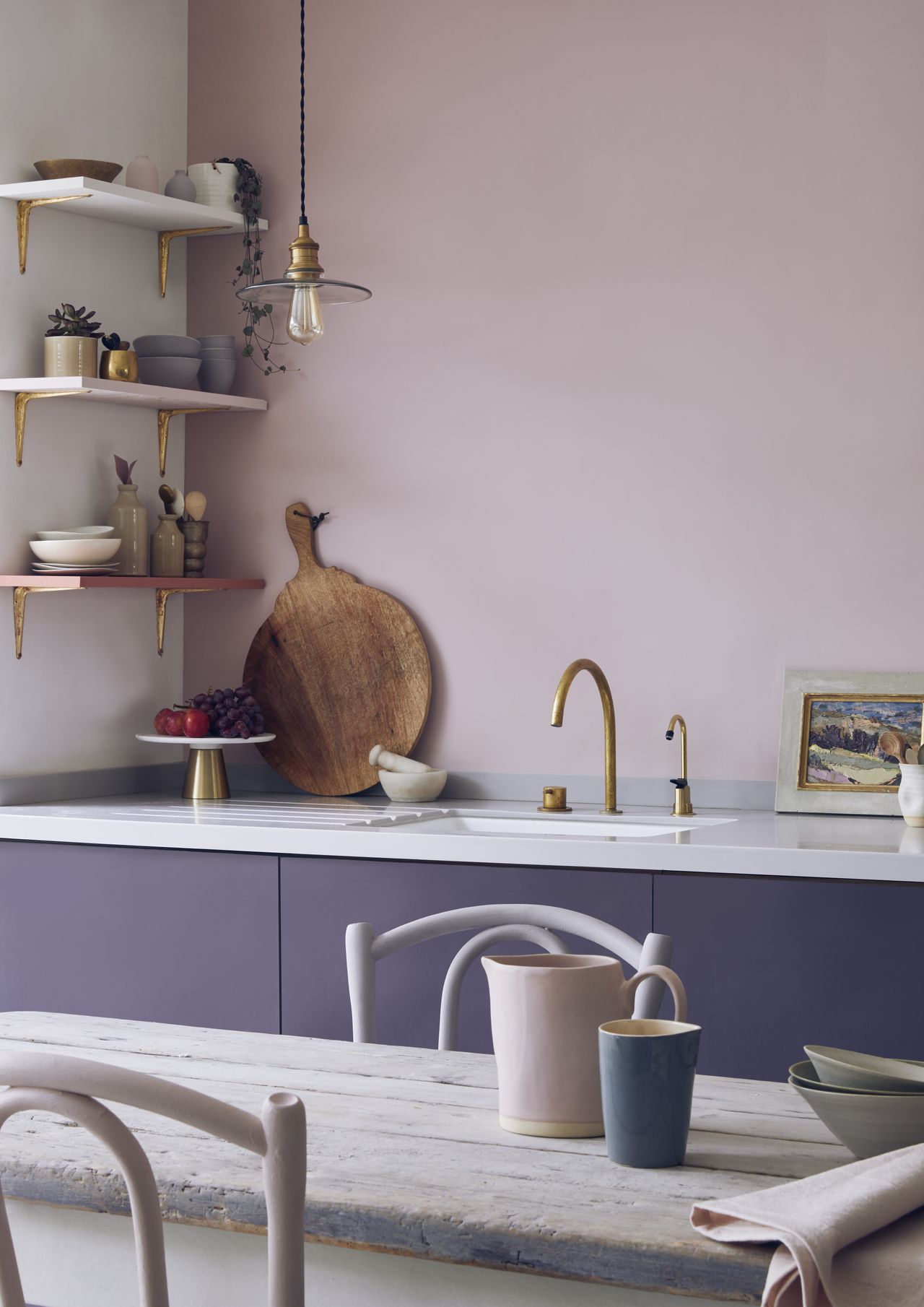 Purple room ideas are having something of an interior design moment. With Pantone having recently announced 'Very Peri', a bold blue-violet shade, as its color of the year 2022, we're seeing the color feature more in apartment kitchens.
'Purples in general are warm, comforting colors, and they have the receding values of blue, making a space feel larger, as well as the warming properties of red, making a space feel cozy,' says Annie Sloan, color expert at Annie Sloan. 
6. Create a grand affair with marble, gold and velvet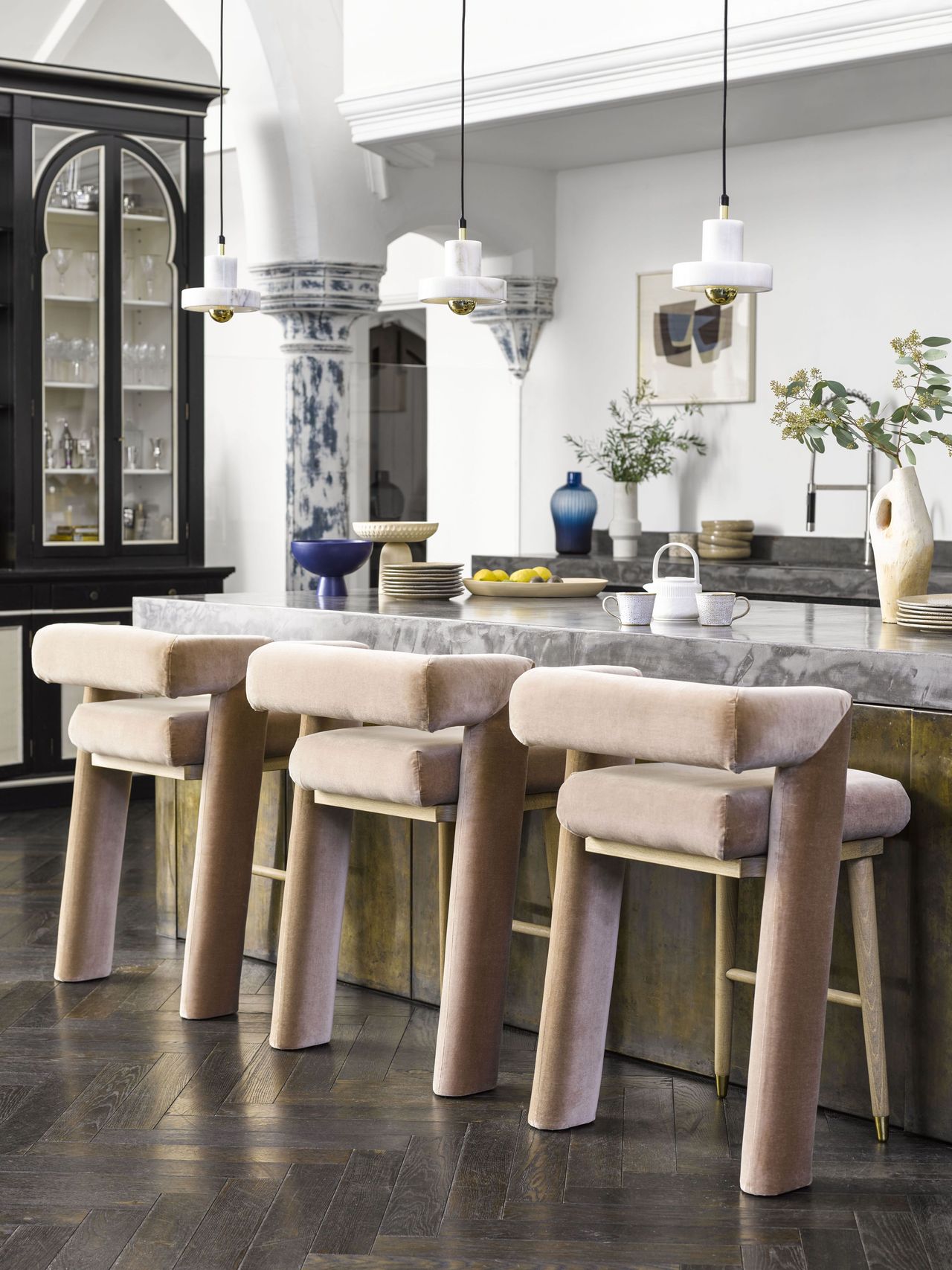 Luxury kitchen ideas should not be reserved for large kitchens. In fact, apartment kitchens are the perfect place to invest in expensive materials that exude opulence. 
'If you're lucky enough to have an apartment kitchen in a period property you'll possibly have high ceilings, architectural detailing and original wood floorboards,' says Melanie Griffiths, editor, Period Living. 'To carry on the 'grandness' of such a space invest in luxury elements like a marble kitchen countertop, plush velvet bar stools and hints of gold.'
7. Add decorative details to your kitchen cabinets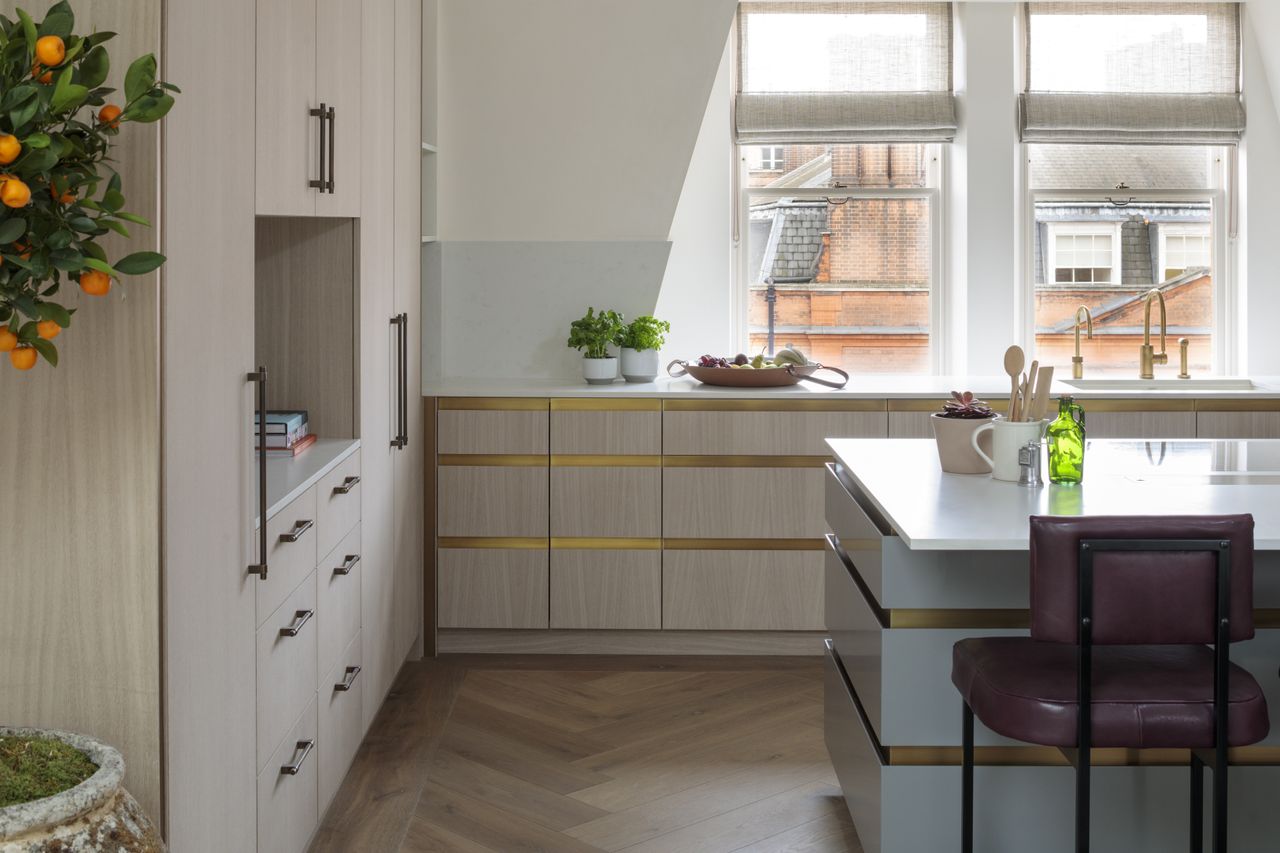 'Whilst we always prioritize creating nuanced and refined interiors, practicality and comfort are central to everything we do,' says Clara Ewart, head of design at Kitesgrove. 
'When designing a kitchen space, this means maximizing aesthetic but practical storage solutions. The addition of brass accents to the drawers in this apartment kitchen add character and depth to the space, whilst high level kitchen cabinet ideas create much needed storage. Introducing a central island creates a social area within the kitchen space, therefore making the space multifunctional.'
8. Keep it contemporary with steel-framed windows and doors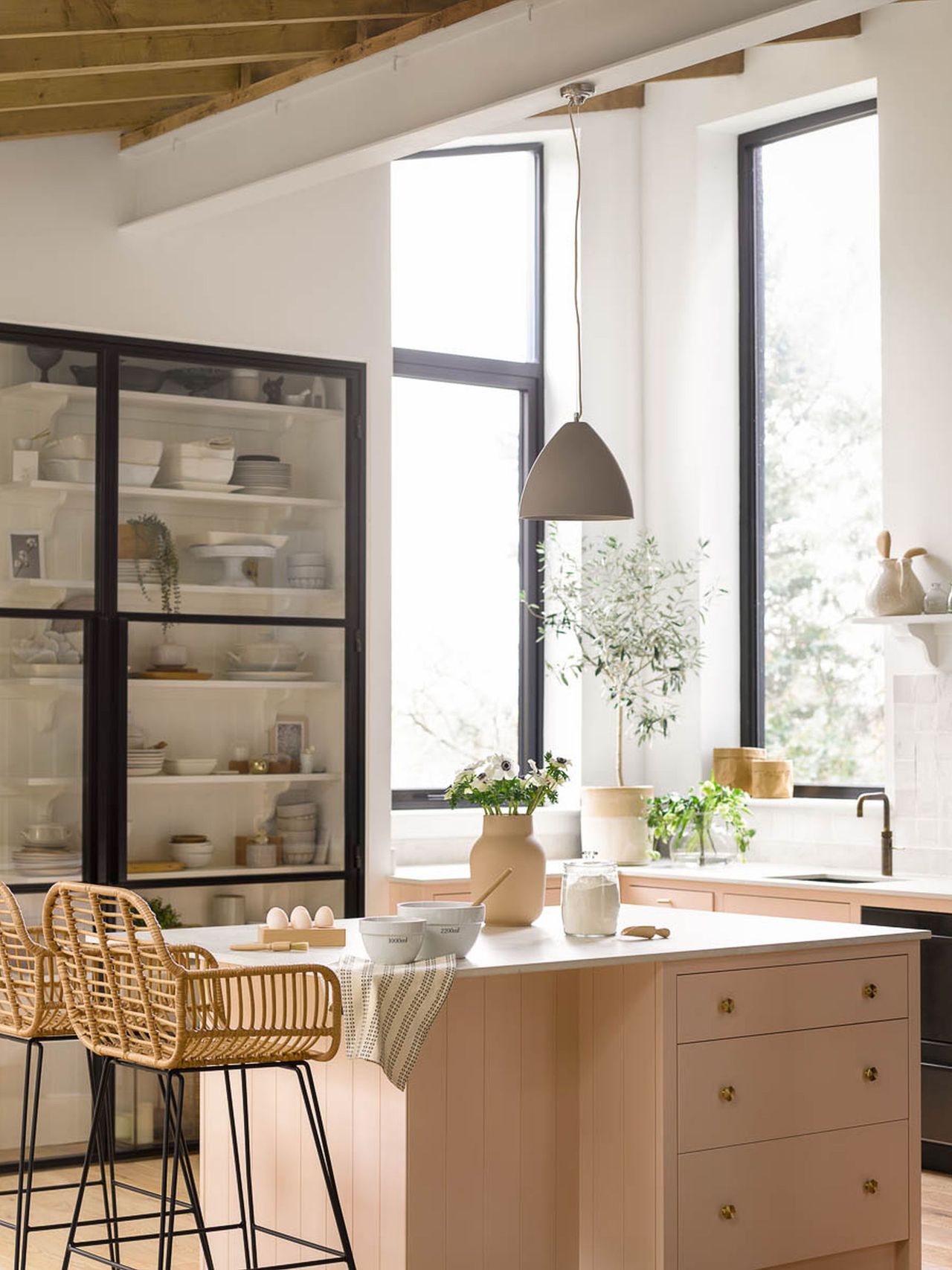 'There's absolutely no reason why you can't have the kitchen of your dreams in an apartment,' says Jennifer Ebert, digital editor, Homes & Gardens. 'This modern kitchen idea is a great example – the steel-framed windows and pantry doors give it a smart edge and we love the blush pink cabinets and kitchen island. The result is a light and airy space that you'll want to spend time in.'
9. Invest in as much kitchen storage space as possible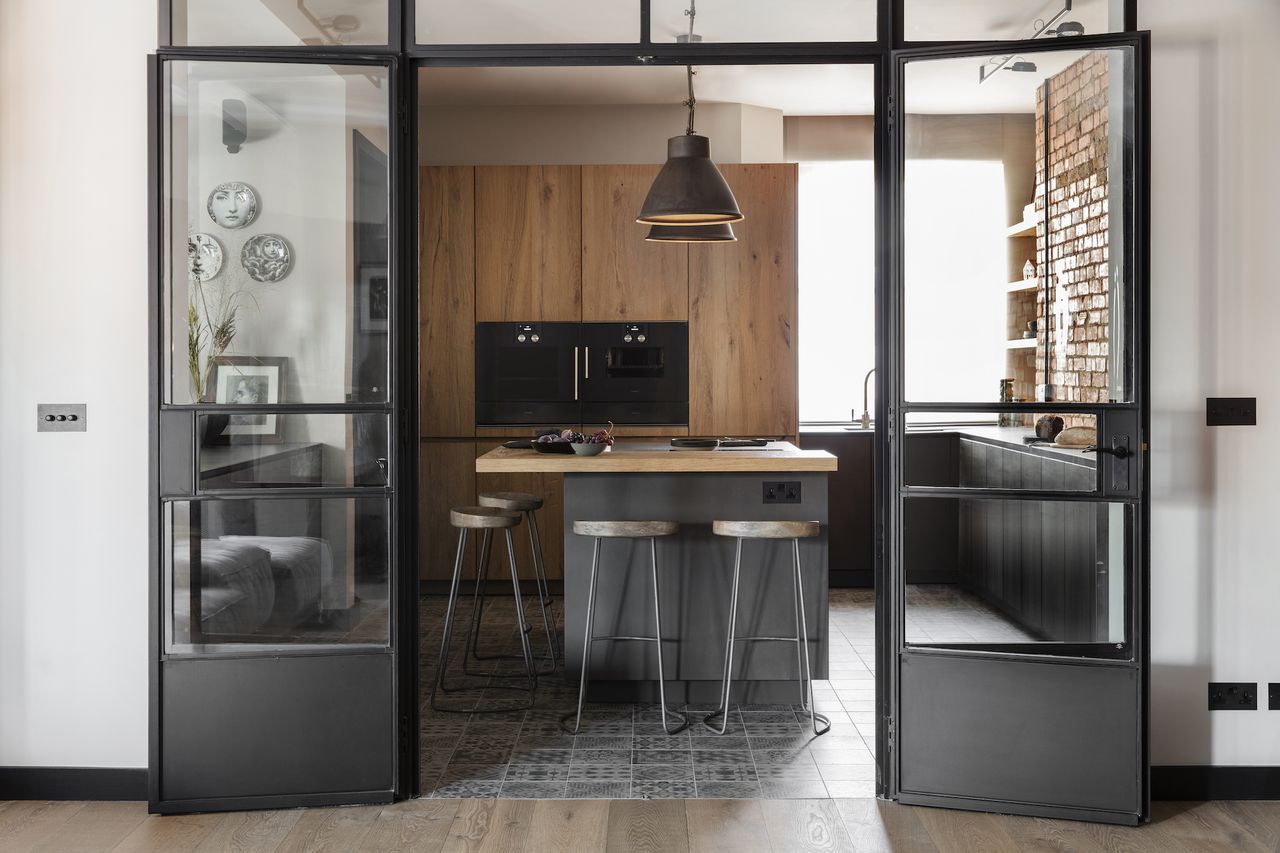 'In this apartment, a large window in the entrance hall opens up another view to the kitchen,' Gary Singer, founder and creative director, Eggersmann Design. 'We combined the exposed brickwork with hand-applied dark concrete with vintage oak and hot-rolled steel surfaces to create a hard-working and tactile kitchen space with an elegant industrial presence.'
'If the space permits it then I will always recommend an island or peninsula. It creates a much more social and functional kitchen while also providing lots of additional storage.'
10. Choose white to create the illusion of more space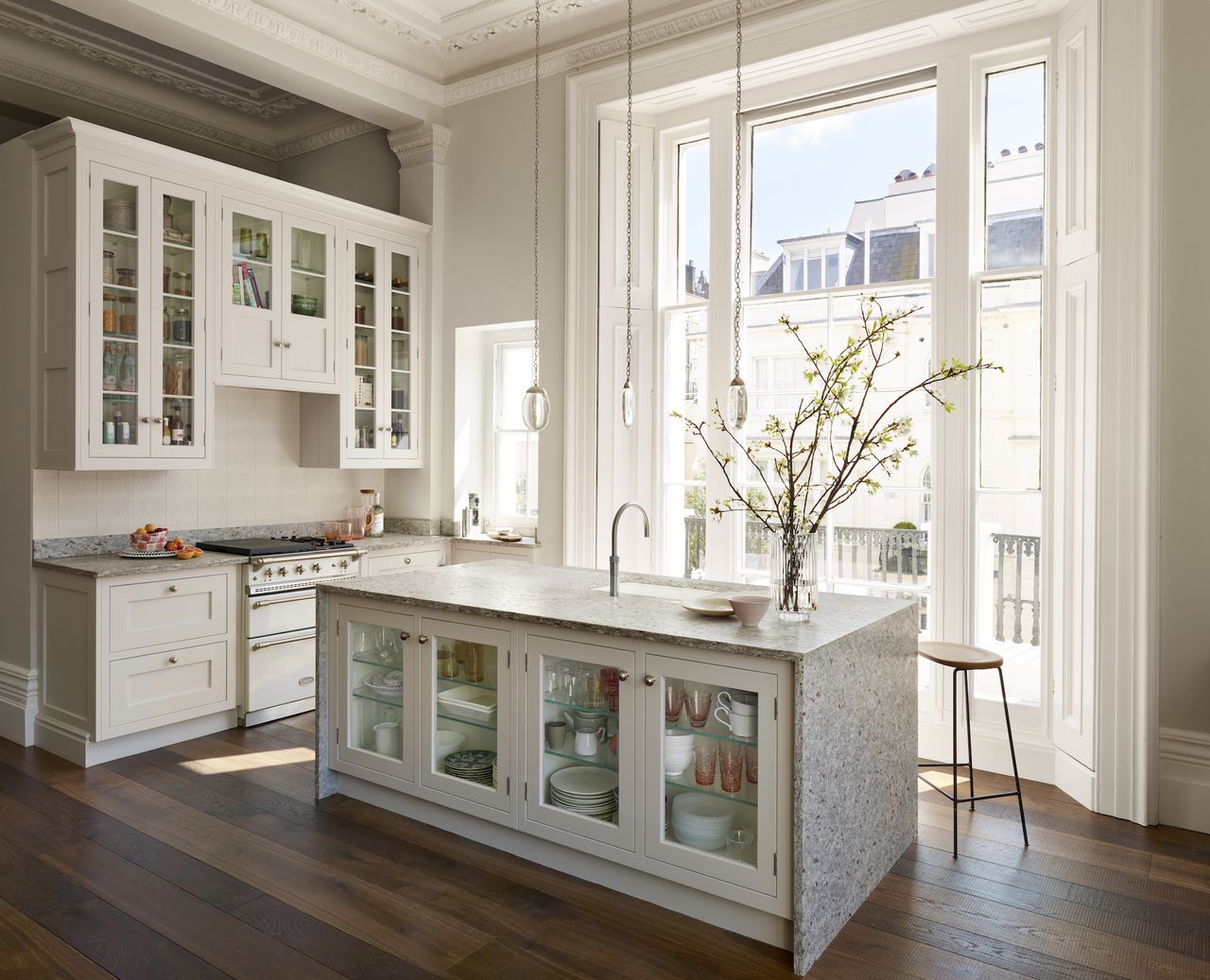 The best white kitchen ideas simply never date – but don't think they're a boring option. There's nothing cleaner or crisper than a pure white kitchen; it's a look that lasts, no matter what the latest kitchen trend may be.
'The brief for this beautiful one bedroom apartment in west London was to create an elegant kitchen that would blend well with the rest of the living space,' says Richard Moore, design director at Martin Moore. 'However, with only one room to accommodate the owners' cooking, dining and living needs, careful planning was essential when approaching the design.'
'The central kitchen island forms the heart of the kitchen, providing not only ample storage and prepping space but also a small, informal breakfast bar idea that offers another casual, social zone within the room. The dominance of the beautiful, large French windows left just one wall for fitted cabinets; in order to use this area as effectively as possible, and taking full advantage of the property's high ceilings.'
'The color scheme of the kitchen was kept deliberately warm and neutral, interacting with the abundance of natural light within the room, in order to create the illusion of a brighter, larger kitchen space.'
How can I improve my apartment kitchen?
If you want to improve an apartment kitchen, then getting the right designer on board is key and, crucially, the kitchen needs to be designed to suit the space, rather than picking a range or style and trying to adapt your apartment kitchen ideas to fit. 
Dual purpose pieces and good internal storage will make the most of cupboard space. You should also make every attempt to keep work surface clear of clutter. 
Look for compact appliances, choosing premium models that give the optimum internal space while still fitting a standard or compact footprint. It's also worth taking shape into account – U-shaped kitchens for example, can work really well in a small space, or if your apartment kitchen is on the narrow side, then consider a galley kitchen layout that will maximize every inch.
Paint your kitchen is a cost-effective way to improve an existing apartment kitchen. 
'Don't be afraid to use color – even really bright kitchen color ideas are worth experimenting with. It's a great way to give your kitchen a boost if you haven't got a great deal of space in your studio or rental home,' advises Adrian Stoneham of Stoneham Kitchens.
https://www.homesandgardens.com/kitchens/apartment-kitchen-ideas