11 Amazing Garage Conversion Ideas
10 min read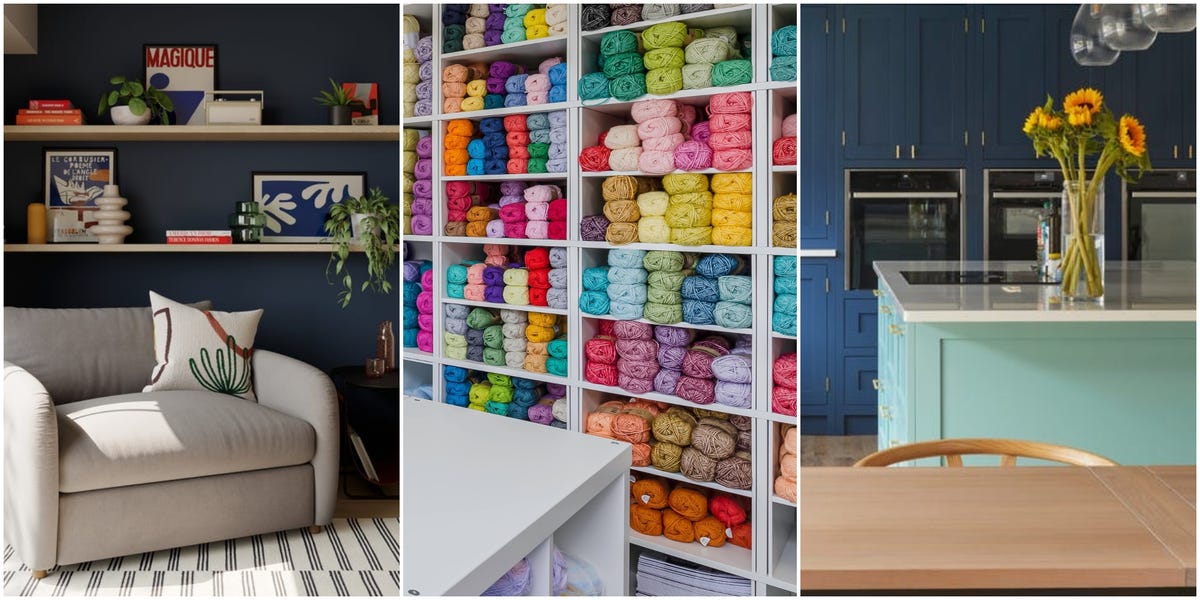 If you need more space and don't want to move, extend into the garden or convert the loft, the obvious place to look is in the garage.
The RAC Home Insurance found that almost six million UK garages – that's half of our estimated 11 million garages in total – are no longer even used for a car because they're so full of clutter and junk.
All that space going to waste – and just imagine what you could do with it. A typical single garage, according to specialist company Garage Plans, is 3m (9.8 ft) wide by 6m (19.6 ft) long, so that's 18 sqm or 192 sq ft of floor space alone, not even considering the wall height, which could be put to good use, making your existing home larger and easier to live in.
This popular home improvement is almost guaranteed to add value too; a converted garage will increase the value of a home, on average, by between 10 and 15 per cent, according to Virgin Money.
Here are 11 clever ways to convert your garage, plus how much each idea costs, and what benefits and value they could bring to your home.
First you need to check that your garage is suitable for conversion. If it's the older freestanding type and contains asbestos, for example, conversion is never advised and you would be better off demolishing the structure and starting again.
Most garages do not need planning permission for conversion, although there are strict rules about not building out the front of the garage beyond the existing curtilage (perimeter of existing building) or increasing the height. Special rules also apply in conservation areas, AONBs (Areas of Outstanding Natural Beauty) and listed properties. However, typically, the work involved in converting a garage will be classed as permitted development, so you won't need planning permission. Always check with your local planning authority, just to be sure.
A garage conversion is, however, always subject to building regulations to ensure it is safe and structurally sound. Building regulations cover essential elements such as drainage, electrics, wall and roof.
If you're using a builder, architect or garage conversion company, they will generally organise building regulations inspections and approval through the local council's building control service or an approved independent inspector. However, ultimate responsibility for building regulations does rest with the homeowner, so ensure checks and approval are carried out correctly or you may have legal issues should you come to sell your home.
Garage conversion idea 1: Home office or business premises
If you've decided to WFH permanently, or embrace 'hybrid working' by dividing your time between office or home, a converted garage makes an ideal home office. You could even – subject to any local conditions (check with your local council) and the proper insurances in place – set up a business in your garage, such as crafting, dog grooming or beauty treatments.
Space will be at a premium, but you will also need a comfortable working environment year-round. So consider underfloor heating rather than radiators. An electric system rather than 'wet' which is connected to the hot water supply, is easier to install and could be cheaper to run, given gas price rises; try The Underfloor Heating Store for a good range.
Ex-garages often feel slightly utilitarian, so when you're considering the interior design, pick up the style of the house, and use softer lamps rather than harsh office-style ceiling lights, advises Elaine Penhaul, founder of Lemon & Lime, a home staging company.
Average cost: £11,648 via Rated People.
Garage conversion idea 2: Family annexe
'Annexes, extensions, new conservatories and building walls to create separate rooms are among the top five improvements that homeowners want to spend the most money on in 2022,' says Adrienne Minster, CEO of find-a-tradesperson website Rated People.
Turning your garage into an annexe, perhaps for an older family member or a younger person saving to get on the housing ladder, creates flexible living space that can adapt as needs change.
This major improvement demands attention to detail – you are, after all, creating a home within a home. So don't be afraid to get an architect on board. The costs will be outweighed with the extra value a well-designed annexe will add. 'Even if the idea you agree on ends up requiring planning permission, this will give your architect freedom to create a worthwhile addition to your home,' says Wayne Greenway, director of Greenway Developments.
Average cost: £17,003 (Rated People), but depends on cost of design and planning, if required.
Garage conversion idea 3: Extra bedroom
Making the most of all natural light available will make this conversion better for rest and wellbeing. If the garage is freestanding, the simple addition of a VELUX window in the roof will bring in light without compromising wall space. Another option, which is good for privacy, would be to have clerestory windows sited high up in the external wall, or even an internal wall if there is natural light available within the main house. This would work for an attached or integral garage.
Choose décor and furnishings that maximise natural light, says Elaine Penhaul of Lemon & Lime Interiors: 'Light-coloured walls and furniture help to reflect the natural light from any windows, creating a lighter space overall.'
Average cost: Architectural practice Resi puts the cost of converting a garage into a bedroom at between £6,000-£15,000, depending on level of finish.
Garage conversion idea 4: New kitchen
'Knocking your (attached) garage into your kitchen may lose you a place to park, but it gives you so much more space to create a kitchen that is big enough to hang out in, entertain in and best of all have a big island or family table,' says Helen Parker, creative director of kitchen company deVOL. 'We are always telling people to open their eyes to what they already have before considering moving house. There are so many ways to reconfigure your home to establish new rooms or enlarge family spaces.'
Opening up this space allows great potential for re-positioning walls and carving out entirely new areas – such as a pantry or utility room. You will need a good kitchen designer to help you configure the new space effectively, so take time in the planning and gather at least three potential designs and quotes before making any decisions.
Average cost: £13,877 (Rated People)
Garage conversion idea 5: Studio for art, music or other creative pursuits
If you're going to use the space for painting or other arts/crafts activities, follow the rules for bringing in natural light, see above, extra bedroom. If the studio is for music, take professional advice on sound proofing, especially if the garage walls adjoin the main house. The Sound Proofing Store is a good starting point.
And do think future-proofing. A well-orchestrated studio can be a valuable addition to a home. 'These days buyers want sophisticated studios to not only be equipped with mains water, power, lighting and heating, so that they can be used throughout the year, but also underfloor heating, air conditioning and fully networked and integrated spaces,' says London estate agent Mark Pollack, co-founding director at Aston Chase estate agency.
Mark says these creative spaces are a boon, especially in family homes, because they take pressure off a main house and keep the garden intact.
Average cost: £13,611 and upwards, depending on level of technology.
Garage conversion idea 6: Utility, boot room or dog room
If the size of your garage allows, you can add a utility area for the washing machine, tumble dryer, extra freezer and sink, a boot room with storage for coats and wellies, or even a dog room with washing facilities – such as a spray tap and a dog bath. LochAnna Kitchens has the smart butler's sink-style Cameo, part of the Brompton Collection, and it can still accommodate the car or another use.
'The number of projects specifying multi-functional utility rooms has tripled over the past two years,' says Graeme Smith, head of retail and commercial design at Life Kitchens. 'Utilities have evolved from a place to store and do laundry to space that allows homeowners to keep unsightly items such as chest freezers out of the main kitchen.'
Average cost: £11,015.
Garage conversion idea 7: Super storage space
There's an obvious use for a garage and that's proper, tidy and organised storage. It's worthwhile undertaking a root-and-branch declutter, donating or recycling unwanted items and then stepping back and taking a good look at the space available.
'Open storage, such as bespoke wall mounted shelves can look just as tidy as hiding your belongings behind closed doors,' says Emily Caloe, senior buyer for furniture company VonHaus. 'It's important not to overload open storage spaces, as it can make the space feel cluttered and disorganised.'
Average cost: Difficult to quantify, as storage needs will differ. Big Dug's super-strong Garage Industrial Shelving in black costs from £59 for five shelves.
Garage conversion idea 8: Potting shed/flower room
If you've outgrown your garden shed, converting the garage into a practical undercover gardening space is a good move. You might not even be required to seek permission under Permitted Development, or planning permission, because you're still using your garage for a practical purpose with no 'living' element. Check with your local council if you're unsure.
Whilst many avid gardeners simply gravitate towards the garage when they need extra storage space for pots and planters, or an undercover space for pricking out seedlings, it's nice to be able to customise the space and make it more comfortable for working in.
Gardening writer, kitchen gardener and hen-keeper Francine Raymond, who lives in Whitstable, Kent, turned her own garage into a potting shed by having the walls lined with Smartply, an environmentally-friendly MDF ply. 'I didn't insulate the walls,' she says. 'Although I could have.' She had half the corrugated iron roof replaced with clear corrugated polycarbonate by Cut Once Woodworks, replaced a side door with double glazed doors, added a vintage Victorian window in the wall and painted the concrete floor with floor paint.
Average cost: Potentially £0 if you use existing items.
Garage conversion idea 9: Playroom to teenage hang-out
Every family needs extra space as children grow. Any kind of garage, integral, attached or freestanding, can provide this flexibility; a playroom for under-fives which turns into a den for under-12s, which eventually becomes a teenage hangout and even, a party room.
Younger children need light to play and paint to do crafts and older children and teenagers (and their friends) need easy access, so it's sensible to replace the garage door with secure glass sliding or folding doors. Fit a blind for privacy and security, Blinds 2go does a charcoal Venetian blind for bi-fold doors, from £24.25.
You'll need to ensure adequate electrical sockets and Wi-Fi provision. Always use a NICEIC-registered electrician for installations. Ask a local Wi-Fi specialist for advice on establishing a reliable internet connection in the new room.
Average cost: About the same as an extra bedroom, depending on technical specification, £6,000-£15,000 (Resi).
Garage conversion idea 10: Entertaining space
Converting the garage for entertaining doesn't have to mean it turns into a neon-lit 'man-cave' with optics on the wall and battered armchairs.
It could involve knocking through an adjoining wall to add a relaxed entertaining space to the rest of the house, or converting to a loggia – an outdoor room with a roof and open sides. The dimensions of an attached garage lend themselves perfectly to conversion in this way, or you could repurpose a detached garage into a freestanding pergola-style structure.
'Traditionally, loggias – which have their origins in Mediterranean countries, either ran along the facade of a building or could exist as a standalone feature,' says James Upton, managing director at Westbury Garden Rooms. 'Homeowners want to introduce a loggia to create a modern entertainment space that gives their evening dinner parties and summer dining experiences some added wow factor.'
Average cost: £11,757 to convert the space for entertaining, plus extra for loggia or pergola elements, depending on size.
Garage conversion idea 11: Gym or family fitness studio
Rob Clarke, a director at Motive8, a national gym consultancy, has lots of excellent ideas for designing a bespoke gym in your garage. Family gyms are the biggest recent trend, he says: 'You can get your garage gym design to work for all age ranges in the household, even splitting up your floor plan into zones for different generations.
'For the kids, you'll need to place an emphasis on fun and safety. You could motivate them with a child-friendly version of stationary bikes, barbells and step machines or go full-fun with trampolines, exercise balls, skipping ropes and gymnastic balance beams.'
Rob adds that whilst garages make great gyms, these spaces can be dark: 'Installing a window and the use of mirrors is key to maximising light and creating a welcoming environment. And you should also remember that you need ventilation.'
Average cost: £12,057, depending on equipment.
*Unless stated otherwise, costings data is sourced from Rated People's 2022 Home Improvement Trends Report – to generate these insights, Rated People analysed over 800,000 home improvement jobs posted by UK homeowners who were looking for tradespeople on the Rated People platform, and they also interviewed more than 2,000 homeowners across the UK.
Follow House Beautiful on Instagram.
This content is created and maintained by a third party, and imported onto this page to help users provide their email addresses. You may be able to find more information about this and similar content at piano.io

https://www.housebeautiful.com/uk/renovate/build/a39683065/garage-conversion-ideas/