18 Best Green Kitchen Cabinet Ideas
4 min read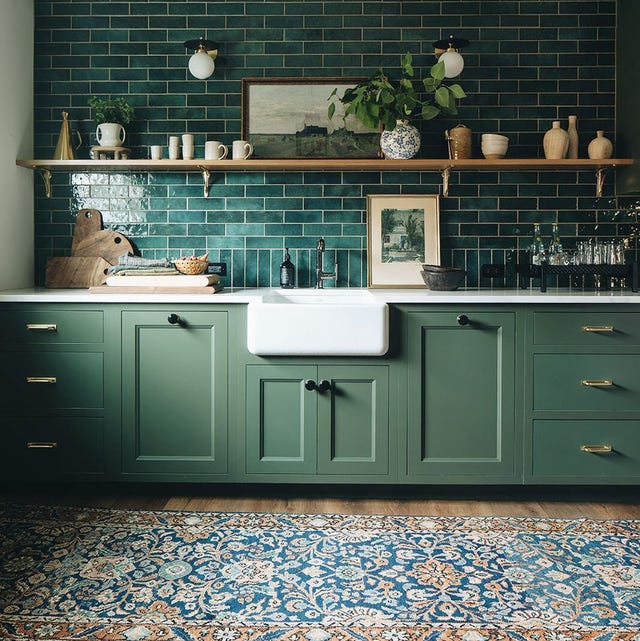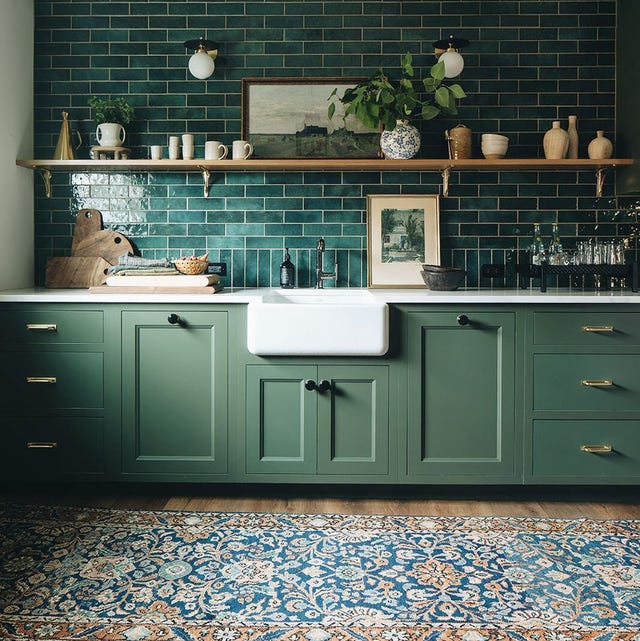 Stoffer Photography for Jean Stoffer Design
A fresh coat of paint makes all the difference, especially in your kitchen. When it comes to your cabinets, you may be tempted to stick with classic kitchen colors like white or gray, but there are so many other color schemes that can be incorporated into your room's design. When done right, varying shades of green — dark, light or somewhere in between — act like a neutral, making it a versatile hue with endless opportunities. Not sure where to start? Browse through these green kitchen cabinet ideas to see how this energizing palette can totally revive your space.
Each shade welcomes an entirely new look and feel: Dark forest green brings just the right level of moodiness, zingy lime offers a bold contrast and soft sage is subtle enough for small kitchens. Here, you'll find a stunning design that suits your kitchen's modern, traditional or rustic style, whether it's a two-toned palette that leans heavy on the dramatics or a muted shade that plays well with the marble countertops, chic tile backsplash and wooden floating shelves already in your kitchen. Don't stop with paint, though: Install new knobs and handles to give your painted cabinets a whole new look.
1
Go With an Olive Palette
Balance out the warmth of olive green cabinets with marble countertops, glossy gold hardware and white mosaic tile flooring.
2
Play With Different Textures
Cover a wall with glass subway tiles to sneak in a few different shades of green into your space. Pull out one of the darker hues for the kitchen cabinet color to tie everything together.
3
Create Contrast
Give jewel-toned cabinets the space to shine by outfitting the rest of the kitchen with high-contrast tiles, flooring and fixtures.
4
Make It Light and Bright
In many ways, light green can be just as neutral as white or gray. Take a note from this design and pair pale pistachio cabinets with concrete countertops and creamy white backsplash tiles.
5
Take Green to the Ceiling
Carry the color from the floor to the ceiling by painting cabinets, open shelving and walls in the same rich shade. Break it up with touches of white, like a marble countertop or cluster of pendant lights.
6
Balance It Out With White Walls
Dark citron kitchen cabinets make a statement as-is, but they'll really pop against warm wood tones and bright whites.
7
Put Sage Against Glossy Tiles
Breathe new life into an older space (like Jacey Duprie's 100-year-old kitchen shown here) by painting the cabinets in a soothing green shade to complement the vintage elements. Glossy subway tiles and gold hardware give the room some modern flair.
8
Opt for Two-Toned Cabinets
Cheer up a monochromatic kitchen by painting the upper cabinets in a vibrant yellow-green. Lay down a runner in the same color family to create a sense of harmony.
9
Tie in Shades of Blue
Go for the unexpected with teal cabinets. A cross between green and blue, this shade is just as versatile as other popular hues, including hunter, forest or mint green.
10
Bring Chartreuse to the Ceiling
Let chartreuse be the accent color in your otherwise all-white kitchen. Use it to transform the island into a focal point, then carry it all the way up to the ceiling with coordinating gingham wallpaper.
11
Stick With Seamfoam All Over
Liven up your kitchen with layers of seafoam, light blue and white. Mix in floral details and woven textures to play up the room's open and airy feel.
12
Carve Out a Colorful Corner
If you're not ready to go full-on green, start by painting a small section of your kitchen in a muted mint. Keep everything else relatively neutral, so it'll really make an impact.
13
Paint a Statement Island
Emerald green pairs nicely with neutrals — crisp whites, dark grays and bold blacks — making it perfect for an accent island.
14
Complement the Traditional Design
Washed-out sage acts as a neutral, pulling out its natural gray tones when up against whitewashed brick or light-colored tiles. Reclaimed wood floating shelves and sleek black appliances provide the perfect juxtaposition.
15
Add a Splash of Bright Green
For a cohesive look, match the inside of glass-front cabinets to the kitchen island. But if you don't want to be too matchy-matchy, pick varying shades in the same color family — a darker island with lighter cabinets or vice versa.
16
Mix Light and Dark Tones
Coat cabinets in a blackened shade of green for added drama. Bring out the green undertones with a dimensional backsplash, made up of subway tiles in a range of light and dark tones.
17
Incorporate Earthy Hues
Embrace the kitchen's coziness and charm with mossy green kitchen cabinets set against terra-cotta tiles and planked walls.
18
Highlight Vintage Styles
Take it back in time with a retro-inspired design, complete with vibrant mint kitchen cabinets and black-and-white hexagonal flooring.
This content is created and maintained by a third party, and imported onto this page to help users provide their email addresses. You may be able to find more information about this and similar content at piano.io
https://www.goodhousekeeping.com/home/decorating-ideas/g38749872/green-kitchen-cabinet-ideas/