2 World Trade Center's New Design Is Pretty Good (for 2007)
4 min read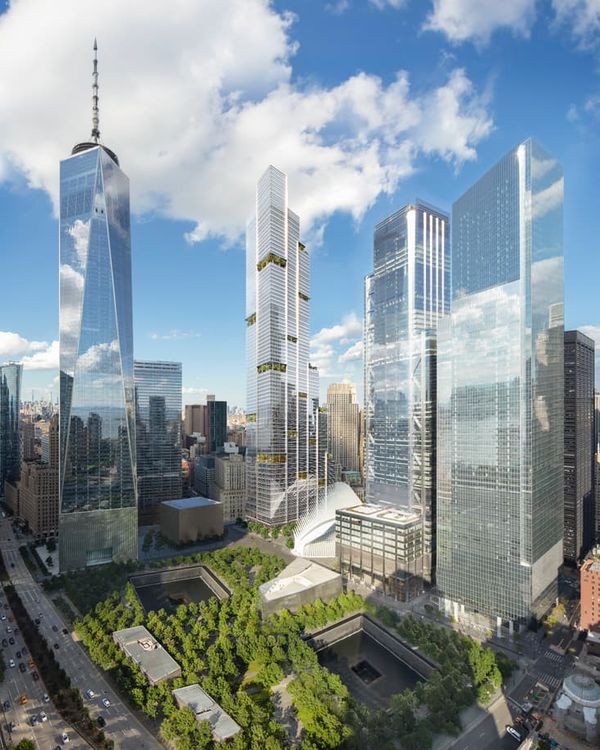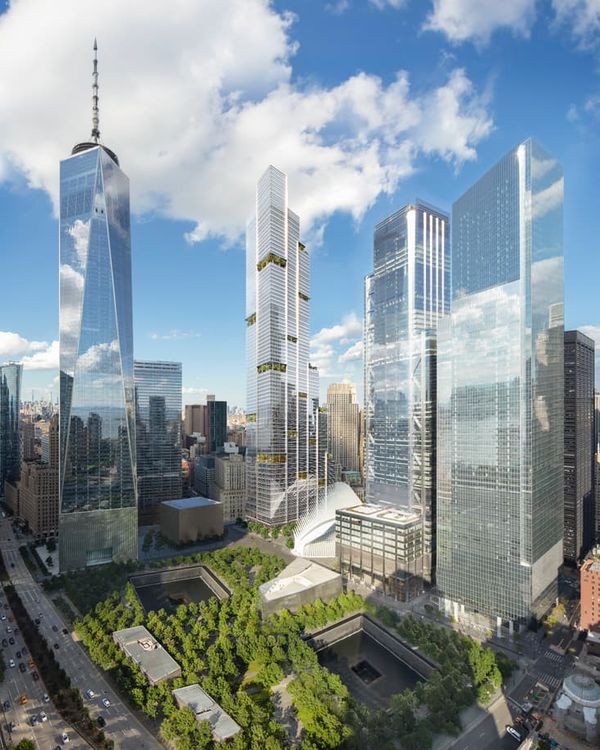 Photo: Rendering: Visualhouse
New York YIMBY has fresh renderings of 2 World Trade Center, the last of the six skyscrapers that will surround the 9/11 memorial downtown. Even by the standards of this generation-long rebuilding effort, Tower 2 has had a lengthy stop-start history. The architecture firm Foster + Partners and the developer Larry Silverstein unveiled a design in 2006 with a distinctive chamfered four-of-diamonds top. Construction began, then stalled after the 2008 market crash. There was talk of fitting it out as a low-rise stump. A few years later, Foster's design was set aside, and another celebrity architect's firm produced a slightly more avant-garde replacement: a stairstep tower by Bjarke Ingels Group that seemed to edge up to its neighbor at 1 World Trade. A couple of media companies, including News Corporation, expressed interest, then decided not to move in. BIG's design would have required significant modifications to the foundation that had already been poured, which may be one reason why, late in 2020, the job went back to Foster. His revamp of the revamp is the one released yesterday.
And it's not bad. Yes, it's one more squared-off tall box wrapped in a mirrored curtain wall, which was probably inevitable. Virtually every big office building now wears the same outfit, and given that the rest of the complex is already up or on its way, you could even argue that 900 feet of disco paneling is "contextual." The form seems structurally innovative at first glance — bands running up the exterior imply that it's made of several independent square tubes, like the Willis (formerly Sears) Tower in Chicago, but apparently those lines are more ornamental than expressive. So it's mostly just a good old optical trick, striping a tower vertically to emphasize its height. Chromium-steel banding between the ashlars does a lot to disguise the blockiness of the Empire State Building, for example.
More distinctive are the tower's little scooped-out terraces cut into its bulk and planted with trees. We've seen these greenery-accented plans in other cities' residential buildings (where they are not always delightful; bugs are a problem), and Ingels likes them as well: His office tower near the High Line, another stop-and-start project, treats a little outdoor lunchtime space as an amenity for the desk drones. You do wonder about the maintenance required to keep trees in decent shape on the 70th floor. At least the bees on Goldman Sachs's roof can stop by and pollinate.
The meet-for-coffee terraces.
Photo: Rendering: Visualhouse
But "not bad" on a scale like this brings up a second thought: What might be better? Terraces aside, it's not a highly distinctive, memorable building, and that feels like a blown opportunity. (Historically, the preponderance of New York skyscrapers that stick in the mind architecturally have show-offy tops — Chrysler, Empire State, Citicorp, AT&T — and this one, like its once-scorned predecessor at 2 World Trade, does not.) Or, if we're thinking entirely outside the (glass) box, it could have been a tower of apartments, which are in far shorter supply than Class A office space. (Across the plaza, 5 World Trade will be residential with a modest amount of non-luxury housing, though it should have more.) If that option were on the table — which it may not be, owing to Port Authority restrictions and/or the economics of the site — it would be a quite different-looking structure. As my colleague Justin Davidson reported in this great story last year, chunky towers with big floors tend not to be great for apartments because nobody wants to live in the inner regions without windows. (One could perhaps solve that by making it a twin-towered building akin to Time Warner Center — a double supertall, in effect, for the double-super-rich.)
We were probably going to get an office tower on the site no matter what. Yet it seems incautious and even disconnected from this moment to plunge ahead with another 3 million square feet (give or take) of corporate space when all the evidence points toward that market's shrinking rather than growing. It's more than reasonable to imagine a city, a decade from now, in which, say, 10 percent of Manhattan businesses have gone mostly remote and lease just a few conference rooms and hotel desks, enough for a quarter of their staff to rotate through. Which is not to say these towers will sit empty; they will likely fill up, drawing tenants from older, dumpier buildings, especially if they're leased at a big discount. Meanwhile, we're headed for a population of 9 million and beyond. Two World Trade, when it opens around 2027, may be the ideal tower for the 2007 city, just with better internet cabling.
https://www.curbed.com/2022/02/2-world-trade-center-new-design-foster-partners.html