7 Common Home Improvement Myths Busted
4 min read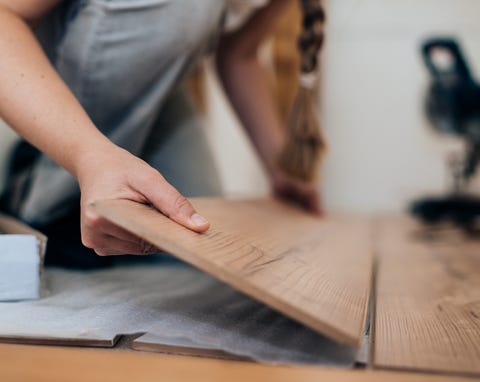 Are you planning to undertake some home improvements this year? Before you start turning your dreams into a reality, don't let these common property remodelling myths lead you astray.
A home can often suffer more damage when an inexperienced renovator tries to do something. 'Much of the advice out there can be contradictory, despite doing your research, and when you're making a major investment, you want to know what's fact or myth,' says Thomas Goodman, property expert at MyJobQuote.
Take a look at the seven top home improvement myths below:
1. You can do it all yourself
Being able to tackle DIY tasks requires the right tools to do the job. While many of us choose to take on our own DIY projects (such as wall panelling), some tasks could have expensive consequences if done incorrectly.
Some pricey jobs to rectify include knocking down a wall (£20,000), electrical wiring (£2,000), fitting flooring (£1,200), and fixing dodgy paint jobs (£450). You might save a pretty penny doing it yourself, but a failed design could end up costing you more (and leave you frustrated).
2. Renovations will always get you a good return on investment
Bigger renovations are not always better, as spending more money doesn't guarantee greater value in return. Many spend their lives dreaming of sprawling kitchen refurbs and stylish bathroom makeovers, but in some cases it's unlikely a homeowner will earn back more than the cost of construction.
'Typically, you might get between 60 to 80 per cent of the cost spent back,' says Thomas. 'For that reason, it's best to invest in upgrades that will make your home more comfortable while you're living there, rather than just trying to increase its value.'
3. Paint can cover up anything
Preparing interior walls before painting is essential to ensure a blemish-free finish. Before you begin, fix any ugly holes, blemishes, cracks or chips so your paint has a smooth foundation it can adhere to. While you may be able to fix some flaws yourself using a sander and multi-purpose Polyfilla, calling on the professionals is worth considering.
4. Repairing something is cheaper than replacing it
Things often get broken or worn down at home, but that doesn't mean you have to immediately replace them. If something breaks, consider whether the repair will fix the whole problem. However, if repairing it won't address the underlying issue, then it could be worth buying new to avoid costs racking up.
5. You should renovate with current home trends in mind
We certainly love to stay privy to what interior trends are on the horizon, but current décor styles don't always work in every space. According to Thomas, you could run the risk of creating a home that doesn't match your lifestyle, so it's best to avoid expensive, permanent materials for your walls, cabinets, countertops, and floors.
Incorporate trends in ways that are easy to change, such as through accessories. 'People grow tired of trends and interior design ideas are constantly changing,'Thomas adds.
6. Remodelling happens quickly
In general, it will typically take several months to complete an extensive remodel of the whole house, if all goes well. Larger houses may take around nine to 15 months, plus more with additional delays. A good contractor can do the work quicker and more efficiently than you can do it yourself, so it's best not to try anything you may struggle to complete.
7. Good planning can outwit surprise
'Renovations have a way of exposing unanticipated problems in your house. No matter how much you plan, it is sometimes only after the contractor begins work will they find the undetected leak, pests, and handyman fixes,' adds Thomas.
'Whilst you should plan your renovation and stick to those plans, you should avoid going way above your budget. Factor in 10 per cent above the stated budget for surprise costs that may be added to the project.'
Follow House Beautiful on Instagram.
---
This content is created and maintained by a third party, and imported onto this page to help users provide their email addresses. You may be able to find more information about this and similar content at piano.io

https://www.housebeautiful.com/uk/renovate/diy/a38695306/home-improvement-myths/