Architecture and design firm Marvel adds Richmond to its universe
5 min read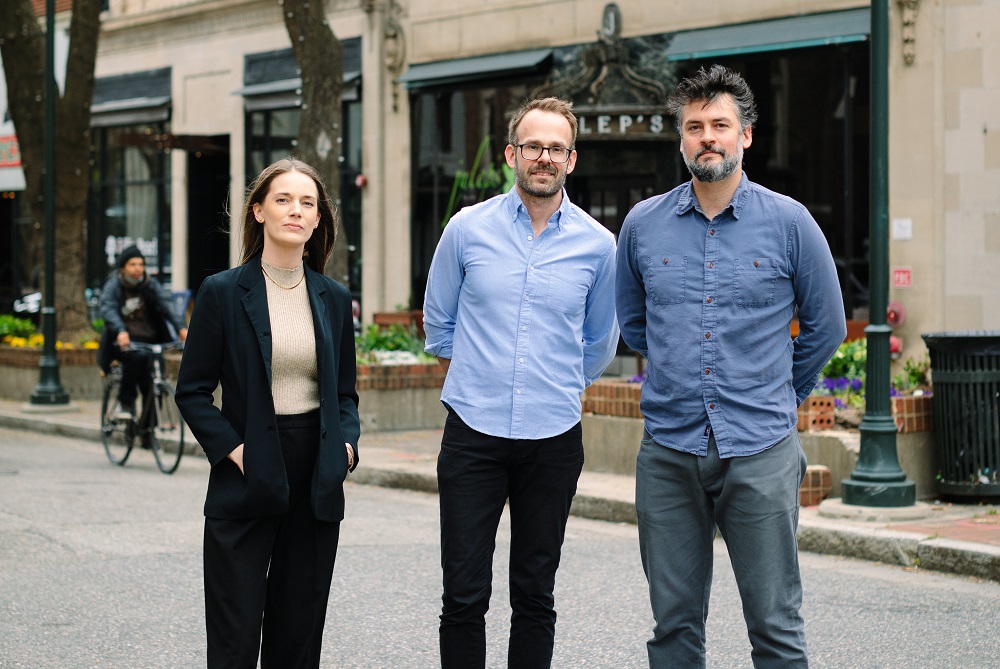 An architecture firm with roots in Puerto Rico and New York has established an office in downtown Richmond.
Marvel, named for principal and co-founder Jonathan Marvel, has set up shop at 300 E. Main St., filling a 1,200-square-foot storefront space in the St. Albans Lofts building in Monroe Ward.
The 9-year-old firm focuses on architecture, landscape design and urban planning in such areas as residential, commercial, cultural, education, hospitality and recreation.
Captaining Marvel's Richmond team is Tyler Silvestro, a partner with the firm who's managing the local office with Mitch Crowder and Caroline Frantz. The three reconnected here after each relocated from New York, prompting Silvestro to suggest the idea of opening an office to the firm's founding partners.
"We had personnel interested in living in a city of a certain scale. Richmond is that scale," Silvestro said. "It has that excitement and that dynamism that we look for in a community."
While the office just opened, Marvel has had boots on the ground here for months.
Crowder rejoined the firm in December after a five-year stint with local shop Architecturefirm. He had worked for Marvel before moving to Richmond five years ago.
Silvestro said the decision to go ahead with a Richmond office was pushed in part by the pandemic, as well as by a request for proposals that caught the firm's eye.
"When I floated this idea to the founding partners, there were some RFPs that were pretty high-profile at the time. VMFA was one of them," Silvestro said, referring to the Virginia Museum of Fine Arts' $190 million expansion that's now about to get underway.
"We thought that we needed to find a local partner, and Mitch's name almost immediately cropped back up," Silvestro said. "We actually debated having a partnership with Architecturefirm for that pursuit. That's when we reconnected with Mitch, and Caroline at that time was here, so we were all talking together."
Crowder, a Virginia native who grew up south of Richmond, had moved here with his husband after 10 years in New York, three of those with Marvel. He said Richmond's urban fabric and history were draws, as well as its current and potential growth.
"It's a very unique southern city that also feels very urban, and that was something that was very important for us," Crowder said. "Being here for five years, it's a city that has just grown by leaps and bounds. It's incredibly exciting to be a part of that," he said.
Frantz, a Virginia Tech grad, was drawn to Richmond in a similar way.
"There's quite the burgeoning creative scene here, there's a lot of construction happening, and we really want to be a part of giving back to this community and making good design and good buildings a continuous thing that's popping up throughout the city," she said.
Silvestro, who moved to Charlottesville with his wife in the early months of the pandemic, said the remote working that came with it informed the firm that a third office was feasible.
"There was no inclination to do so prior to the pandemic," he said. "We wanted to get out of New York, and suddenly we realized we were living in a world where everyone can work very effectively remotely. A year and a half into it, we're still working very effectively on projects in the Northeast all the way down to Puerto Rico, where we have another office."
Puerto Rican roots
Marvel's Puerto Rican roots start with Jonathan Marvel's father, Thomas Marvel, who Silvestro said was integral in introducing modernist architecture to the island. His firm, Marvel & Marchand Architects, shares Marvel's San Juan office. Silvestro said the two firms joined forces when Jonathan launched Marvel in 2013, following the split of his previous New York company, Rogers Marvel Architects.
"It became the framework for why we felt comfortable opening up an office in Richmond," Silvestro said, "which was an ability to work in two offices successfully on projects in any location. The idea that the San Juan office and the New York office had this relationship allows an office like Richmond to flourish and upstart in a way that we're confident will work."
Silvestro said his and his colleagues' respective disciplines balance out the local office. Silvestro's focus is landscape architecture, while Crowder's experience is largely in hospitality and multifamily residential, both market-rate and lower-income. Frantz's background is primarily in schools and higher education projects.
Crowder, a UNC-Charlotte grad with a master's from Harvard, said he and Frantz are also pursuing institutional work with universities in Virginia and North Carolina. They're also looking to hire graduates from local and regional design schools. Their local staff of five includes landscape designer Tonghuan Wu and architect Cody Solberg.
While not yet active on projects in Richmond, Crowder said they're actively looking and are in talks with people he's met in his years here. The firm's closest work to Richmond is in D.C. and Northern Virginia, where it designed a pedestrian plaza at the Pentagon, the Israeli Lounge at the Kennedy Center for the Performing Arts, President's Park South and the National Mall's Constitution Gardens.
"We are actively looking to build the Marvel portfolio in the Richmond market as well as in Virginia," Crowder said, adding that they've been in touch with developers primarily on multifamily residential opportunities.
The group worked with local firm Bank Street Advisors on its office search, which Crowder said focused on Jackson Ward and the Arts District before landing on St. Albans Lofts, a former office building converted to mixed-use in 2017. Pollard & Bagby's Tony Rolando and Scott White represented the landlord in lease negotiations.
"It's a ground-level space, which was very important for us," Crowder said. "We wanted to have a visual street presence and a connection to the streets, so that people knew that we were here and we had that connection to pedestrians walking by our storefront on a daily basis."
With the street presence afforded by their ground-level space, Silvestro said they look forward to further embedding themselves and Marvel in the community.
"The three of us found each other here, and we all offer such distinct components to what Marvel offers firmwide," he said. "If it wasn't the three of us, (it) may not have meshed as well, but the three of us did so well that it just became apparent that we needed to start this office together. That's the tripod on which we're going to build our local presence here."
Architecture and design firm Marvel adds Richmond to its universe