Bedroom shelving ideas: 10 stylish bedroom shelves
8 min read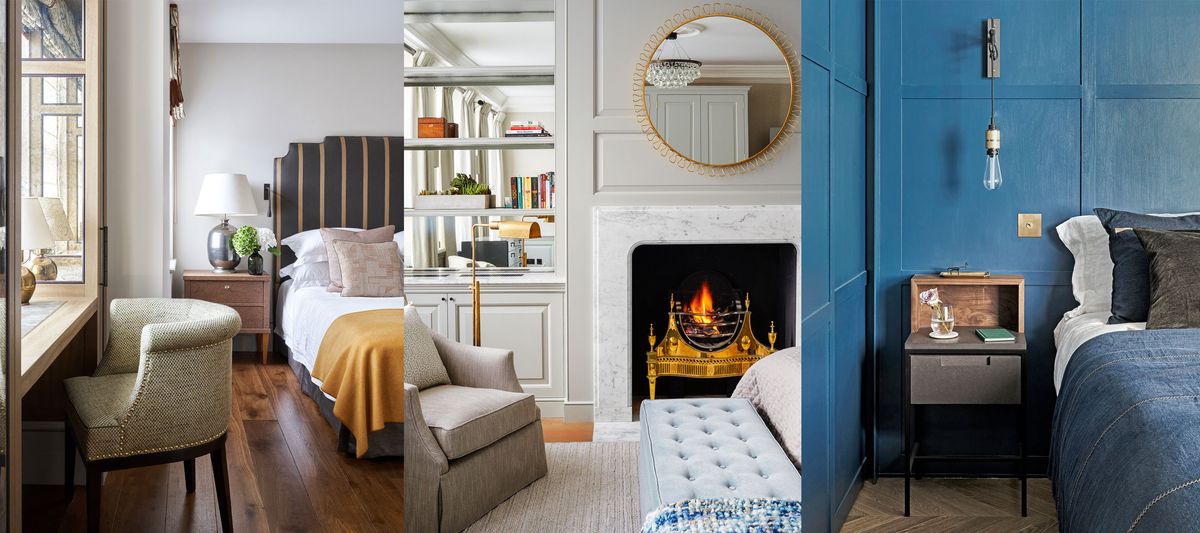 Whether functional or decorative, bedroom shelving ideas can offer a useful way of working much-needed extra storage into a bedroom scheme. But while the purpose of closets, chests and drawers is to keep everything discreetly hidden, open shelving offers the opportunity to put favorite things on display, so is a great way of adding personality to a bedroom.
Thoughtfully-designed bedroom shelving ideas can be an asset to any bedroom. Whether bespoke built-ins as part of your walk-in closet ideas and over-bed storage for keeping bedside essentials close to hand, or organizational storage that brings structure and order to clothing, bedding and books. And even if purely for decorative purposes only, bedroom shelving ideas can be a fabulous way of showcasing artwork and pictures or a treasured collection.
Bedroom shelving ideas
Commissioning built-in shelving and bespoke joinery is a financial commitment so it's always worth doing the groundwork beforehand with any bedroom ideas. Think about both bedroom storage ideas and how you might go about organizing a bedroom in the planning stages of a project and make sure to utilize all the available space and every alcove, nook and cranny. 
'One trick is to use the full length of wall space so that fitted joinery and display shelves maximise the space on offer,' recommends Katie Glaister of K&H Design. 'We encourage clients to work out beforehand the number of items to be stored away by measuring the linear meterage of all shoes, clothes, books, etc, to ensure the design will fit everything in.'
1. Make use of bedside alcoves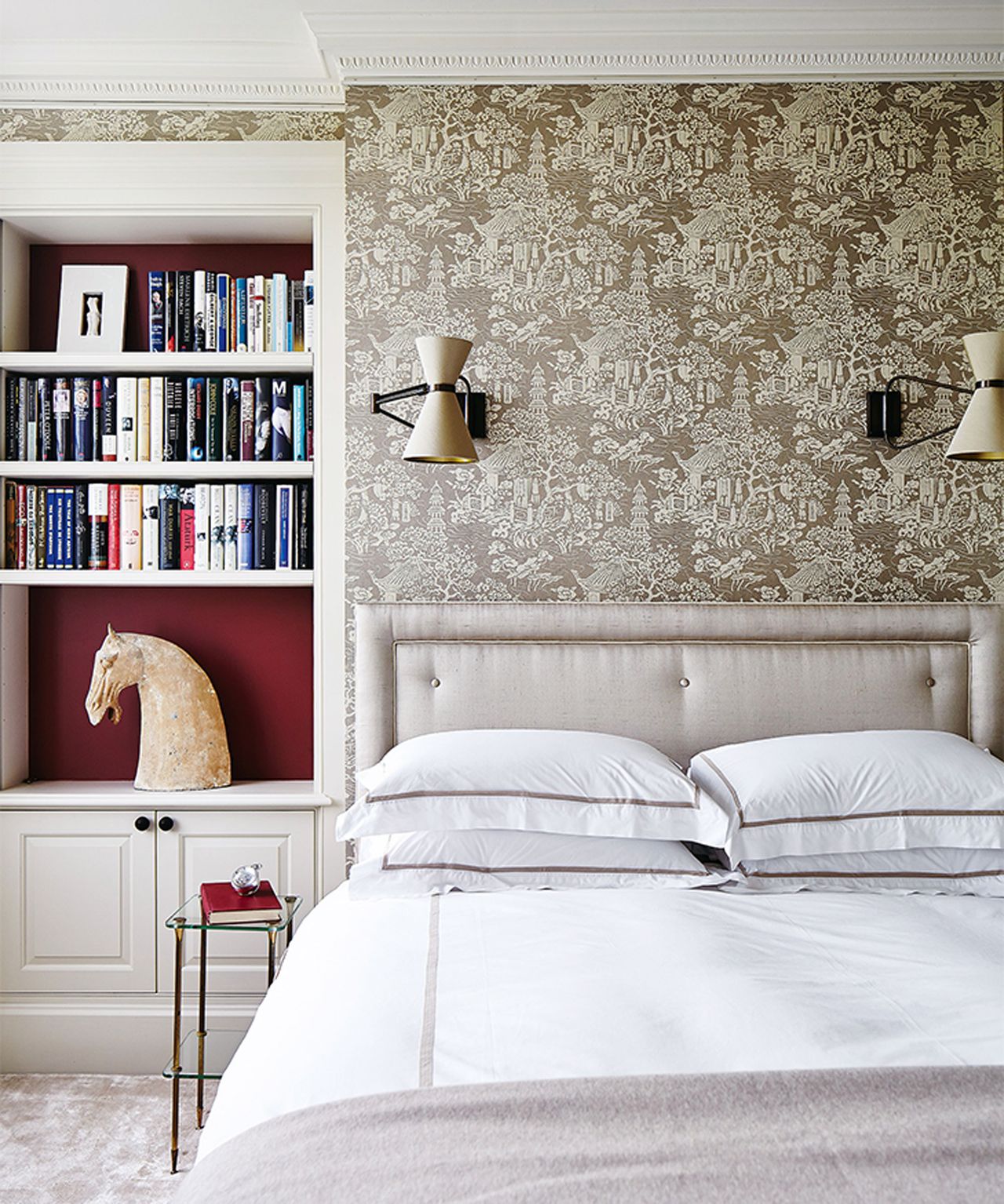 Older properties often leave awkwardly-sized alcoves and narrow niches, making it tricky to know how to treat them or find a useful function. Non-standard sizes can rule out squeezing in off-the-peg furniture, so opting for bespoke shelving tailored to fit the exact width, depth and height of any alcove is a practical solution.
Positioning the bed against a chimney breast wall gives it a central prominence and creates a focal point in a master bedroom. Utilizing alcoves on either side for built-in shelving and cabinets gives space to showcase a collection of books, while hiding other essentials neatly out of sight.
In addition to bedside tables, designer Nina Campbell recommends creating shallow niches on either side of the bed. 'I find it maddening not to have somewhere to put a glass of water or a book, so I have done this a few times,' she explains.
2. Utilize space above the bed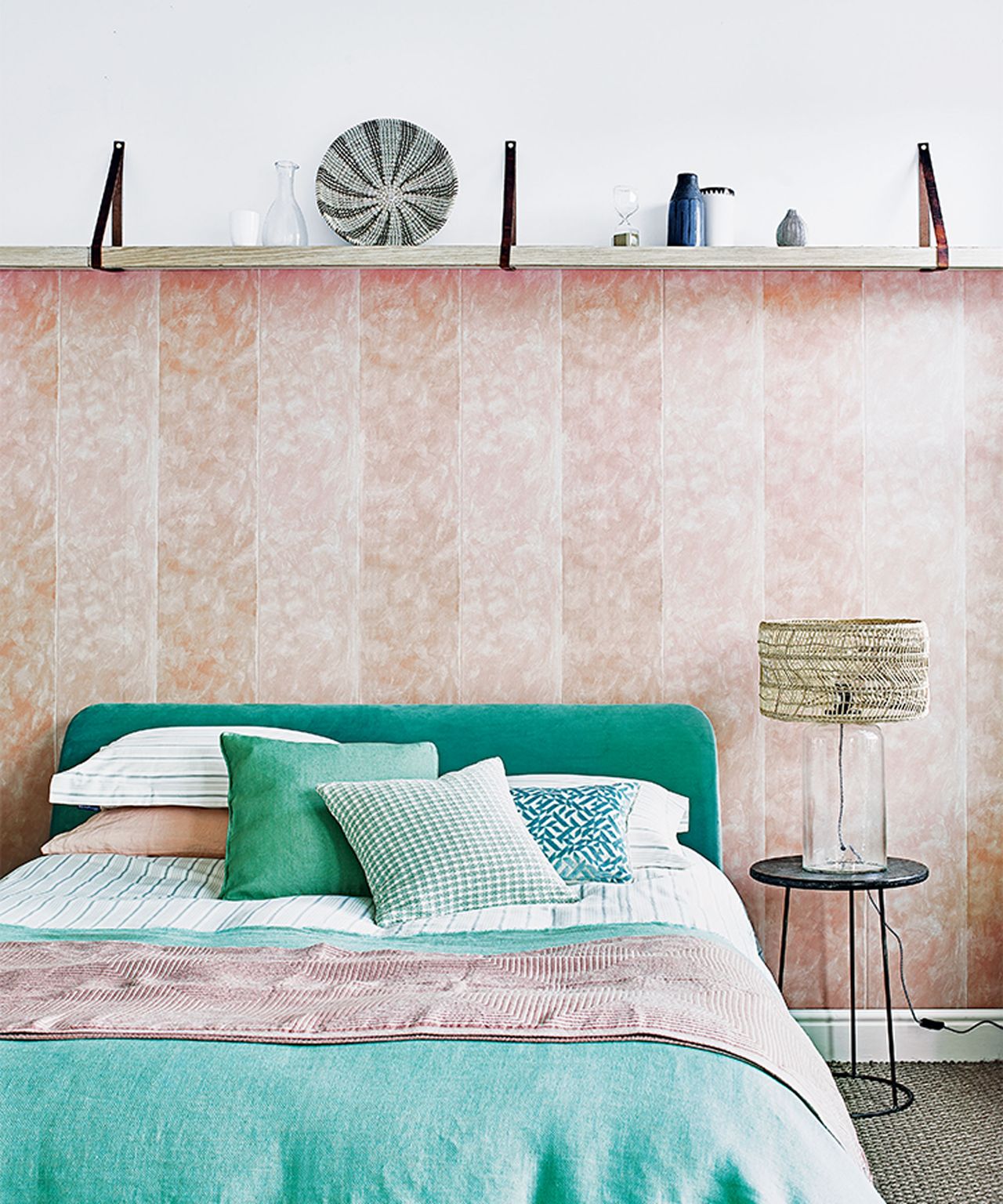 The overbed area is a prime spot, but one that often gets overlooked when it comes to storage. A bed tends to be the focal point of any bedroom, so leaving such a large area bare can throw the room off balance. Consider utilizing the space for a run of simple open shelving, which will add a decorative display feature plus a little extra storage thrown in.
Keep the look calm and relaxed by opting for a longline oak shelf hung at picture-rail height using simple leather straps. Adding a subtly patterned wallpaper below brings texture, colour and depth, while white wall space above gives a contrast backdrop for display pieces.
3. Use visual tricks to create a sense of space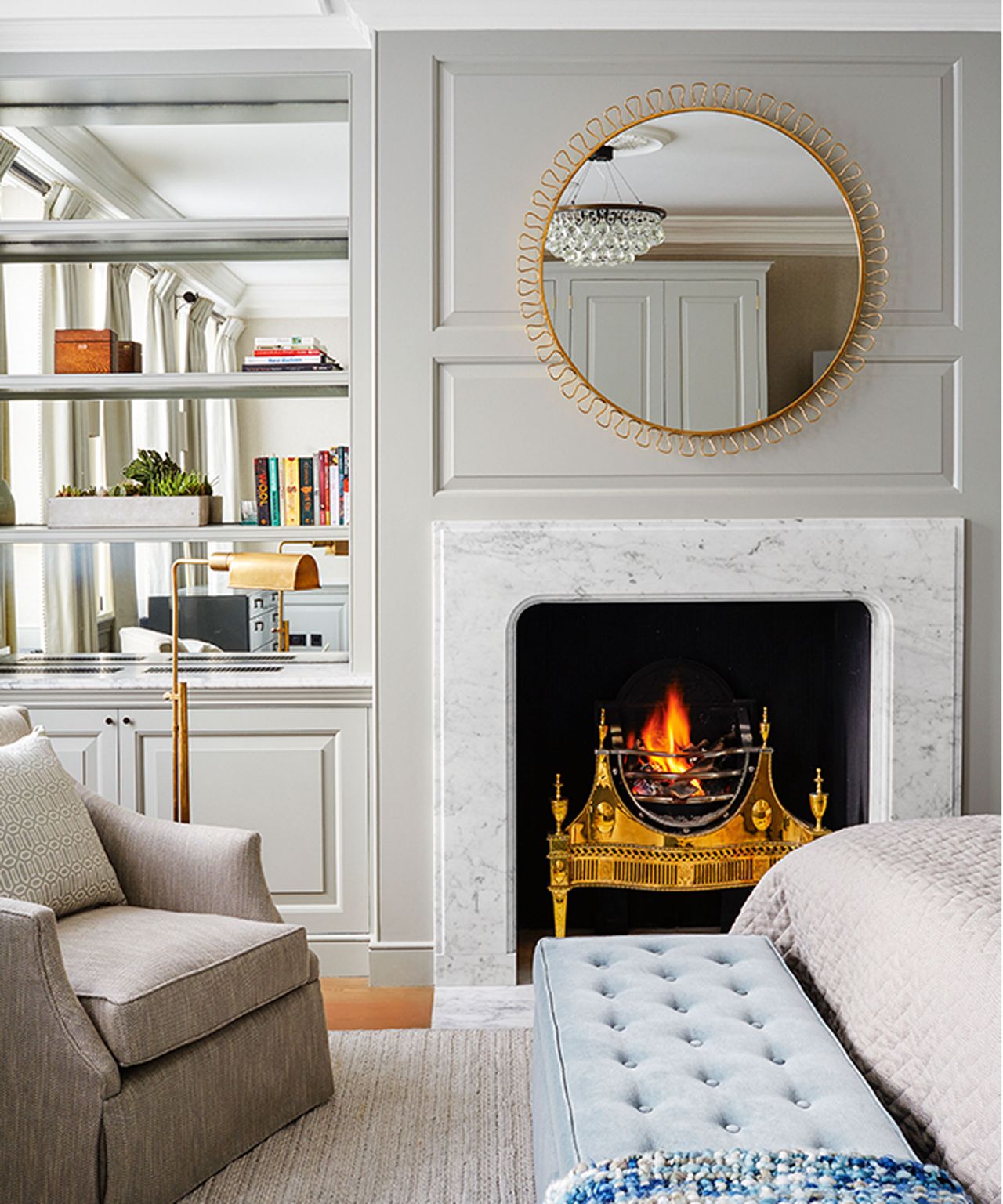 Built-in shelving that utilizes wasted alcoves is the perfect way of bringing in extra storage in small bedrooms where space is tight. Painting walls, shelves and joinery the same shade throughout helps blur lines and creates a seamless look which aids the sense of space – a clever visual trick for small spaces.
'There is great historic precedent for using one color on both walls and woodwork and it is also popular in contemporary settings as it creates a strong, clean look,' say the experts at Farrow & Ball. 'It generates a sense of calm in a room, as well as exaggerating its size, as there are no contrasts to draw the eye.'
Backing shelves with mirrored panels is another visual trick that will make a small space feel bigger. Decorating with mirrors will throw light back into a room and reflect the items on display, which doubles the sense of space and makes a room feel lighter and brighter.
4. Squeeze shelving into tight spaces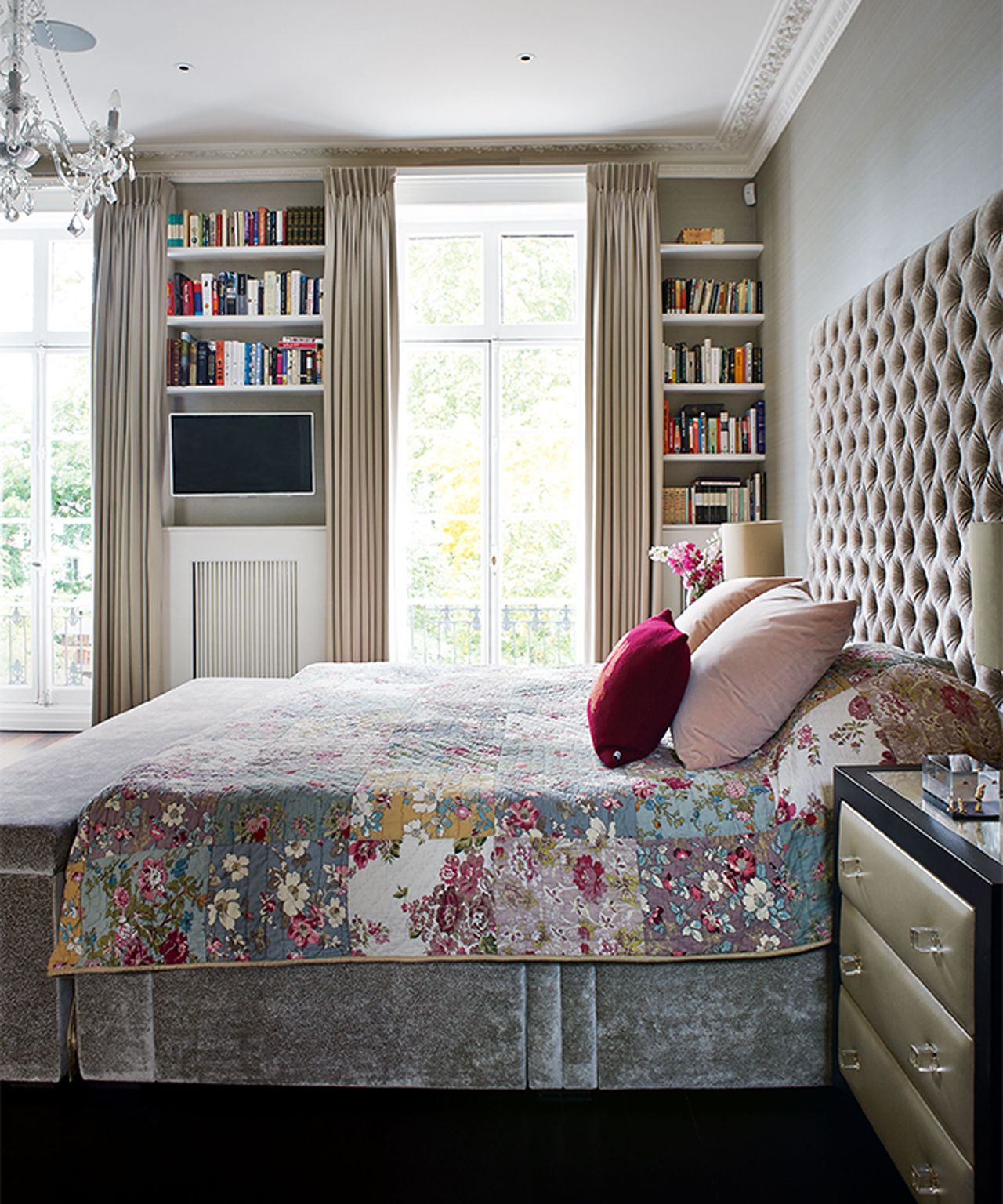 Look beyond the obvious places when it comes to bedroom shelving ideas. Have a good look around to see if there is any 'dead' space that could be put to better use, such as the area just inside a door, or an empty corner or overhead space around a window or doorway. Narrow gaps can be utilized by slotting in slimline shelves and are perfectly sized for shoes or bedroom bookshelf ideas. 
'Many Victorian properties have natural shallow recesses in bedrooms, landings or at the top of stairs making this suitable for books or objets d'art,' recommends Eamon Agha of Huntsmore, a design and build company. 'This immediately makes the home feel warm and lived in. You can also look at boxing in radiators and building bookshelves around this – it has the effect of drawing the eye to the books, not the joinery.'
5. Swap nightstands for wall-hung shelves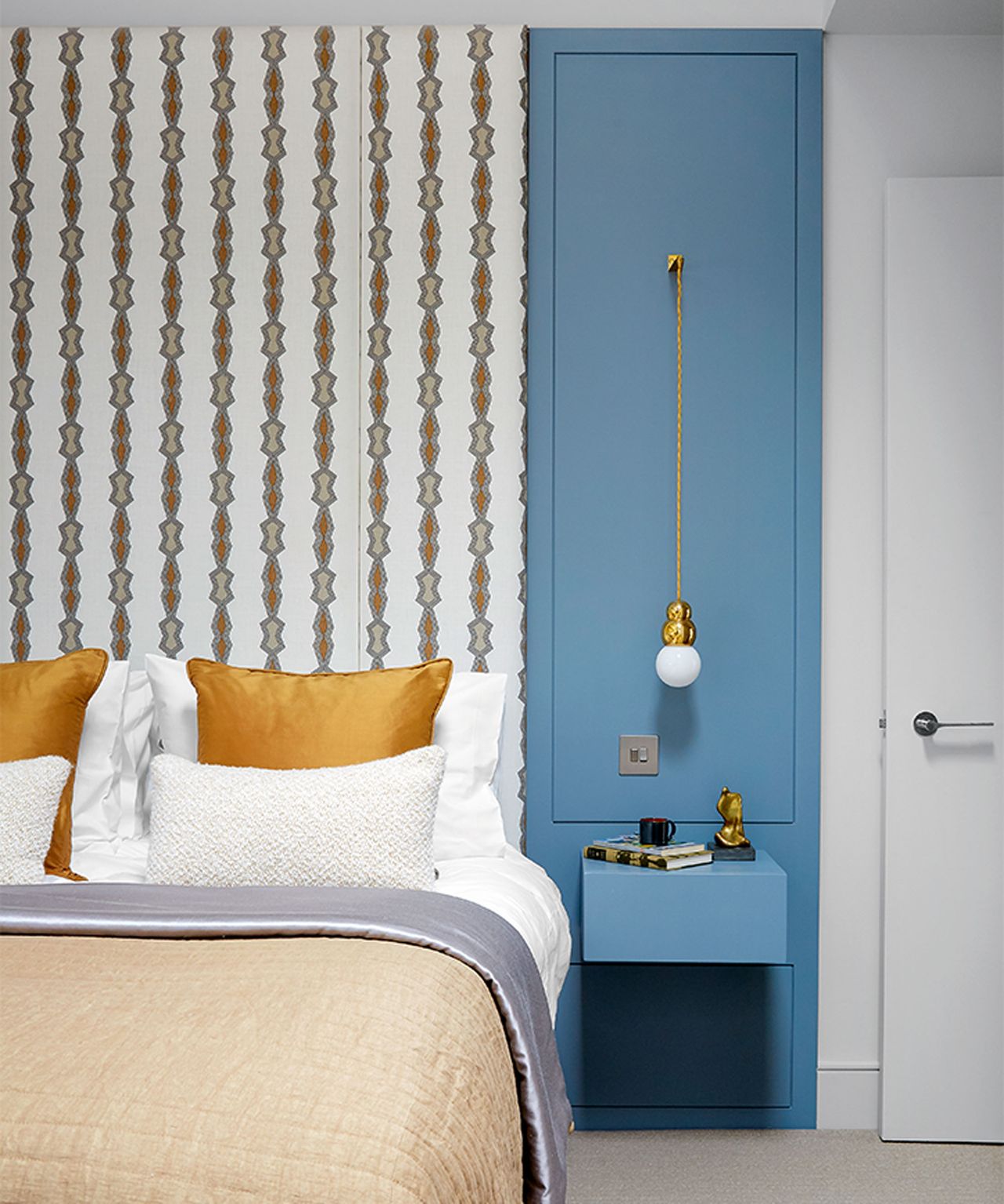 Bulky bedside tables can make a bed feel hemmed in and eat up valuable floor space in a small bedroom. Consider switching freestanding tables or chests for slimline floating nightstands, wall-mounted for a neater look and leaving plenty of empty floor area around the bed so the whole space feels less cluttered.
Built-in panels either side of a bed, painted a bold contrast shade, help to visually frame the bed area. Hanging lamps will also free-up bedside table space, with any untidy cabling hidden discreetly away behind panelling.
6. Boost storage with over-bed cubbies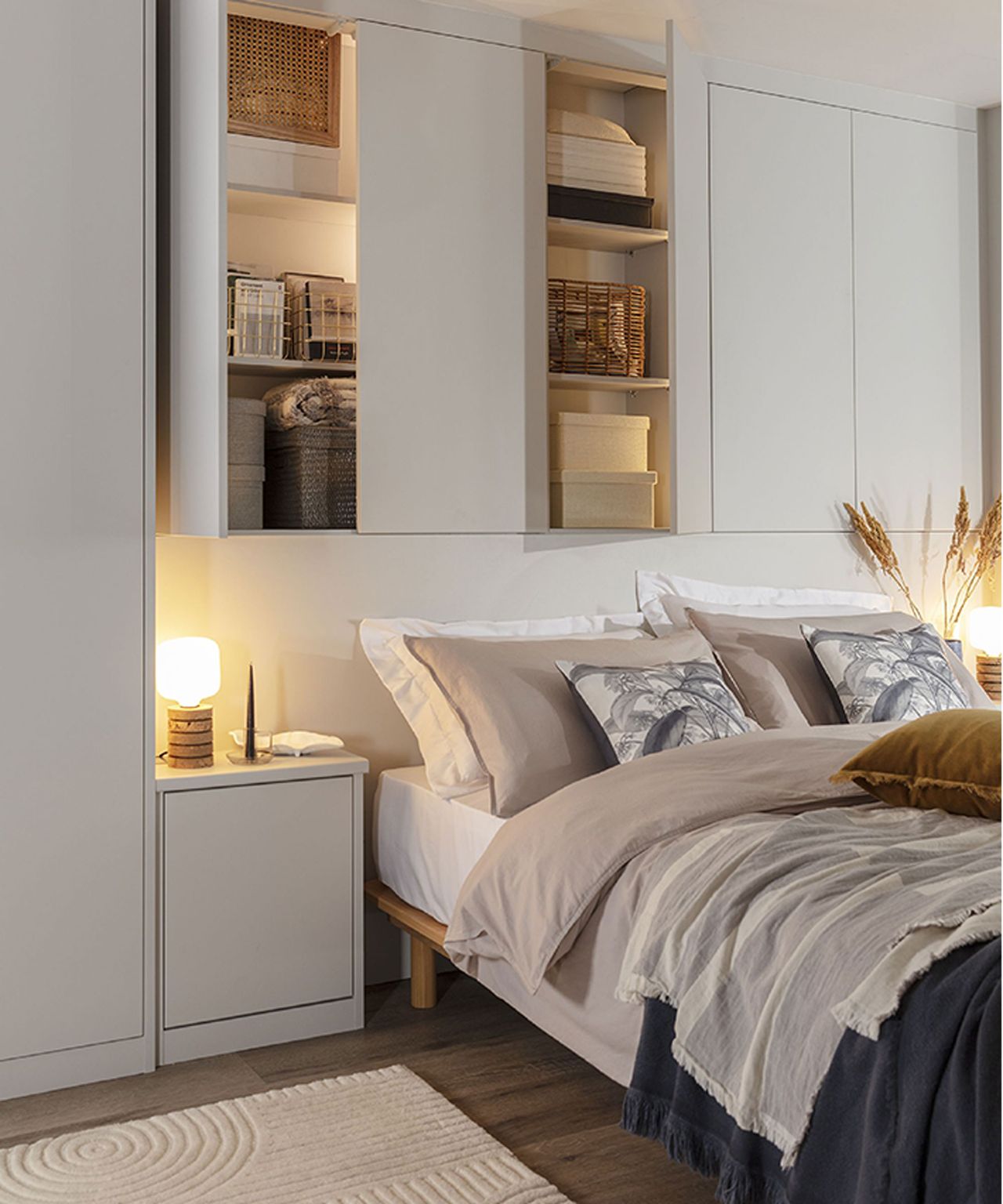 Built-in storage that bridges the gap above a bed makes a clever use of space in a small bedroom or guest room. Over-bed cubbies will provide storage space for books, bedding and other bedside essentials and can be left open for display or doors added so that everything is hidden neatly away.
'Creating a well-designed bedroom with enough space to seamlessly store everything is at the heart of achieving a tranquil environment,' says Rachal Hutcheson, National Retail Manager at Sharps. 'Shelving is a great way of making use of every inch of space, and an integrated design which uses the space behind and next to your headboard makes for an efficient solution to maximise floor space too.' 
7. Use bedroom shelving in transition spaces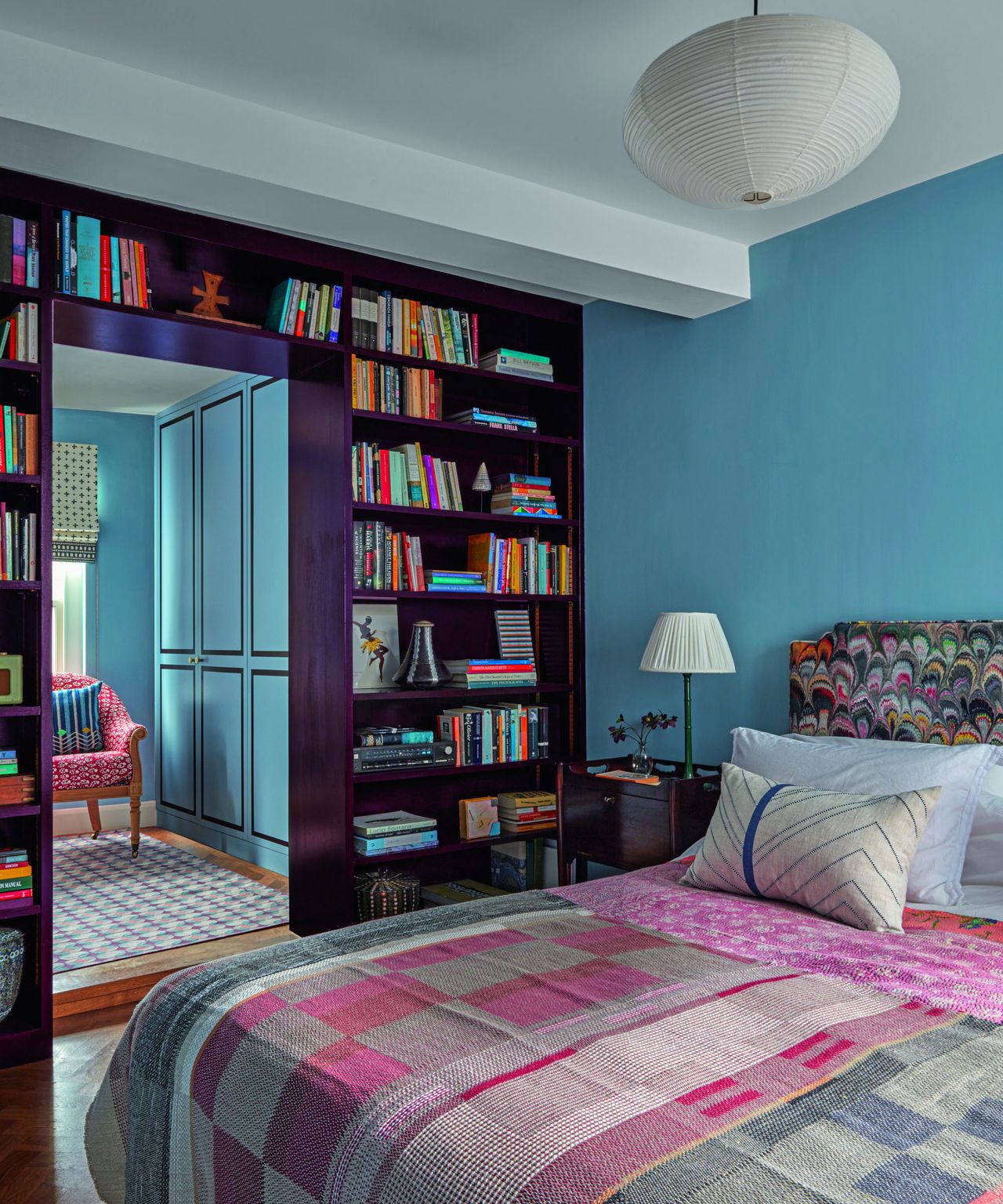 Consider built-in bedroom shelving ideas to bridge the gap between a bedroom and a dressing room or a small ensuite. Narrow shelves are perfectly sized for bookshelf ideas and can be used to frame the doorway area, filling in space at either side and above the door to create a whole wall of storage. 
Paint shelving in a contrast color so that it stands out against bedroom wall color. Then continue wall color into the dressing area beyond for continuity and to give the two spaces a sense of flow.
8. Access all areas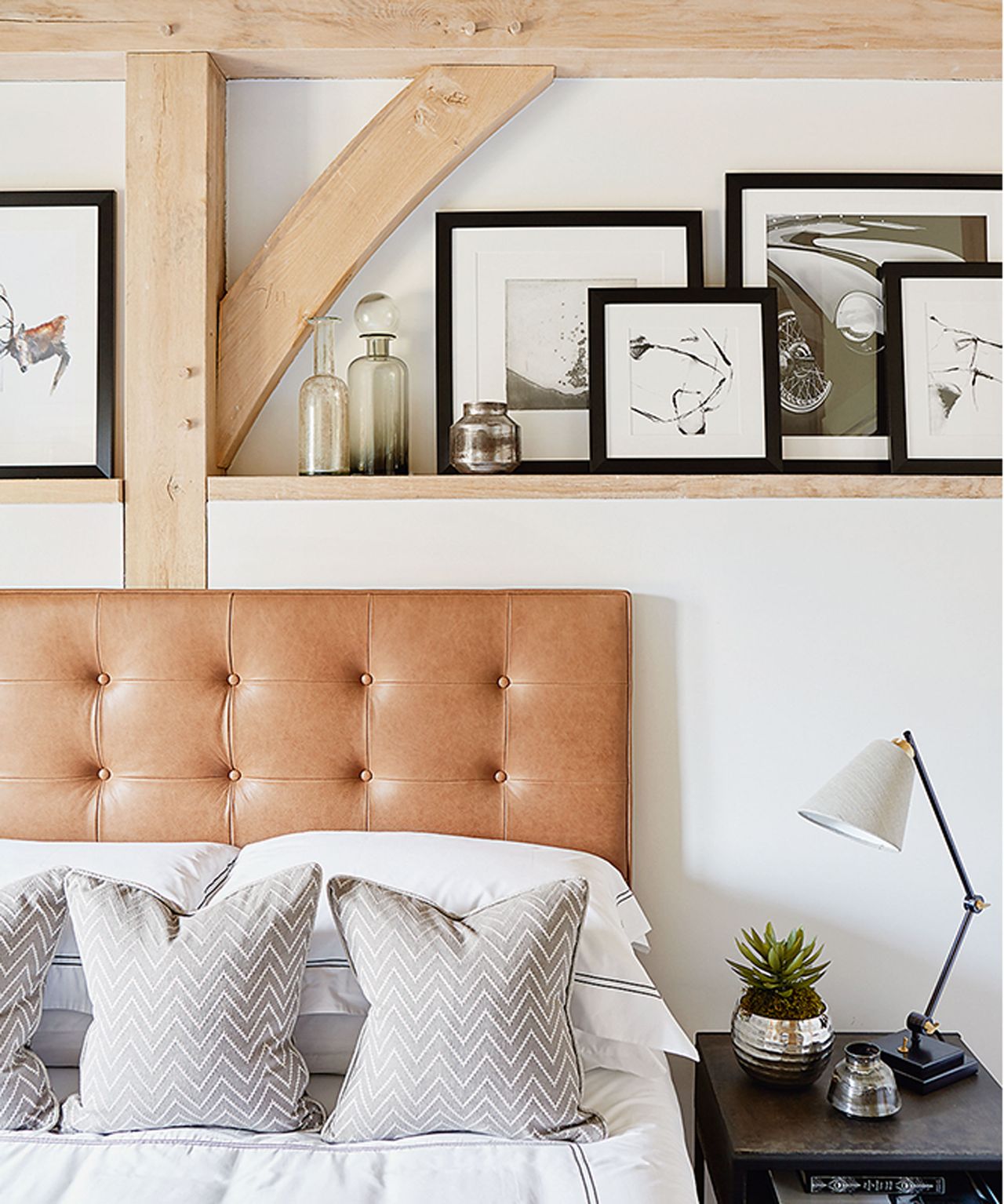 Make use of any quirky features and architectural details when considering bedroom shelving ideas. Timber beams in country cottages and barn conversions often leave narrow gaps and ledges that can be put to good use for shelves and display areas. A slimline ledge above a bed makes a lovely spot to display pictures, plants and greenery or favorite ornaments. 
Create a balanced display when arranging a picture ledge, by using frames in a mix of shapes and sizes. Start with the largest picture at the back as your anchor point, adding more pictures and layering your display. Pop small objects and trinkets here and there to give extra visual interest. 
9. Create a storage wall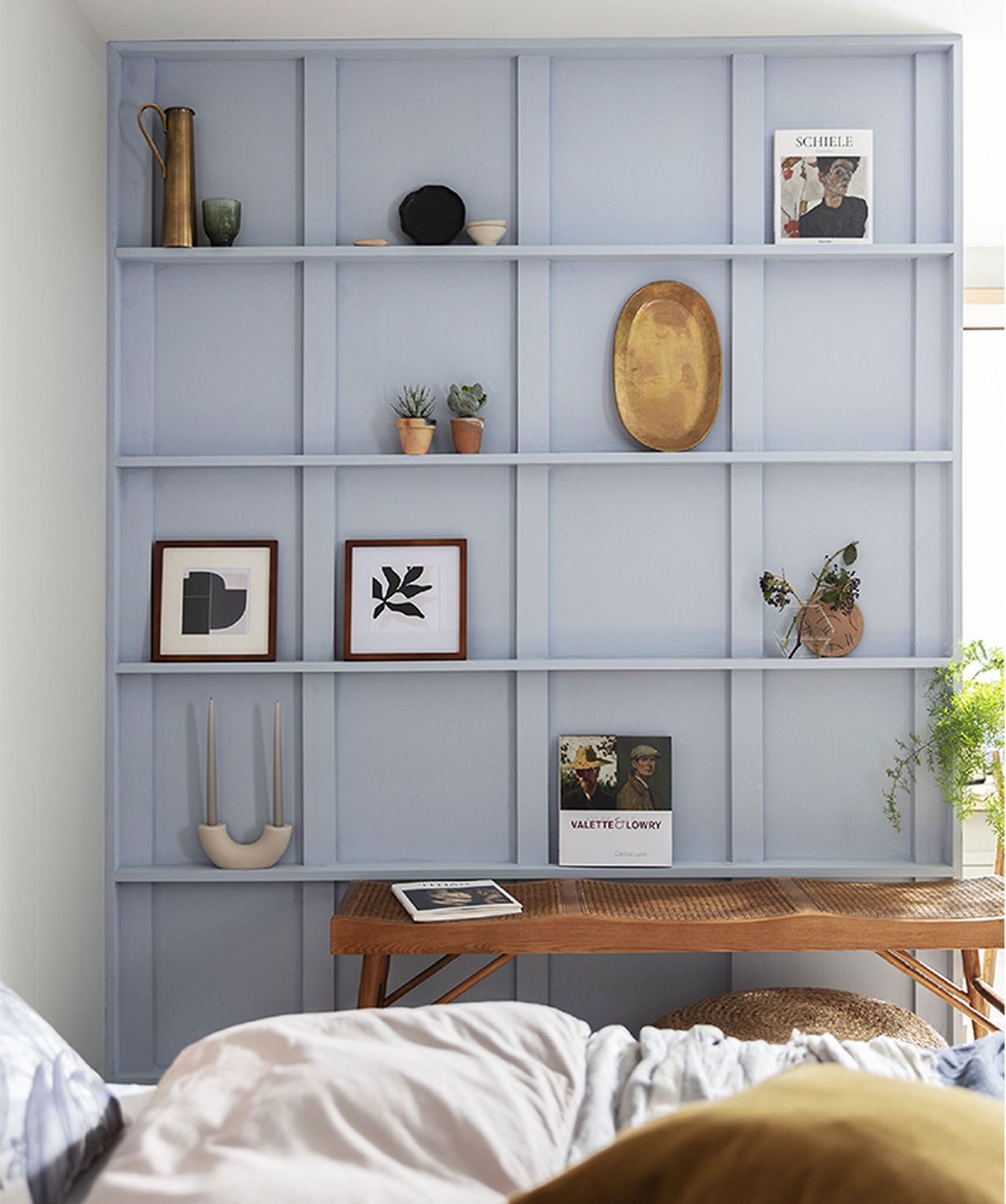 Using bedroom shelving for display, rather than just the functional, can add color and charm to a plain bedroom and needn't eat up too much room space even with a whole wall of shelving. Narrow picture-style ledges that span the entire width of a wall make an attractive display area – and shelves are just wide enough to hold picture frames and smaller objects. Shelves also make a wall display more flexible, allowing pieces to be moved and changed from time to time, which isn't possible if artwork is fixed on a wall.
'You can own some of the most beautiful pieces, but if you don't style your shelves in an eye-catching way, they can quickly lose any impact they might have had,' says Sophie Pringle, creative director Pringle & Pringle. 'When styling shelves, ensure to mix heights and depths of objects. Shelves benefit from mixing things up – incorporate art, add plants, use odd numbers of objects grouped together. Start with large pieces and build around that.'
10. Make space for a desk or dressing table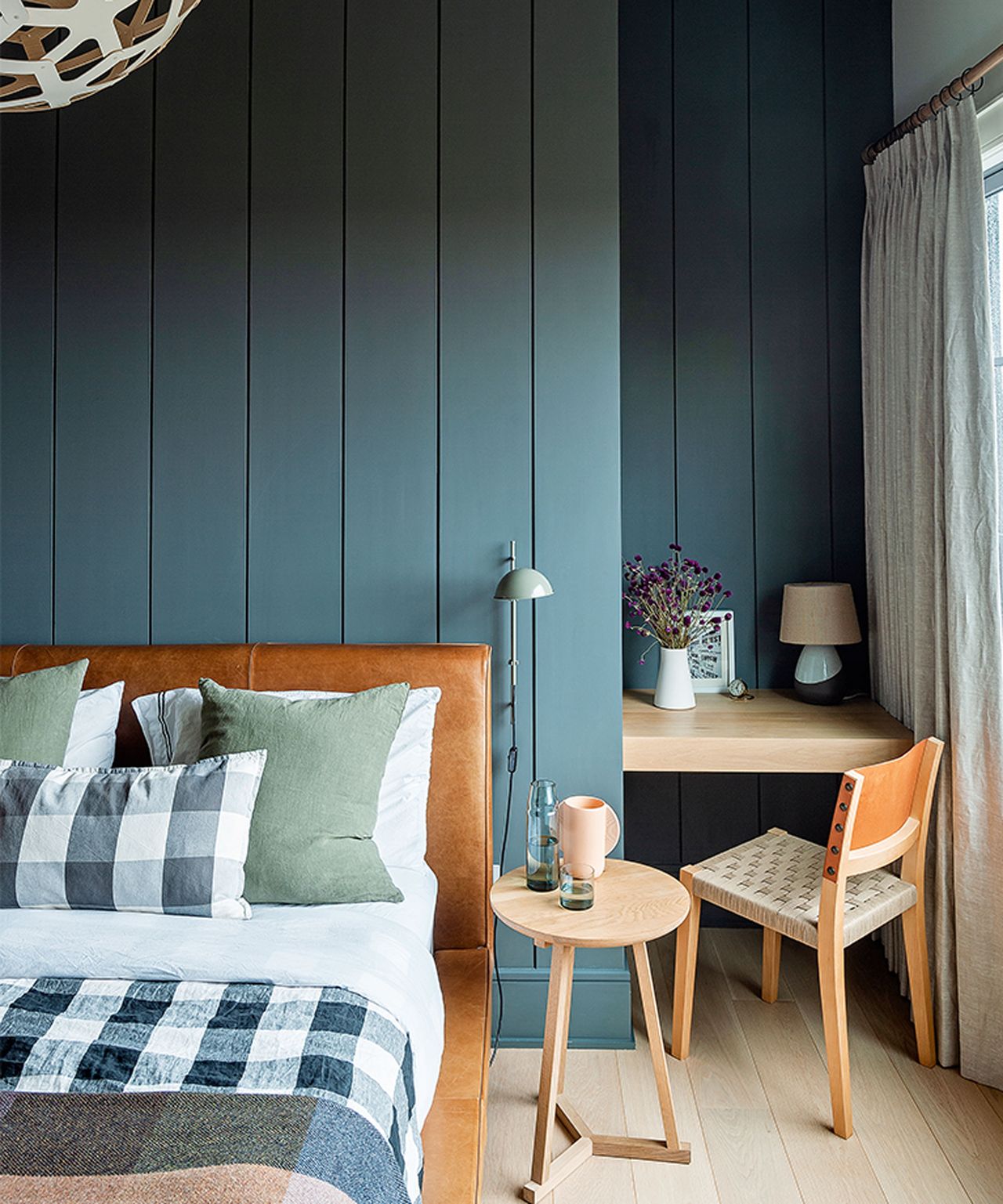 If bedroom space is very limited, shelving can also be used to create a floating desk or dressing table idea. A neat solution if a bedroom is also having to double up as a WFH space, while a freestanding desk or table can take up considerable floor space, a wall-mounted work table can be squeezed into a small alcove or unused corner quite easily. 
Where should shelves be placed in a bedroom?
Where to position shelves in a bedroom, will really depend on how much space you have available and what you intend to store on the shelves. If space is tight, using alcoves or niches is always worth considering, as shelves can slot into the space neatly without taking up any extra floor space.
Positioning shelves within reach of the bed is also a good idea if you are going to be storing books or other items that you want to access easily. Shelves above a bed are fine, but as with anything that is to be placed above a bed, such as pictures and wall hangings, making sure that the fixings are sound and secure is essential so that there is no danger of shelves coming off the wall. Shelf height is also a consideration with anything above a bed, with shelves fixed high enough so that sleepers won't knock their heads on them when getting out of bed.
How can I make my bedroom shelves look good?
Avoiding too much clutter is the golden rule when it comes to styling shelves. Then, arranging items to include a variation of shapes, sizes and heights is always a good tip. Start by positioning your largest items first and then layering smaller objects along shelves, overlapping them here and there and arranging some in smaller groupings if you can. Leaving some breathing space around items is always worth factoring into any display too.
https://www.homesandgardens.com/interior-design/bedrooms/bedroom-shelving-ideas