Cleveland's First Micro-Apartments to Open in March
3 min read
With a smart, flexible design, Mikros on Ashbury and Larchmere is bringing the "living small" trend to Cleveland.
Micro-apartments have moved into Cleveland, with not one but two locations.
Both Mikros on Ashbury, located on the east end of Cleveland, and Mikros on Larchmere, allow Clevelanders to try out this minimalist, energy-efficient lifestyle. Mikros on Ashbury opened at the beginning of the pandemic and offers the very first micro-suites in Cleveland — and maybe even in Ohio. Construction is being finished now at Mikros on Larchmere, which celebrates its grand opening on March 1.
These projects, headed by partners Russell Berusch and Rick Maron, offer a new way to live for those looking for a more minimalistic lifestyle. Base rent starts at $1,425 a month, including furnishings.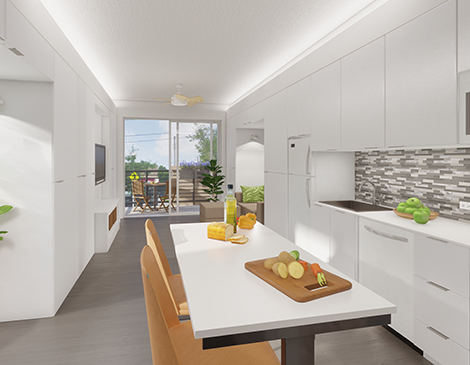 Fun Sized
There are two unit sizes to choose from, ranging from 437 to 510 square feet. These apartments are indeed small, but their smart design provides everything needed for day-to-day life. "Physically, it is not a one bedroom, two bedroom … It is a convertible one bedroom," Berusch says. "All the cabinets are tucked neatly to the side, everything's clean against the opposing walls. There's also a moveable wall that swings open and closed."
So Versatile
A small space doesn't mean zero privacy. All units in both buildings boast walls that open to a 90-degree angle, creating space for a private bedroom with a queen-sized bed to form away from the rest of the apartment when the wall is closed. A multi-use table can serve as a desk (which can be adjusted as a sitting or standing desk) or a dining table that seats up to six. It can even be elevated to offer extra counter space when cooking.
The furniture is moveable, too, to help open up the space and allow for the flow of everyday life. For example, due to the move towards remote work at the start of the pandemic, various pop-up office spaces were added to create a better work from home environment. "Rick Maron is an imaginative and innovative real estate developer," Berush says. "He designed these to be future looking, highly energy efficient and lifestyle friendly."

Clean Aesthetics
Clutter-free and focusing on the basics, the aesthetic of these tiny apartments reflects a sleek and minimalist style. White walls, counters and cabinets keep the kitchen looking clean, while textured backsplashes give dimension to the neutral background. Polished concrete floors fill the space in the Ashbury location, while the Larchmere location features luxury vinyl planking that imitates hardwood floors. In addition, touches of brown leather and wood in the seating areas adding warmth to the space. Natural light comes in through a window placed at the back of each unit.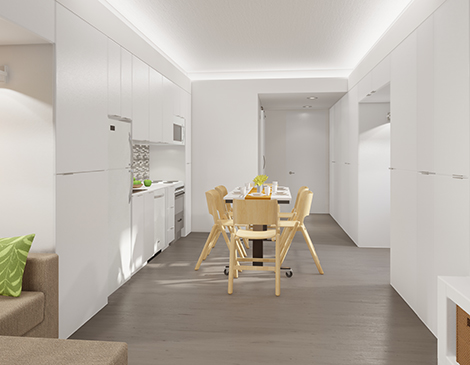 All Inclusive
Small but mighty is the theme of these spaces. The rent for a Mikros unit includes furnishings, as well as heat, water, electricity, Wi-Fi, and more. Provided furniture includes a queen-size Murphy bed (tucked into the wall to free up space) and a gray couch with an ottoman. There is a built-in flat screen TV on the wall that extends 90 degrees. "The wall is manual, so it's on rollers, and it's got a smart TV on it. You could do YouTube, gaming or anything you want, from either direction," Berush says. Parking is included as well, and there is an electric car and electric bike share option.
https://clevelandmagazine.com/at-home/articles/cleveland-s-first-micro-apartments-to-open-in-march