Design, construction of breeze blocks focus of architecture student open house
2 min read
Breeze blocks, a design used in architecture to balance sunlight and provide ventilation, are commonly found around the University of Hawaiʻi at Mānoa campus. Students in the School of Architecture participated in a breeze block open house review, which was the culmination of a six-week long design project on March 29.
During the project, students studied the history and uses of breeze blocks, documented them in the community, learned about the material, and designed and constructed a breeze block of their own. Approximately 65 students participated in the event.
"The project and review help generate a renewed awareness for a very prominent but generally overlooked building component that can be found throughout campus and Hawaiʻi," said Lance Walters, an associate professor in the School of Architecture.
The review gives students an opportunity to reflect back on a very intense project. Walters also invited critics (two professors from architecture schools on the mainland and several local professional architects) who attended and discussed the work with each student. Upperclassmen and graduate students also attended the event to meet the freshmen and discuss their experiences.
Practical learning experiences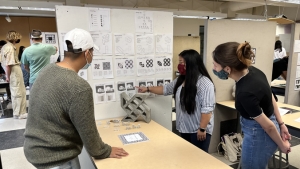 Students picked up skills relating to construction such as working with wood, concrete and foam. They also learned about the design process and what an architect needs to take into consideration when designing, even on a small scale.
"The breeze block project impacted my student experience at Mānoa in a positive way; it was very hands-on and let me explore more practical and experimental aspects of my architecture education," said Beatrix McLean, a UH Mānoa architecture student. "The way the project was set up gave me a new sense of responsibility and freedom over what I was able to create."
"We experienced firsthand that design is a non-linear process and often requires new approaches and perspectives," added McLean. "I found that the design process was difficult but rewarding, and seeing my work come to life at the final review was really great."
This annual project is part of a sequence in which freshmen first study a single building component (the breeze blocks and concrete). Next they will study larger scale design, site and space.
"The project was such a memorable experience, I had a lot of fun getting hands-on with the design processes," said Richard Vincent Hofschneider, a UH Mānoa architecture student. "Being back in school physically, I've finally had a chance to get to be in a studio with my classmates. Even though it was an individual assignment, our conversations and collaborations made it feel like a collective journey. Lance and the instructors were very helpful in creating an awesome environment for us to become better designers."
This open house is an example of UH Mānoa's goal of Enhancing Student Success (PDF), one of four goals identified in the 2015–25 Strategic Plan (PDF), updated in December 2020.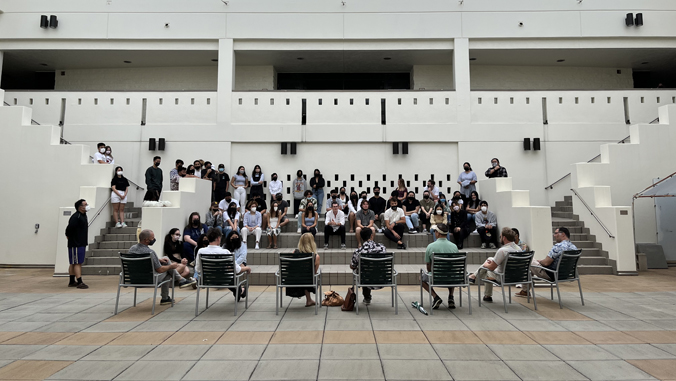 https://www.hawaii.edu/news/2022/04/06/architecture-breeze-blocks/