DIY Star Chip Wade Shares Innovative Spring Home Improvement Advice on TipsOnTV
2 min read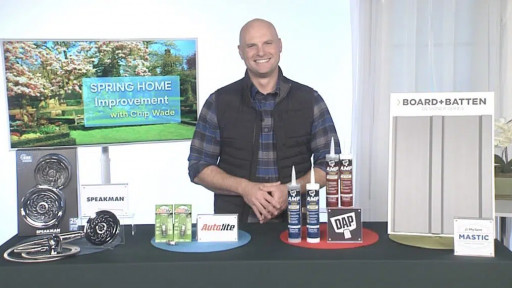 Ways to Spruce Up Any Home
ATLANTA – March 31, 2022 – (Newswire.com)
Spring is the perfect time for homeowners to tackle all those home improvement projects. In fact, creating a beautiful and comfortable living space has become a national obsession, according to TV Host Chip Wade. Just in time to start those much-needed renovations and repairs, Chip has some affordable DIY improvement ideas and products to upgrade a home. 
A GOOD PROJECT TO TACKLE
Adding new siding to any home pays off. Check out Ply Gem's Mastic Board + Batten Designer Series that features breakthrough technology with new Solar Defense Reflective Technology, so the curb appeal chosen today stays looking beautiful for years to come. This line offers nearly 30 designer-inspired colors to fit any architectural style and taste. Also, their Ply Gem Home Design Visualizer online tool provides inspiration that allows homeowners to try out different combinations of colors and textures for their home that fits their individual style. For more information, visit www.plygem.com.
AN EASY INDOOR PROJECT
Make improvements to any bathroom by replacing the showerhead, try a Speakman Showerhead. People overwhelmingly say that they can feel the difference when they use a Speakman showerhead because it creates a better showering experience. With easy DIY installation that takes just minutes, homeowners can replace their standard showerhead with Speakman's two shower sprays. Enjoy a spa-like experience at home. Plus, the integrated hand shower makes cleaning a bathtub a breeze! It's available at Lowes or www.speakman.com.
THE BEST PLACE TO START
Before painting or doing anything, seal surfaces. Professionals and DIYers will be 'amped' to try DAP's new advanced hybrid sealants that outperform silicone in paintability, wet surface application, low dirt pickup and crystal-clear clarity. DAP has leveraged the power of multiple technologies to create AMP, the ultimate hybrid sealant, which stands for Advanced Modified Polymer sealant. AMP is water-resistant and resistant to mold and mildew. It's water ready in 30 minutes and is 100% weather and waterproof for windows, doors, kitchens and baths. Check it out at www.DAP.com.
THE LAWN AND GARDEN
It is so important to tune up yard equipment each spring. For Chip, that starts with Autolite® Iridium Xtreme Start™ Spark Plugs to get his lawn mowers, trimmers and chainsaws running for a full season of outdoor work with longer life and sustained performance. An iridium-enhanced finewire center electrode helps resist fouling, so homeowners can get through a full season of outdoor work without having to change plugs. For a fast and easy start, Chip uses Autolite Iridium Xtreme Spark Plugs in all of his tools.  For more information, visit www.autolite.com.
Press Release Service
by
Newswire.com
Original Source:

DIY Star Chip Wade Shares Innovative Spring Home Improvement Advice on TipsOnTV
https://www.digitaljournal.com/pr/diy-star-chip-wade-shares-innovative-spring-home-improvement-advice-on-tipsontv