Eat-in kitchen ideas: 10 sociable dining spaces
8 min read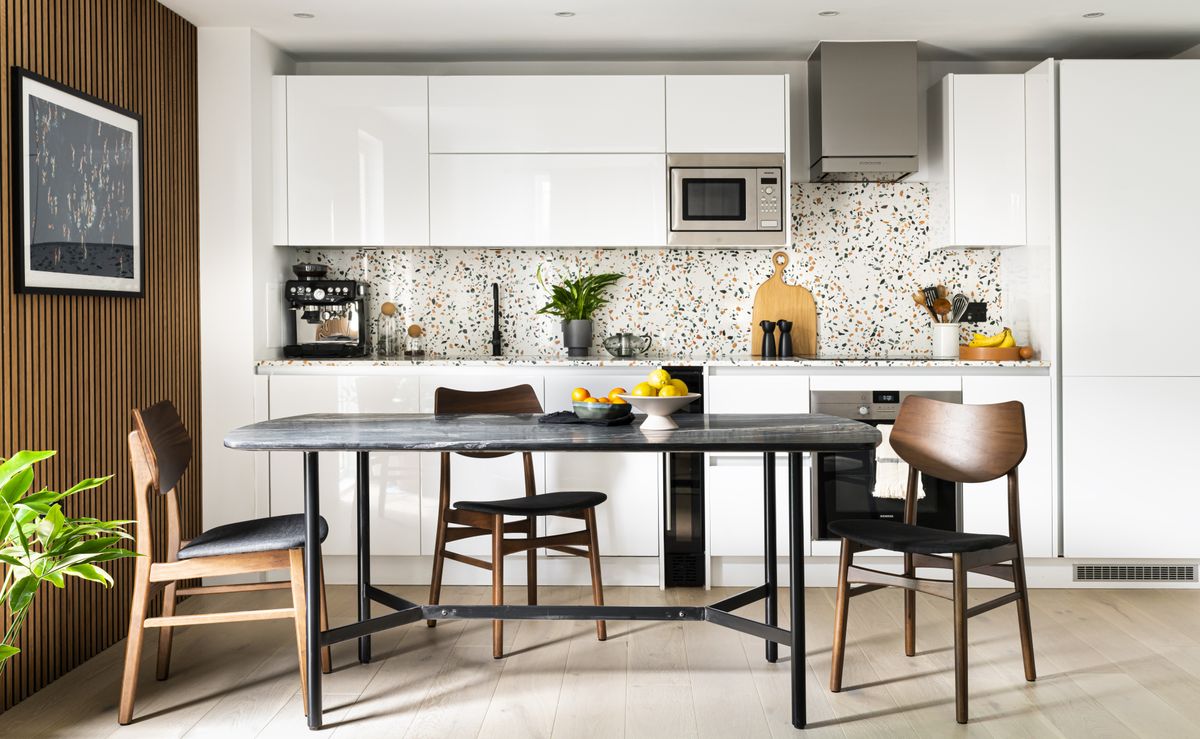 Eat-in kitchens are no new phenomenon – for centuries people have gravitated towards the kitchen because of the hearth fire and the communal need to eat around a table. 
These days, our kitchen ideas are dominated by kitchen islands with breakfast bars as must-have fixtures for eating, socializing and hanging out. Unlike these multi-focal kitchen diners, which might have an island, breakfast bar and even a living space, eat-in kitchens feature the dining table as their central focal point. This most simple of kitchen layout ideas harks back to the concept of the whole family eating around a table that was probably used for much of the prep work, too. 
'A kitchen table is just one of those pieces that adds that something extra to a room and takes it from just a kitchen into a place that encompasses all that is good about family life,' says Helen Parker, creative director of deVOL Kitchens. 
'Gatherings around a kitchen table are becoming more and more relevant to our lives today, an old habit that sadly died out when technology and busy lives took over – but they is back. The word sobromesa really sums up a deVOL kitchen, it is that time after a meal when you just stay and don't leave the table, a Spanish word that evokes more than just eating but enjoying others' company in the simplest of ways.'
Eat-in kitchen ideas
Be inspired by these eat-in kitchen ideas – fool-proof examples of how to transform the kitchen into a place for cooking and dining, together. 
1. Double up on seating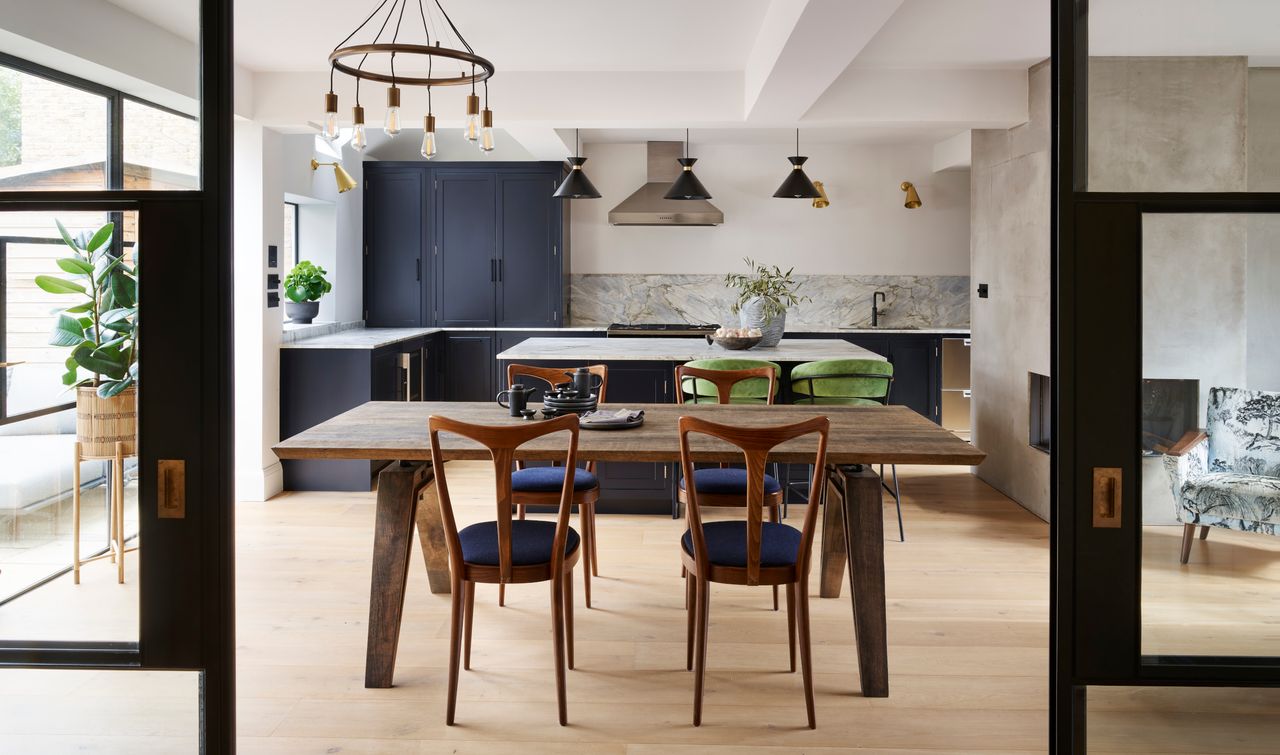 Large kitchens equal more seating and dining options. So, why not have it all: kitchen island ideas with bar stools for casual eating or a quick coffee, and a separate, freestanding table and chairs for sit-down feasts and get-togethers. 
'We like to add in a highly functional island and complement it with tables and chairs to match nearby in the same setting,' says Simon Allen, master kitchen designer at California-based Mod Cabinetry. 'This way, as you are cooking or plating, your guests are nearby and part of the action, yet in their own space. Beyond integrating the space and the people, you will want to integrate the look by carefully selecting materials that harmonize everything together.'
2. Squeeze in a table for two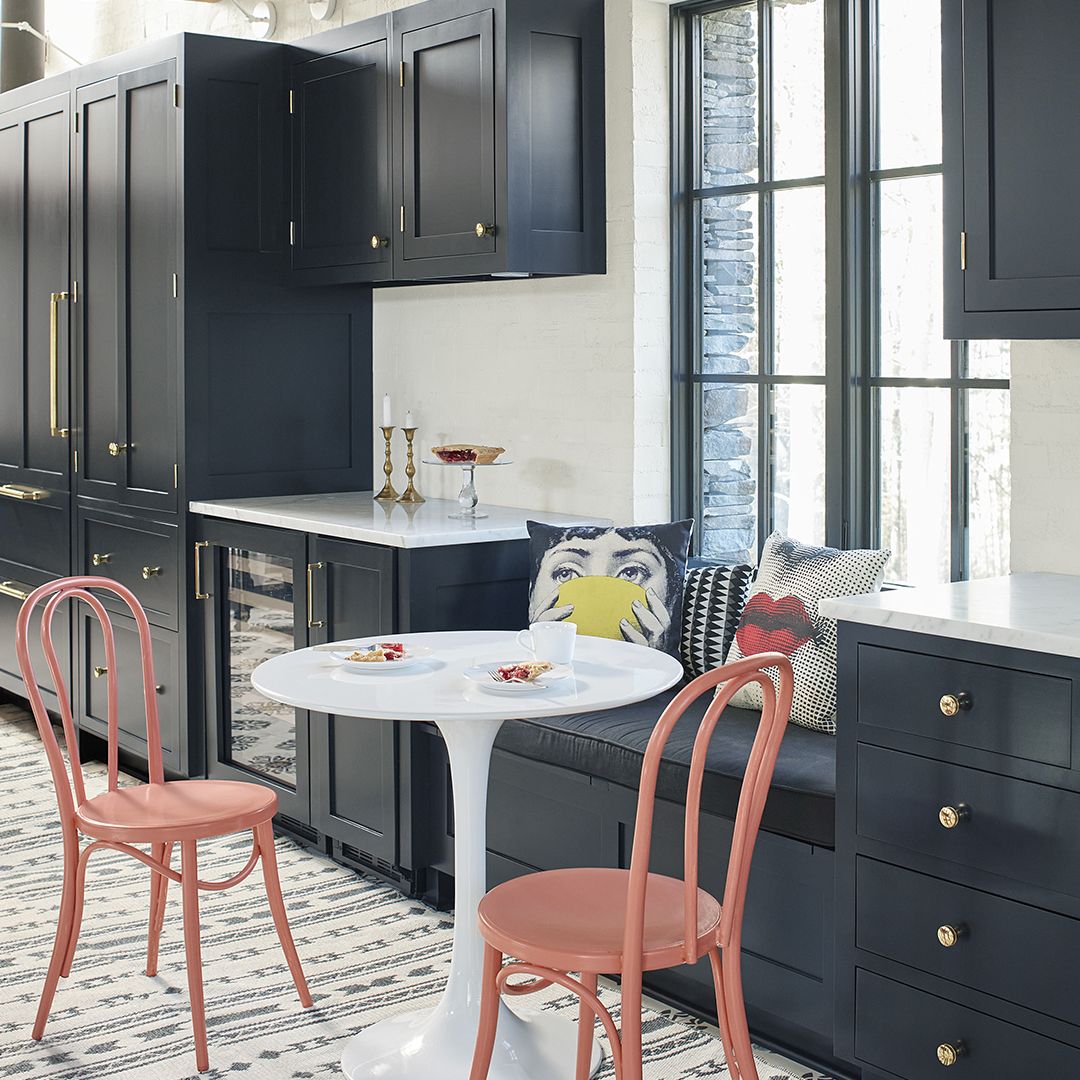 For smaller households – or those with a separate dining room – try squeezing a petite dining zone into the kitchen hub. Interrupt a run of cabinetry with a low-slung, built-in bench seat and furnish with a neat, circular, dining table and accent color chairs. Max out the bench seat further with kitchen storage underneath. If space is at a real premium, invest in foldaway or mobile furniture which can be brought out, as and when required.
'Utilize space by a window for a pleasant outlook and lots of natural light when you're eating," says Joan Gair, interior design expert at Housetastic. 'You can either opt for a small table by the window if you have limited space or choose a built-in style.'
This might mean compromising your design by positioning the sink on an interior wall, but sometimes seating and dining take priority. 
3. Maximize a redundant corner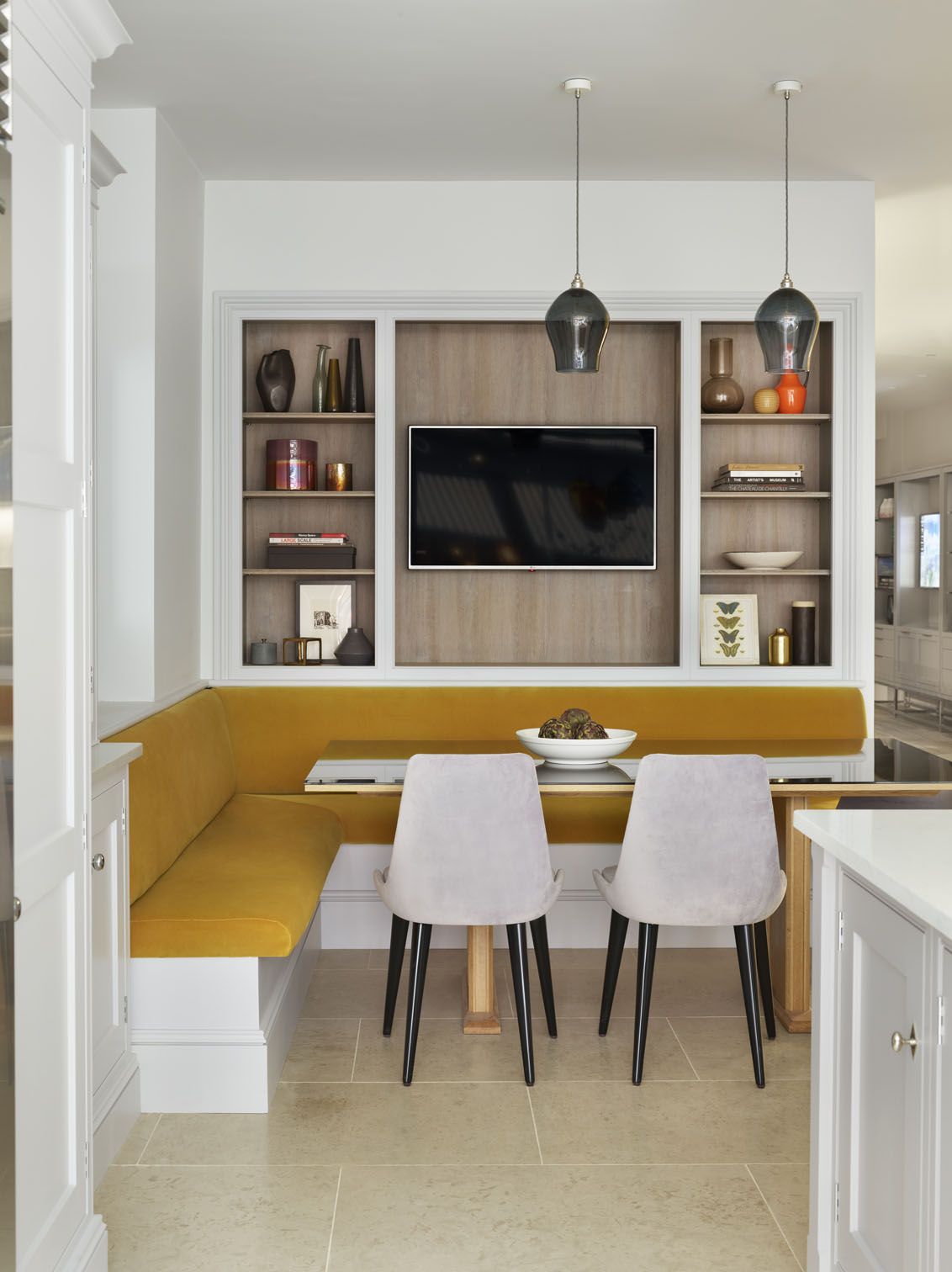 Banquette seating ideas are ideal space-savers for eat-in kitchens, with L-shaped banquettes a clever way to utilize a redundant corner really usefully while fitting in a cozy, communal dining spot. 
Upholster the banquette in a tough yet luxurious fabric – seek out one of the new-generation of hardwearing, wipeable velvets to inject an extra pop of color and tactility to the scheme. Pair with a table and a couple of occasional chairs for an eat-in kitchen that will be well-used and well-loved for so many different occasions at every time of the day.
'Generally, banquettes gravitate towards corners; L-shaped banquette seating utilizes space that would otherwise be ignored and has a warmer, intimate feel,' says Richard Moore, design director at Martin Moore. 'This layout has a sociable feel, blending the cooking and dining zones of the kitchen.'
4. Play with pattern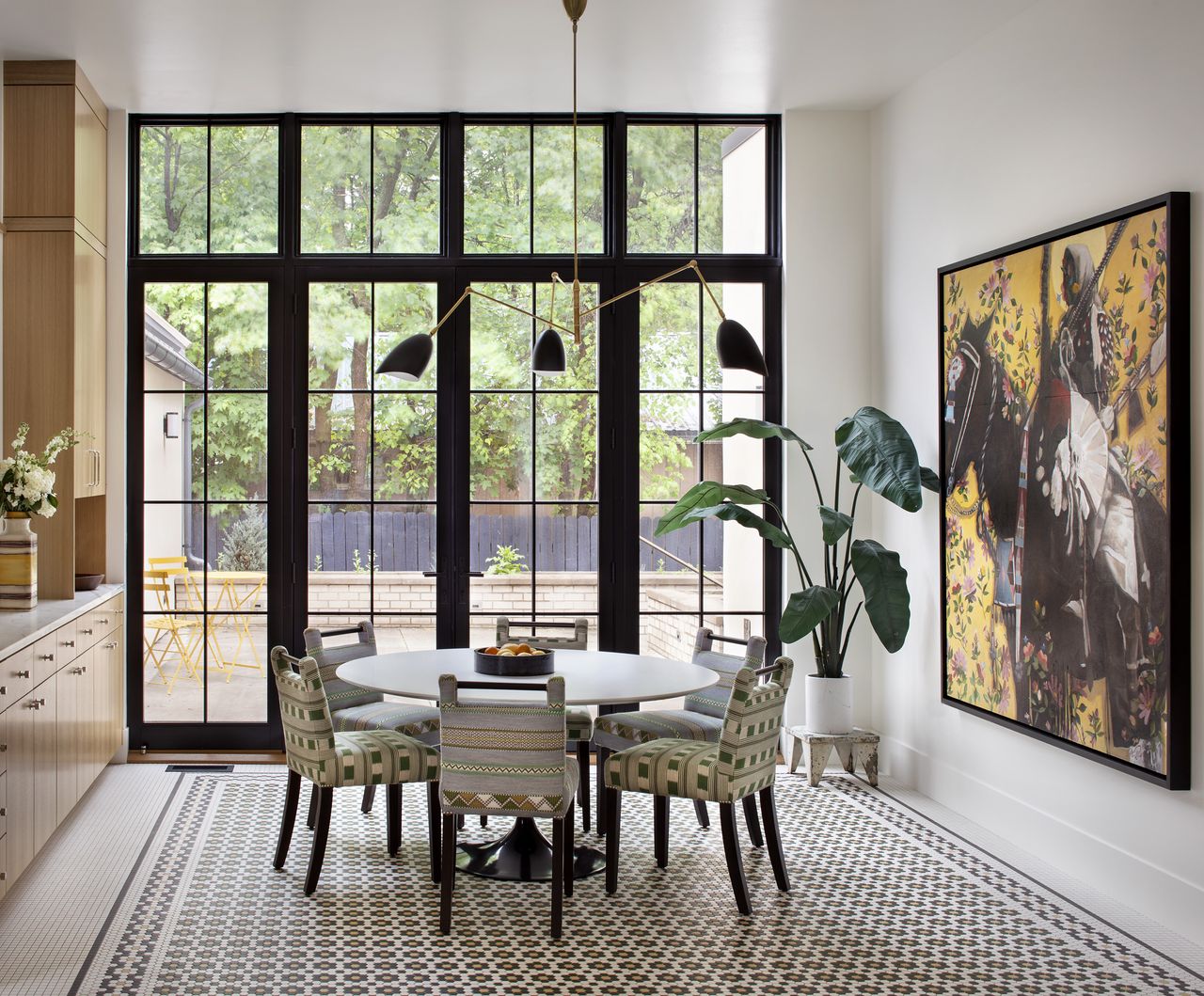 Eat-in kitchens call for furniture and fabrics that are tough and wipeable; alternatively, consider upholstering in a busy pattern that won't show up stains and scuffs quite so much as a plain. 
'Use good quality performance fabrics for the chairs so food and liquid stains are not a problem,' explains Sharon L Sherman of Thyme & Place Design. 'You can also have some fun with the style of the furniture: dining room furniture can tend to be more formal, but you can take a lighter approach in the kitchen and even use mismatched chairs to create your own design vibe.'
Don't forget comfort when it comes to choosing kitchen chairs – comfortable seating encourages guests to relax and enjoy the entire dining experience. 
In this Montana home, the tiled floor continues into the light-flooded, eat-in kitchen space, where Jeremiah Young, owner and creative director of Kibler & Kirch, created a ceramic tile 'rug' with a stylized flower design. 
'It is one of the many floral and botanical prints throughout the house,' adds Young. 'Atop the tile, a classic Saarinen Tulip table offers curves to offset the room's straight lines.'
5. Soften straight lines with curves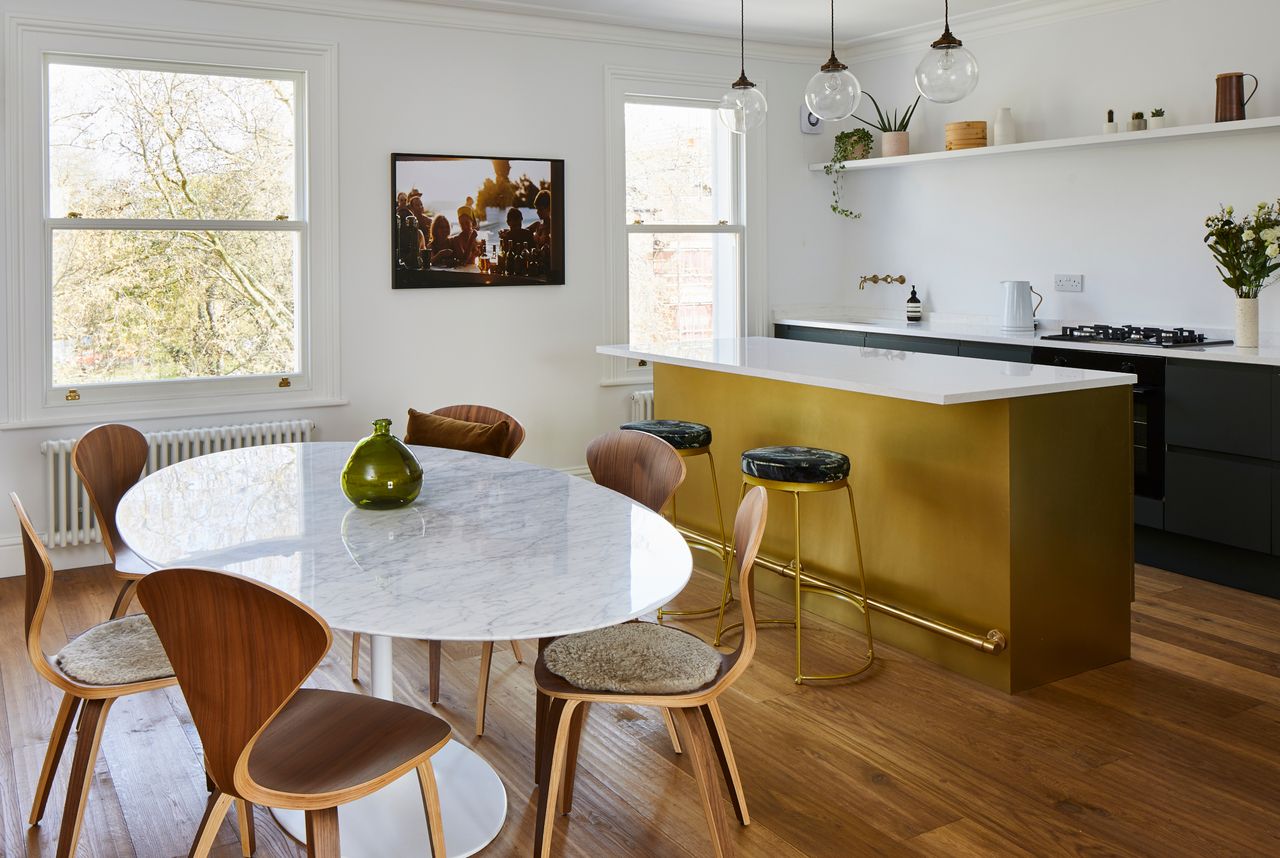 Break up the hard lines of a kitchen by introducing a curved dining table. An oval or circular shaped table, with no corners, creates a good flow of space and more room for people to get in and out of their seats. Round tables have smaller footprints than rectangular tables; it's also easier to squeeze in an extra guest around a curved perimeter. There is something very sociable about a curved dining table and guests can chat more easily with more people, not just those seated either side or opposite them. 
'A round table in a kitchen helps to create a sense of intimacy with a small group of people,' says Alice Chui an interior designer from San Francisco. 'It also provides a better use of space in a tighter area and allows more room for people to navigate around the seats. A round table is ideal for families with young children because there are no sharp corners; I always recommend round tables with a pedestal base which allows for more leg room underneath.'
6. Mix and match vintage treasures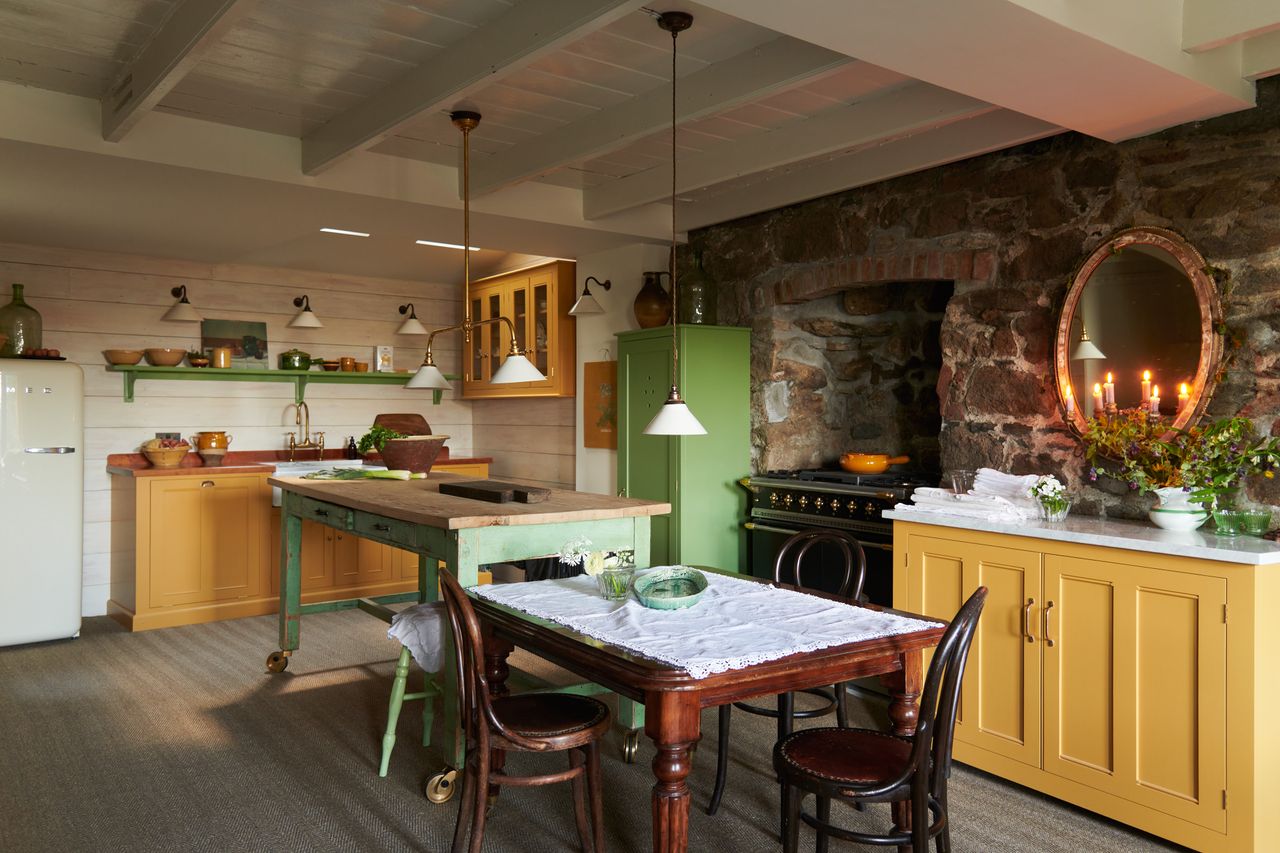 In this coastal cottage, eating, socializing and relaxing are all top of the agenda, so any dining area needed to be centrally located in the property and comfortable. 
'This cottage kitchen is full of personality and charm in its scrumptiously, mouth-watering colors and casual air of sophistication,' says Helen Parker, creative director of deVOL. 'We wanted a big kitchen in a small cottage, we wanted eating, seating and prepping, we wanted some vintage and we wanted simplicity and glamor.'
The mix and match mood includes a vintage prep table on castors, painted in an uplifting green shade, alongside an old dining table and chairs. The result offers a low key cool that is effortlessly charming with the central, freestanding prepping and dining zone the star of the room. 
Scour flea markets, second hand shops and vintage sales for similar tables – leave bare and unfinished or upcycle with a new color for a fresh look. 
7. Get the dining table's proportions right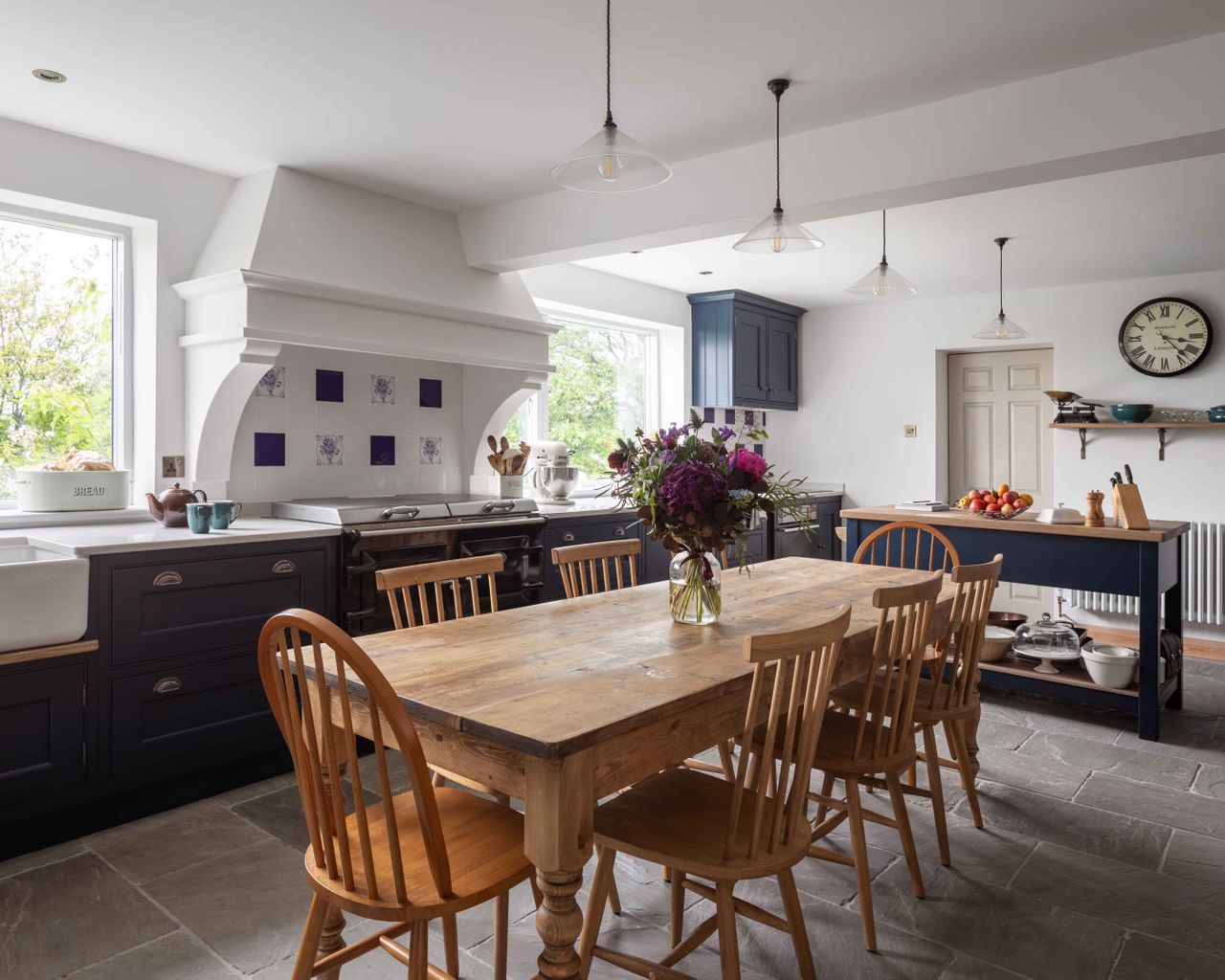 It's important that the eat-in kitchen has adequate space for a table and chairs, otherwise day-to-day dining experiences will prove uncomfortable.
'The eat-in kitchen requires more space than one might expect, for and around the dining area,' says kitchen designer Susan Serra. 'So often, the kitchen design gets all the attention with the dining area becoming an afterthought. The table size and shape is critical and dependent on the number of people in the household and the size of the kitchen.'
Allow at least 24 inches of table space for each person as a general rule, with space between a table and wall behind it, at least 36 inches – or 48 inches if the area needs to accommodate passing traffic with people walking past the table.  
'Play with table shapes and sizes on scaled drawings, then compare one drawing to another to visualize the size needed versus the traffic flow around it,' adds Serra. 'Be careful of planning for a large table and overlooking adequate space around it. It's uncomfortable when one feels they are trapped at a table with little room to navigate around it, so err on the side of more space.'
8. Choose a hardwearing farmhouse table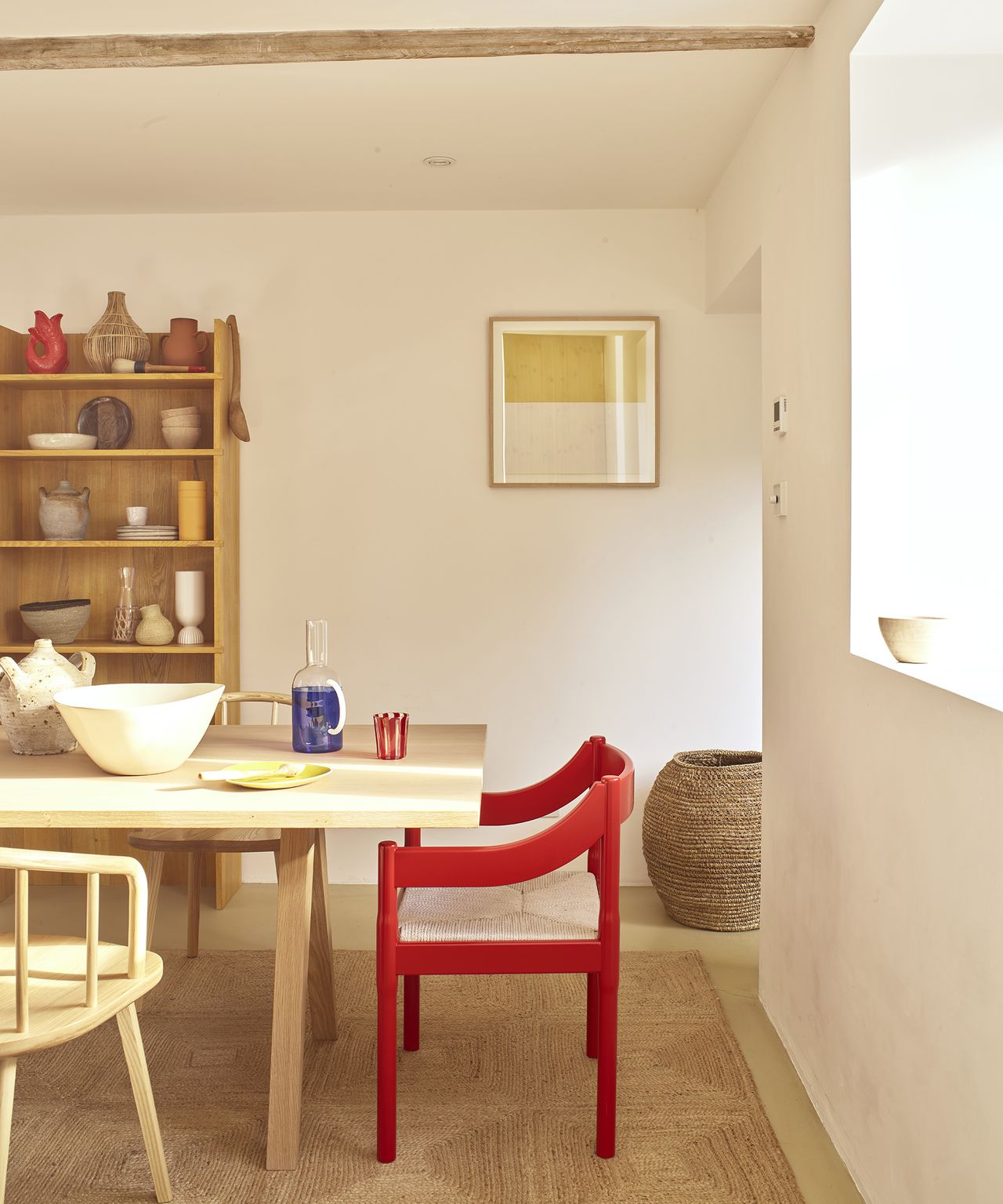 A popular solution says Sharon L Sherman of Thyme & Place Design is to recreate a modern farmhouse look by using a table as the island. It also gives double duty to the table so it can be tasked as a hardworking surface for food preparation and baking as well as a dining area.
9. Fit in a breakfast nook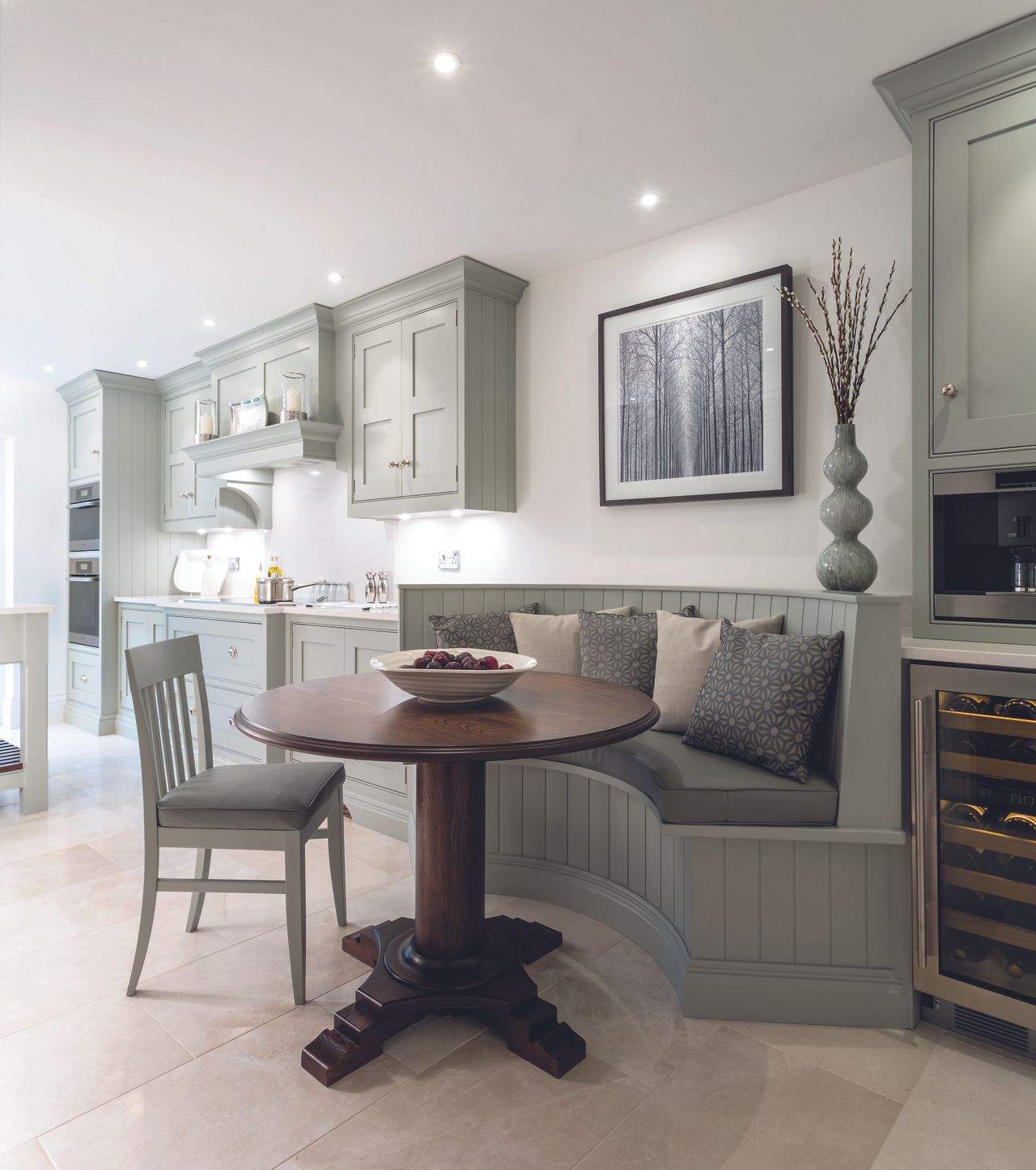 Curved booth seating is the perfect solution for informal dining or a spot of brunch.
'Kitchen breakfast nooks are ideal for a small kitchen,' says Bianca Trembly, CEO of The Best of Calgary. 'It will be easier for you and your family to just plop down at your breakfast nook and have your eggs, cereal or whatever you desire. No need to mess up the dining table for a simple morning meal. The space is small, so the clean-up is quick and you can keep the dining table for bigger family meals.'
Unlike breakfast bar ideas, breakfast nooks offer more space, and a more sociable feel.
10. Swap an island for a table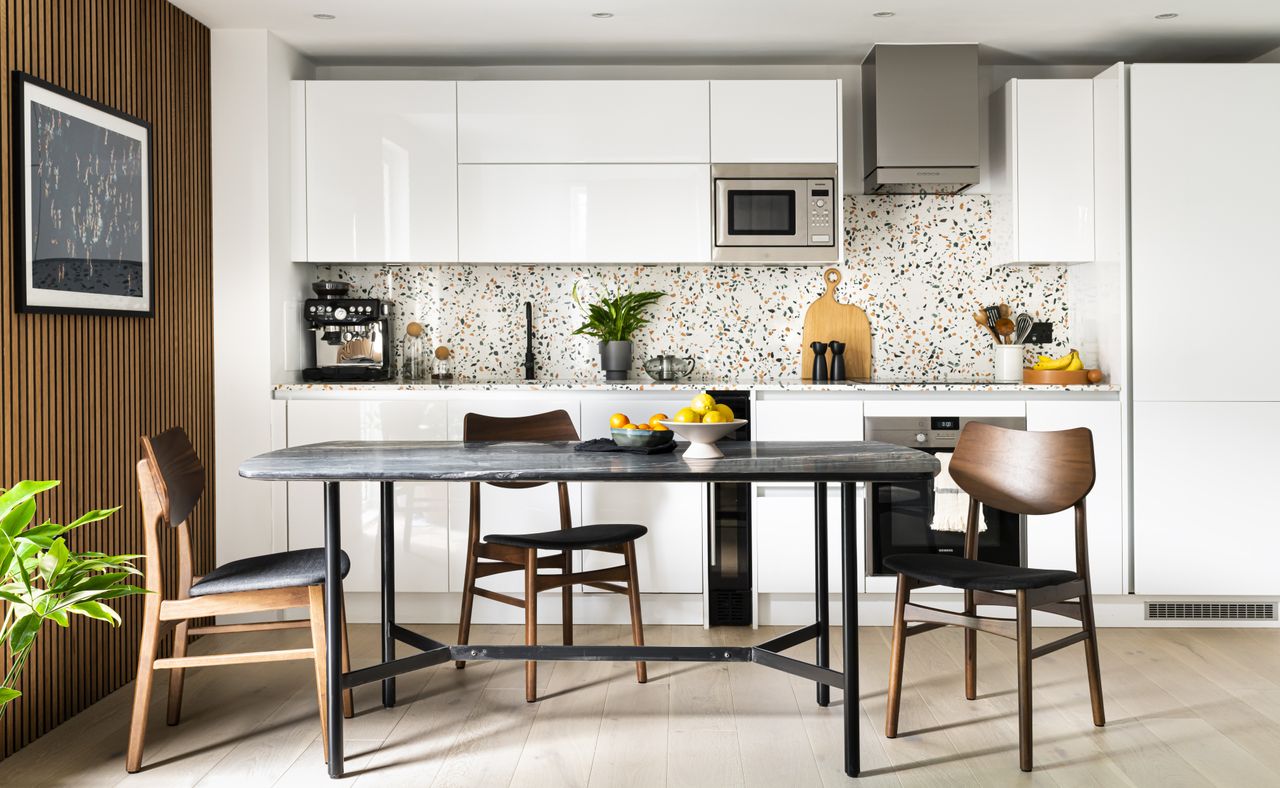 This compact kitchen in a London apartment proves that island units are not the only solution for dining where space is tight. 
'Due to the compact, open-plan space, we decided to opt for a dining table, rather than an island, as the homeowner wanted an area that he could work in during the day and entertain guests in the evening,' explains Jen & Mar, co-founders of Interior Fox. 'To complement the black accents in the room, we chose this Perch & Parrow black marble table as a real wow piece. We then sealed the top with protectant to prevent any stains, giving the homeowner piece of mind.'
What is considered an eat-in kitchen?
An eat-in kitchen is a separate room that not only includes cooking and food storage equipment (ie, the kitchen) but a table and chairs for eating too. It differs from the open-plan kitchen and dining set-up which is essentially two rooms stretched out over a wider space by either knocking down walls or reconfiguring a large area. Eat-in kitchens literally mean just that: an area or a dining table within the hub of the kitchen where family and friends can come together. 
Do you need a dining room if you have an eat-in kitchen?
Whether you need a separate dining room to an eat-in kitchen is largely down to personal preference, your property's dimensions and the size of your household. Do you have a large family that can't fit around the eat-in area of your kitchen all at the same time? Do you want to forgo a second living room and transform it into a dining space? Are there walls you could knock down to create a continuous, open-plan kitchen and dining room instead? If you are planning a kitchen revamp or a brand new scheme, talk to your kitchen specialist, architect and builder who can suggest numerous dining solutions for your needs.  
https://www.homesandgardens.com/kitchens/eat-in-kitchen-ideas