Farmers' Market Voice | Farm Home Garden
4 min read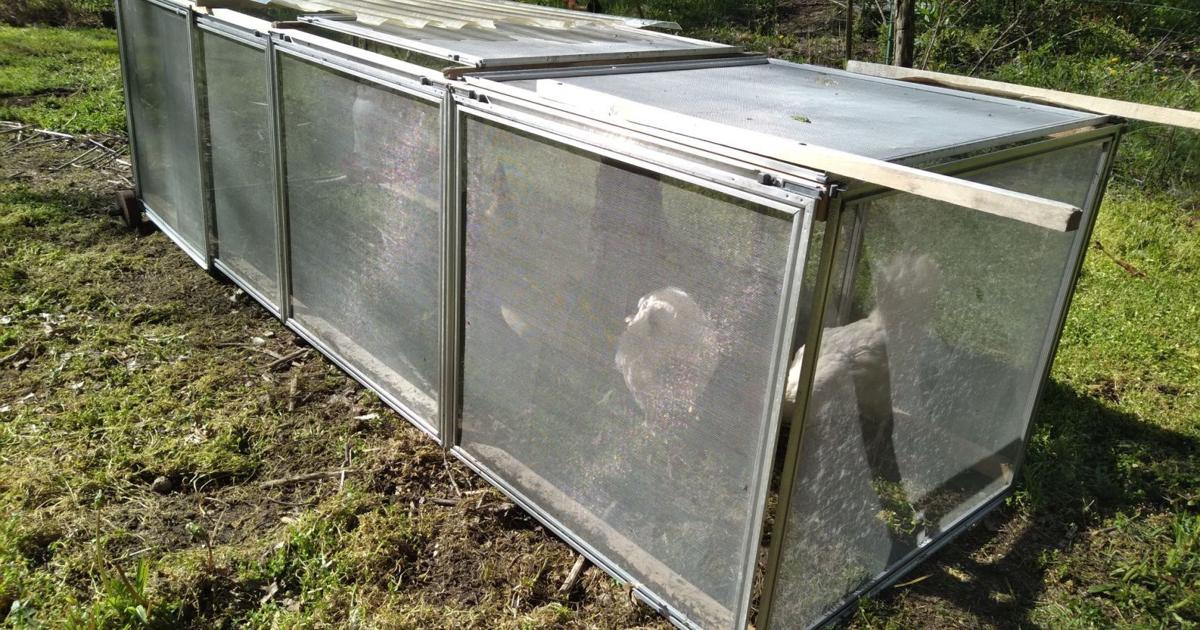 What happens to all the detritus of a civilization? All the cast off junk: old windows and screens, bits of wood and scraps of metal, old roofing, and so many other things—where does all of that stuff end up? Some of it gets burned and most of it thrown in a landfill. Precious little actually gets recycled, but there is another fate that can befall our otherwise useful castaways: some of it gets repurposed. Upcycling is another term for the useful utilization of something deemed as trash. As they say, "one person's trash is another's treasure."
This year while rounding up stuff for "junk day," I came across a set of screens taken off of a score of free windows I had already repurposed for our greenhouse. They were in good condition, and I hated to just send them to the Dumpster. I had thought about using them as racks for a solar dehydrator, but instead I remembered something I had seen in use on the farm I lived on in Thailand: a chicken tractor. Said contraption is simply a movable enclosure with no floor that allows chickens to scratch up a piece of ground without taking any machinery to it. Given just a few hours, chickens can de-weed a small garden bed and drop some nutrition to boot.
I grabbed some two-by-twos left over from another project, cut them to size, drilled some pilot holes, attached the screens to them with some screws, and I had my enclosure. To make it mobile, I cut off the metal handle of an old mop destined for the bin, attached it to the bottom of the enclosure on one end with a few inches extra width on either side, slid on some wooden wheels I had kept from a chez lounge chair that had been junked last year (see, I knew they'd come in handy!), and added some pins on the outside to keep the wheels from sliding off. For handles I visited the woodshed and selected a few off-cuts, sourced from a place in Big Valley, that Jack Troy and I use as kindling and side-stoking of the wood kilns. A few more pilot holes and screws later, and I was able to grab those handles and wheel the new contraption down the hill to our back garden to test it out. I took some scratch with me to entice the chickens, and while they were pecking away at their snack, I gently, slowly lifted the tractor over them and set it into place. I added a hanging water trough to keep them hydrated and experimented with shift timing. Just a few hours a day with ample scratch (aptly named) to encourage ground scratching does the trick.
Like the chicken tractor, our original greenhouse was made entirely of reclaimed materials: old windows found on the side of the road or the basement and even a few that friends and friends-of-friends gave us, some screws from Bruce and Barb Thomas' basement that they cleaned out several years ago, some two-by-fours from another friend's garage, and a few locust poles cut from the forest behind the house. I built the original greenhouse for literally no money at all and used old manual drills and hand tools, so no electricity was consumed either. The roof, made of Craigslist windows whose screens became the chicken tractor, was pretty leaky, so after a couple of seasons of driving myself nuts sealing gaps, I broke down and actually bought some clear plastic roofing. No more drips.
Last year during the winter of COVID when we were grounded from our winter travels, I decided to double the size of the greenhouse and make use of some of the windows I'd accumulated since making the original. I simply built onto the existing structure and ended up enclosing what used to be a back patio, so the greenhouse doubles as a conservatory in the winter where we can spend warm, sunny, winter afternoons reading in comfort while still kind-of being outside.
I would argue that repurposing cast away materials is a kind of natural building. While natural building makes use of that which is available in nature all around us, repurposing human-made objects, that wait like hitchhikers on the side of the road with a "free" sign in place of a thumb, is also making use of materials present in our surrounding environment. When trees shed their leaves at the end of the growing season, squirrels and other critters carry some away to use as insulation and bedding. It's thus entirely natural to want to make use of unwanted, free windows and screens, I'll keep telling myself, as I occasionally take home a gem gleaned from the side of the road or a friend's garage. In fact, I think it's necessary to repurpose valuable stuff in an expanding human world in which the increasing demand for resources is starting to cause shortages and supply chain issues.
Folks driving around in their pickups on junk day know what's up. I worry, though, that some of them are merely expressing a squirrely propensity to hoard away things that might eventually be useful. But who knows? Perhaps a visit to their abodes would reveal a collection of patchwork structures and other creations straight out of a fairy tale from the post-apocalypse. Such creations certainly have character, and they hold a much greater value than what the "free" sign originally ascribed to their essential parts.
Nick can be found selling fresh veggies every Thursday at the Huntingdon Farmers' Market from 11 a.m. to 3 p.m. May-October. More information can be found at www.huntingdonfarmersmarket.org.

https://www.huntingdondailynews.com/news/farm_home_garden/farmers-market-voice/article_3c1dadef-701d-5733-af0b-bcb0db8d7192.html