Floating city, vertical gardening among winning student architecture designs
2 min read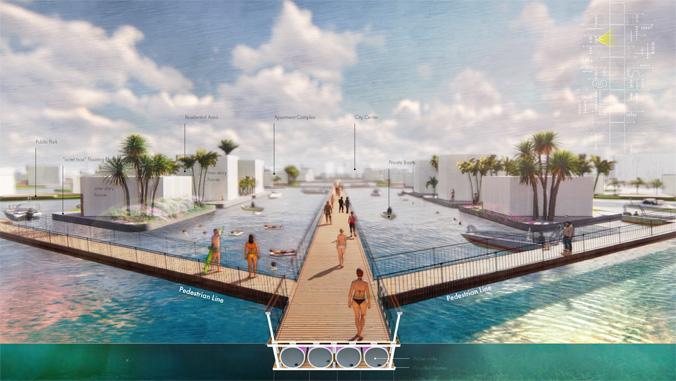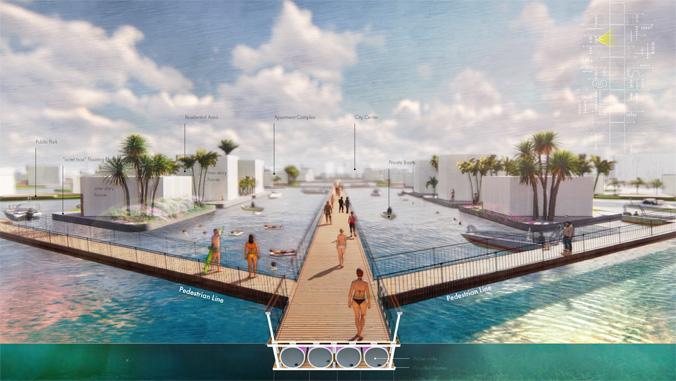 An innovative floating city, designed to address climate change and sea-level rise, won the Student Award of Excellence from the American Institute of Architects (AIA) Honolulu Student Design Awards. Four other University of Hawaiʻi at Mānoa School of Architecture student projects were also recognized for design excellence. The 63rd AIA Honolulu annual awards were announced the week of November 8, 2021 via short videos on social media.
Student winners: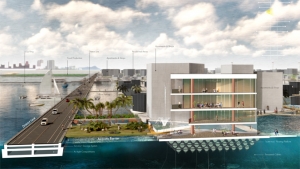 "The projects that are being featured have been developed in the design studios at the School of Architecture, which are at the core of all of our programs," said Karla Sierralta, an associate professor in the School of Architecture and director of undergraduate studies. "In the design studio, students work alongside faculty to creatively develop projects that address current and critical issues related to architecture and the built environments. These awards are a great metric for both successful teaching and student learning."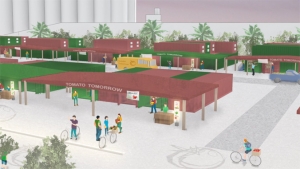 "I hope this project will trigger new ideas about future cities," Tran said in the video about his winning design.
The AIA Honolulu Annual Design Awards Program has provided an avenue for AIA Honolulu architects to be recognized by their peers for their outstanding achievements and dedication to excellence in architectural design. The student category was established to recognize student achievements in the design studio and provide a forum for student work to be celebrated beyond an academic setting.
"This is a great opportunity for our students to showcase their design and creativity with not only the design and construction community, but to the general public as well," said Kanisthakhon. "As the faculty advisor for Tomato Tomorrow, I am very pleased with the recognition that this team is receiving. Their proposed design solutions to the myriad of sustainability issues that we are facing on this island are both thoughtful and creative."
These awards are an example of UH Mānoa's goal of Enhancing Student Success (PDF), one of four goals identified in the 2015–25 Strategic Plan (PDF), updated in December 2020.
Floating city, vertical gardening among winning student architecture designs