foster + partners completes 'sky city' DJI headquarters in shenzhen
3 min read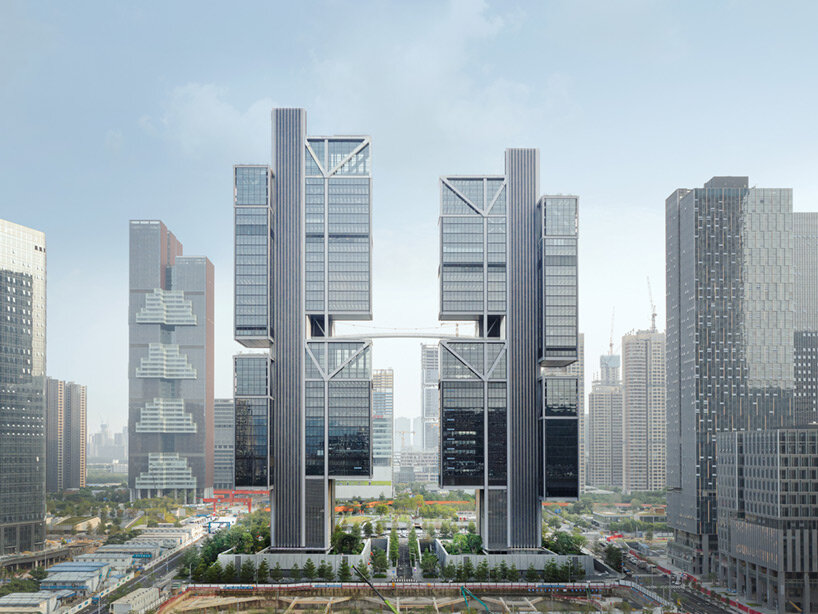 a new innovation hub for drone-makers DJI
Foster and Partners completes the new Shenzhen headquarters for DJI, the worldwide leader in civilian drones and creative camera technology. After six years of construction, the pair of towers now hosts a 'cutting-edge innovation hub' and adds an exciting new landmark to the skyline of the Chinese city — one of the top ten UNESCO Cities of Design.
Foster and Partners founder Norman Foster comments: 'Drone technology has changed the way we experience the world around us while pushing the boundaries of aerial possibilities. I have enjoyed using DJI products for more than a decade. We are delighted to have partnered with DJI in creating their new headquarters in Shenzhen, which will be the company's premier center of research and innovation.'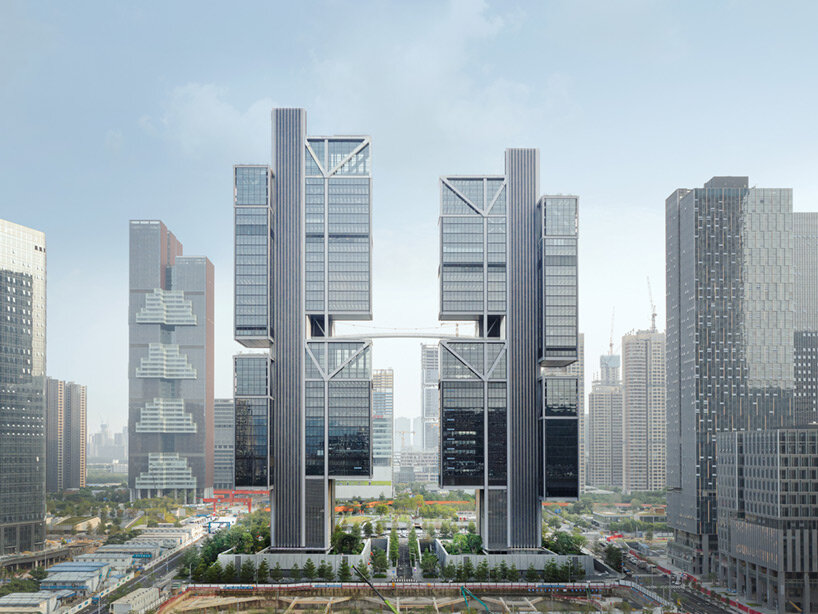 images by Tian Fangfang, SFAP
foster and partners balances lightness and weight
Foster and Partners designed DJI's Sky City as a 'heart of innovation' in Shenzhen. The architects note that hundreds of design iterations were proposed before landing on the concept of an asymmetrical suspended steel structure. The two towers rise forty-four and forty stories, and are linked by a delicate skybridge. The buildings will soon host as many as 8,000 employees with office space, research and development centers, drone testing areas, and public facilities. With its clustered volumes reaching a height of 213 meters (700 feet), DJI Sky City suggests a work of architecture which float above its urban context.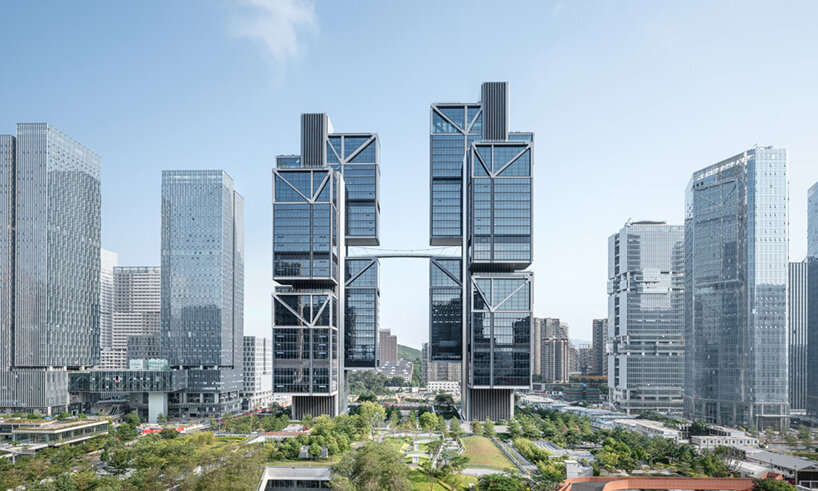 the suspended volumes of shenzhen's two towers
The team at Foster and Partners organizes the two DJI towers each with a central core, off of which the large volumes are cantilevered. Six glass blocks suspend asymmetrically from the east and west around the three sides of the cores. The suspended blocks are carried by 'mega-trusses' and steel suspension tubes connected to round cross-sections at their corners, with the maximum overhang of the blocks reaching 21.5 meters (70.5 feet). The structural system serves both a load-bearing purpose and exposed aesthetic element, achieving a high degree of unity between space, structure, and form.
A suspension bridge spans ninety meters (295 feet) to link the two towers at the twenty-fourth level, 105 meters (345 feet) above the ground. Slim and lightweight, the skybridge harmonizes with the large, blocky volumes to create an 'element of agility.' Young Chiu, the lead architect of the project, comments: 'Sky City's volumes and structures are honest and exposed, with rich expression from inside and out. Its beauty is minimal but warm, quiet and upright, unadorned, simple and plain.'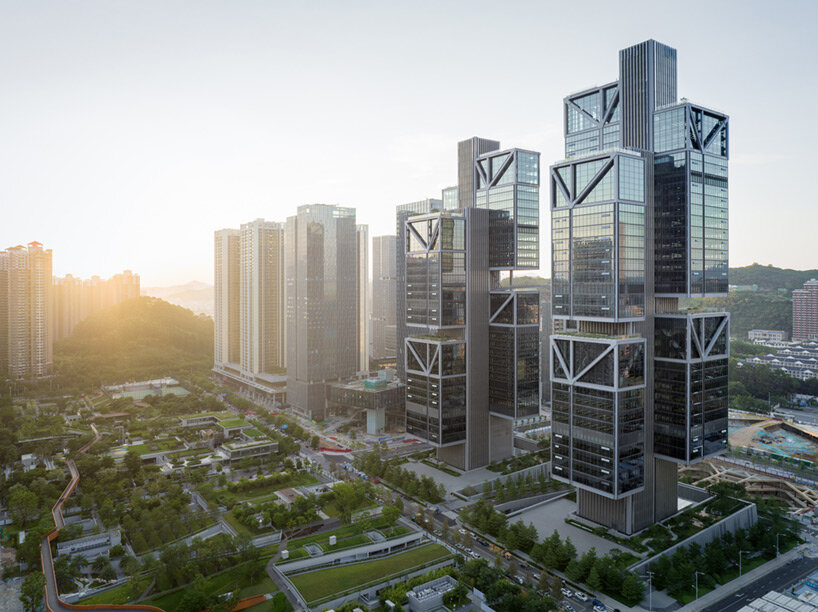 Frank Wang, Founder and CEO of DJI notes: 'It took us six years to build the new DJI Headquarters, which is the result of the wisdom and determination of DJI and our valued partners. We see Sky City as a product unlike any we've ever made: our real home.
'At the beginning of a new era for DJI, we pay great attention to the growth and well-being of every employee. This starts with a work environment that is both practical and delightful. I hope that Sky City will inspire all of us to work together and scale new heights of progress, wisdom, and possibilities to develop solutions that benefit society.'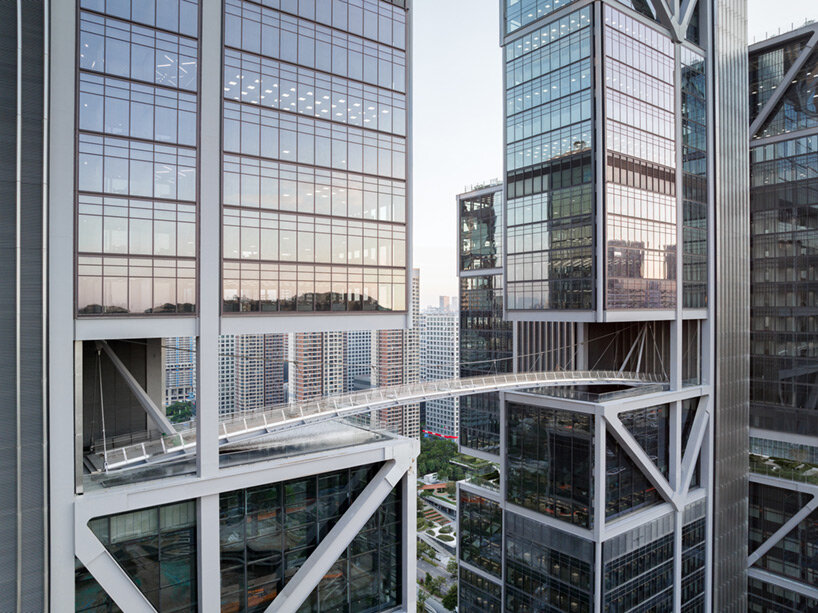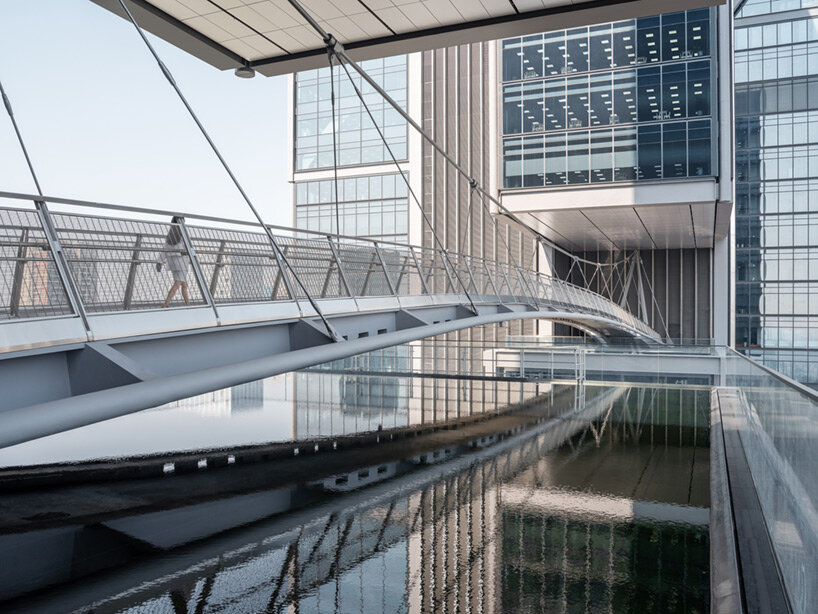 foster and partners completes DJI headquarters 'sky city' in shenzhen