Interior Design Trends in 2022
3 min read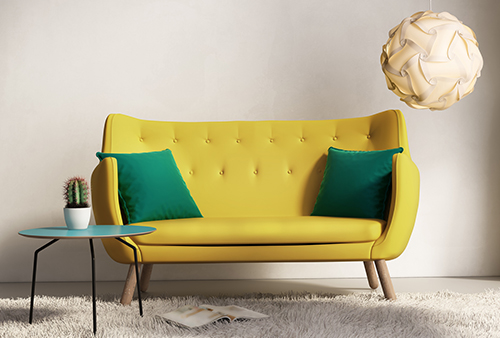 It's clear that homeowners are ready to revamp their interiors, but what design elements are trending this year?
Over the course of the past two years, homeowners have come to realize just how important it is to feel a sense of joy, comfort and connection with their interior spaces. The design trends in 2022 reflect this desire to create cozy spaces with distinct touches that stray from the traditional. Furniture lines are getting softer, walls are making a statement, kitchen cabinet colors are getting bolder and rooms are going green…literally. Below are a few ways design is shifting this year.
Earthy Color Palettes
Perhaps the biggest shift right now is in color palettes. "We are making a shift color-wise from the grays and whites that have been so popular to a more Earth-tone style palette," said Trina Ashour, owner of Renovate Interior Design. "Wood finishes are veering more light and natural (think pale oak) and color palettes are incorporating earthy greens, creams, etc."
This shift was echoed by the recent announcement of the Sherwin-Williams 2022 Color of the Year: Evergreen Fog, a slightly muted sage green.
Accent Walls
Accent walls are an easy way to add a bit of visual interest and personality to pretty much any space in the house. Accent walls have taken many forms over the years—from a wall painted in a pop of color to tumbled stone, reclaimed wood and shiplap. "Right now, something we are seeing a lot of is interest in doing accent walls or features walls with added texture," Ashour said. "Slat walls are big right now."
Jillian Jackson, owner of The Painted Caterpillar, is also seeing an increase in requests for focal walls featuring custom woodwork.
Wallpaper
Americans' relationship with wallpaper has fluctuated over the years, but it is very much in fashion at the moment with no end in sight. "Wallpaper is also still huge on the list with the amazing patterns and textures now available, Ashour said.
From overscale florals to vintage prints and everything in between, homeowners are using wallpaper to make a statement everywhere from the laundry room and foyer to the bedroom.
Colorful Cabinets and Mixed Metals
Homeowners are also making bold choices in their kitchens and baths. "For renovations we are still seeing a lot of people interested in painted cabinets (versus a wood stain)," Ashour said. "Mixing metals has been a popular design statement recently (using different colored metals within the same space for hardware and fixtures) with brushed gold being a popular choice."
"Large format tile is becoming increasingly popular for its modern look as well as the bonus that it reduces the amount of grout lines," Ashour added.
Curved Lines
"For furniture, we are seeing a bit of a move towards curved furniture and decor versus straight-lined," Ashour explained.
The curved furniture trend has its roots in the 1970s. Following on the heels of the straight clean lines of mid-century modern furniture of the 50s and 60s, the movement was about embracing a more feminine approach to modern furniture. That feminine curve continued into the 80s. Now, all things 80s are back, including a new take on curved furniture, particularly in sofas and chairs.
While these trends have been hot for 2022, it is important to remember that design is a personal choice. "I always like to tell my clients that the greatest trend they can follow is doing things they like," Ashour said. "Trends come and go always, but tapping into a person's individual style and incorporating that into their own home is the best way to have an awesome looking space."
By Karen Ring