Jeff Lewis on New Home Design Show 'Hollywood Houselift'
8 min read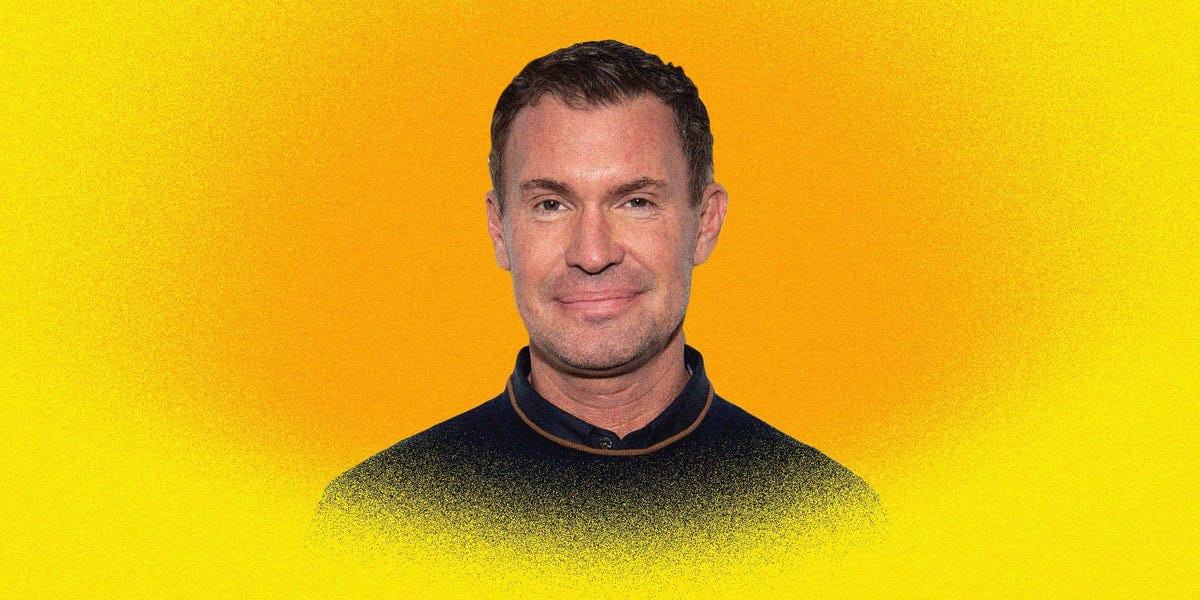 From 2007 to 2018, Jeff Lewis ruled the roost on his Emmy-nominated series Flipping Out. Whether you loved the obsessive-compulsive interior designer working with clients and friends to have his vision realized — or loved to hate him — no one could deny that Lewis was the ultimate pro, both on and off camera.
After taking a few years off the reality-TV hustle to focus on his Sirius XM radio-hosting gig and being a single dad to daughter Monroe, he returns to the small screen with Hollywood Houselift With Jeff Lewis. For this new series, Lewis and his team work their home-renovation magic for a slew of stars, including Anthony Anderson, Fortune Feimster, Ashlee Simpson Ross, and Mira Sorvino.
While it all sounds like glossy escapism — Wilmer Valderrama's turned a bathroom into a barbershop?! — the overall result ends up surprisingly heartfelt. Fatherhood is a thread that carries through the series, with viewers seeing how his daughter has changed Lewis, as well as following him on his journey to have a second child via surrogacy. To put it simply: Lewis undergoes an emotional trek that reveals a different side of a reality star many people may think they already know.
This content is imported from YouTube. You may be able to find the same content in another format, or you may be able to find more information, at their web site.
Hollywood Houselift With Jeff Lewis releases its first three episodes June 10 on Amazon Freevee; new episodes will debut each subsequent Friday through the end of July.
Ahead of the series' premiere, Lewis spoke with Shondaland about growing up without losing his edge, the transformative power of parenting, and his fast-food obsessions.
---
JONATHAN RIGGS: What made Hollywood Houselift the right next chapter for you?
JEFF LEWIS: I did a show for Bravo called Interior Therapy that I always loved. I wanted to do a similar show in that it was more about other people's lives than mine. It turned out Hollywood Houselift ended up being a hybrid. I thought it was going to be more about the celebrities' lives, but it inevitably became a little bit about mine, as well as the people that work for me.
JR: Of the celebrities you worked with on the show, whom would you most trust to redo your home?
JL: People in general are far more in the know when it comes to design now than they were, say, 10 years ago. So, most clients have pretty good ideas about what they want. Evan Ross and Ashlee Simpson Ross have great taste. I think that Wilmer Valderrama has good taste, and we worked well together because he could go off the reservation a little bit.
Mira Sorvino and I didn't totally see eye to eye on everything. But ultimately, she was very happy with the remodel. She made all her own decisions, although I prevented her from making some bad ones. Anthony Anderson and I worked really well together, and we still are friends depending on the intended meaning?] after the fact. Fortune [Feimster] was fun, although her partner was a little tough. There were no major rifts or fights, just a little bit of tension and some disagreements.
JR: As a viewer, I was expecting there to be a blowout between you and Lamorne Morris' friend/designer Morgan, who had a very strong — and stoic — presence in that particular job.
JL: I've never had someone want me to work with their designer. I just kind of accepted the situation for what it was: I wasn't going to edge her out or replace her. We had to work together. She wasn't difficult, but she also wasn't very warm and fuzzy. Morgan is a powerful, successful woman. So, whether or not I liked her was irrelevant. I respect her, and I think she's good at her job. I'd rather be respected than liked any day. But being in this business for so many years, I know that every situation is different. And so I've been learning to adapt and roll with it.
JR: Hollywood Houselift shows some different sides to you than viewers might be expecting. How do you feel you've changed since you first came to prominence?
JL: I think I grew up — it took me a while! Most people grow up in their 30s. For me, it was later than that. The personal things that happened in my life over the last few years very much changed who I am, and I handle my business differently now too. I really try to take a breath and respond rationally because I have burned the house down so many times with my reactions and emotions. So finally, I've decided that I'm not going to continue to make the same mistakes over and over.
JR: We see you in some really vulnerable moments on your surrogacy journey to become a father for the second time, most emotionally when you get disappointing news from the fertility doctor in the last episode.
JL: That was not a phone call I was planning on taking on camera. I didn't expect the call or the news that I wasn't pregnant. We had such good luck with the first pregnancy, like "right off first embryo pregnant." I was shocked, and they asked me if I wanted that cut. I elected to leave it in because it's important I stay open, honest, and vulnerable. I was so hurt, I told myself I needed six months before I could even talk about it, but you grieve, and then you bounce back.
A lot of people have gone through this process and know what it's like. I have a close friend that has gone through it around eight times. It was really, really rough, but ultimately, they were successful. So, I'm trying to be hopeful. I only have one other embryo. If it doesn't work, I don't know what I'll do, because I'd have to start re-creating embryos, and, let's be honest, I've got a low sperm count. If this one works, I'll be blessed. If it doesn't, I'll think about what the next steps would be. There's always adoption.
JR: In many ways, the show feels more like a documentary than a traditional design reality show.
JL: I like that it became much less formatted than what I had expected. There wasn't a producer telling us what to do or say. I was just like, "Guys, follow me." I have a friend that's on Selling Sunset, a very, very produced show to the point where they're giving people lines. I like that this show is the exact antithesis of that. Whether they're celebrities or not, I'm always interested in the people who live in the homes I'm working on. I wouldn't mind doing a spin-off of this show without celebrities.
JR: Although she's not in the cast, we hear a lot about your 5-year-old daughter, Monroe, and her big personality — threatening to fire people, asking to switch rooms with you. What's her hot take on the show?
JL: I haven't shown her anything yet. Her other dad [Gage Edward] does not want her on television at all. I wish she could be in the show a little bit more; I'd love for her to see what I do. She's got a really funny personality and is very quick to remember everything. I'm curious to see who she's going to grow up to be, but I know she'll remain strong and opinionated. She reminds me of my grandmother so much, I think that she's been reincarnated. I'm terrified for when she becomes a teenager. One reason why I want a second child is to help Monroe realize the world does not revolve around her — although mine does.
JR: It really resonated with me when you and Mira Sorvino were having a discussion where she discussed her fear of letting go of household things. As a seasoned house flipper and frequent mover, what's your philosophy on separating emotions from objects?
JL: I can be materialistic, but I've never had an attachment to things. What I realized, like with Mira and other clients, is how people can have an emotional rather than a rational attachment. I understand having a couple of important possessions, like a ring from your mother or certain pictures, but it's a different story when you have a three-car garage filled with your parents' furniture.
I had to help a client in that situation, and even though he knew he was never going to use the furniture or put it in his home, it was painful for him to let it go. Mira was very sweet, and hearing how her habit of holding on to things came from this emotional place gave me an emotional tug. I recognized the sadness she felt, but I also appreciated getting to see how happy and loving her marriage, home, and family are.
JR: Where do you hope the next season of the show goes?
JL: I would like to see more of the project managers. I know that for a lot of people who watched Flipping Out, if they didn't like or relate to me, there was always somebody else in the ensemble they did. The project managers are creative people with big personalities, and I'd like to see them get more love.
I always feel like the more time I spend with clients, the better, because that's when you break the surface and get to know them. You can tell the difference with a client who allowed me a lot of access. I had great relationships with Fortune and Anthony, and I think it showed in the work.
JR: Finally, is it true, as stated on the show, that the Chick-fil-A drive-through workers know you by name?
JL: I mean, not every employee, but there are a few that know me well. It is embarrassing, but I'm very obsessive. If I eat Chick-fil-A today, I might eat it 10 days in a row. I might eat it for two months, and then I'm done; I move on to another restaurant. So, that particular phase in my life, I was obsessed with Chick-fil-A. Today, I sent my assistant to In-N-Out 20 minutes early because I know the line gets so long. I'm in my In-N-Out phase, which is great hangover food. I just do a cheeseburger with lettuce, tomato, no onions. And I love the fries.
---
Jonathan Riggs is a freelance writer and former managing editor of the LGBTQ+ lifestyle magazine Instinct.
Get Shondaland directly in your inbox: SUBSCRIBE TODAY
This content is created and maintained by a third party, and imported onto this page to help users provide their email addresses. You may be able to find more information about this and similar content at piano.io
https://www.shondaland.com/inspire/a40208893/jeff-lewis-talks-new-celebrity-home-improvement-show-hollywood-houselift/