Kitchen island storage ideas: 10 ways to create a neat space
7 min read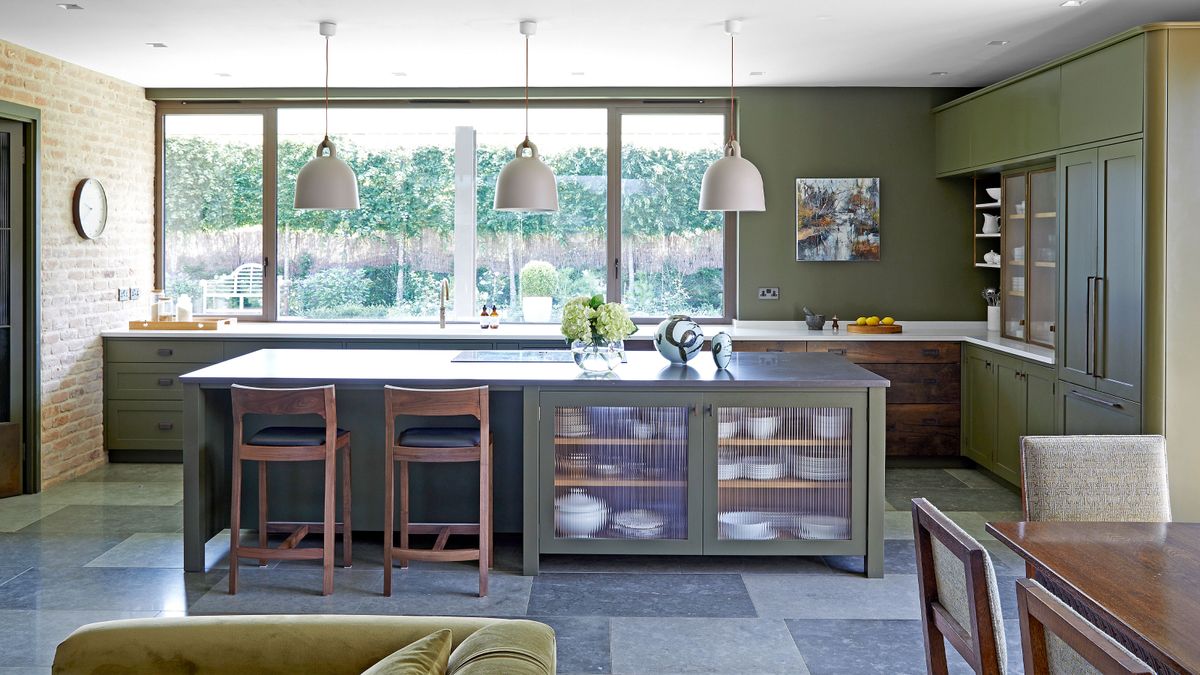 A kitchen island that incorporates practical storage designs will help to create a highly functional and organized area in your kitchen.
Kitchen island ideas can transform how you use your home. Hege Lundh, Marketing & Business Development Director at Lundhs Real Stone states, 'true focal points and statement pieces, central islands play an integral role in kitchen design. How you choose to integrate an island into your scheme will have a profound effect not only on how you use your kitchen but also its overall appearance.'
A multipurpose design feature that serves as an inviting space to sit, eat, prepare food and store kitchen accessories, planning kitchen island storage ideas to make the most out of this important space is a must. 
From draws to shelves, to the integration of larger appliances, when designing a kitchen island, think carefully about how you will use use the space and what objects you want to store and keep close by.
Kitchen island storage ideas – 10 ways to establish an organized space
To help with your kitchen storage ideas, we have gathered some beautiful kitchen island designs that show an array of storage possibilities, as well as asking the experts on their top tips for kitchen island storage ideas.
1. Create a handy bookshelf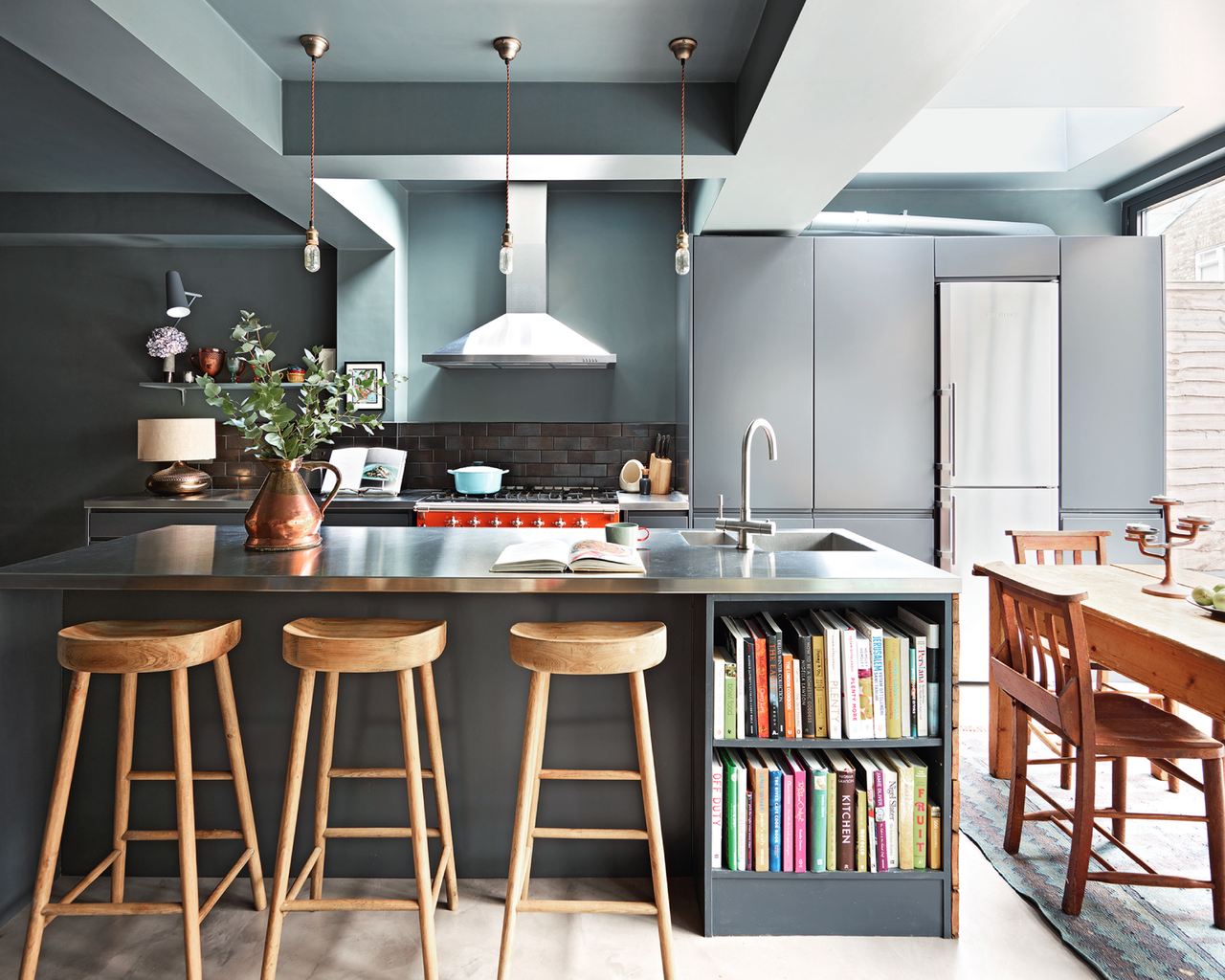 For all the cooks and wannabe chef's out there, incorporating a colorful bookshelf in your kitchen island for bookshelf ideas can create both a decorative and practical storage design. 
You want your cookery books to be easy to grab and flick through in the kitchen, rather than being tucked away on another bookshelf in a separate room, so creating a rack or traditional bookshelf design on your island is a great way to do this.
A kitchen island book display can add color, texture and character to the space, as well as create a charming focal point in the room.
2. Install a wine fridge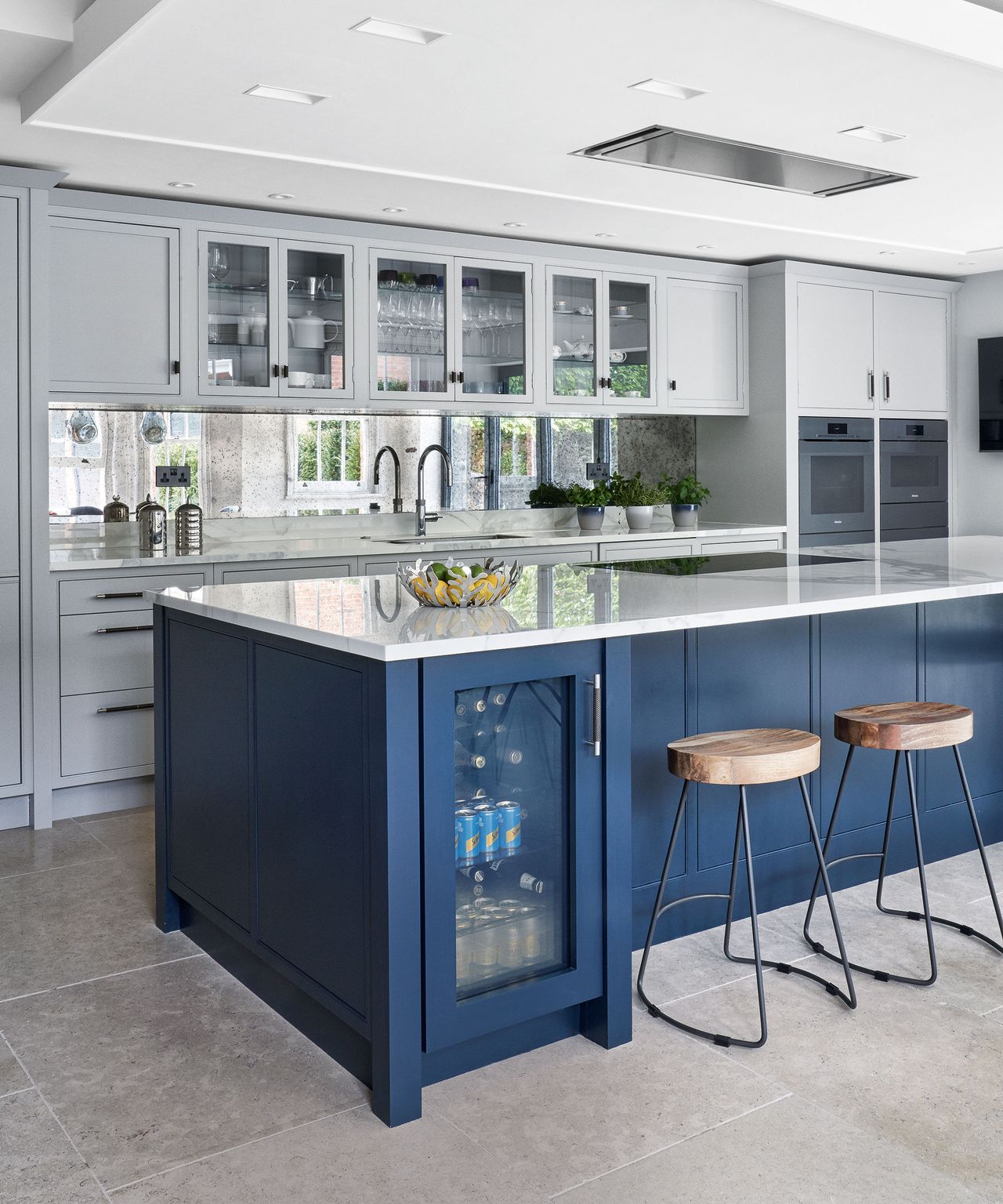 A luxurious, and some would say an essential addition to the kitchen, creating space for a wine fridge can elevate your island to become a central socialization and entertaining space. For a unique home bar idea, add in shelves on your island for the display and storage of glassware and your favorite beverages.
In this kitchen, the wine fridge has been beautifully designed to integrate into the blue painted island base, creating a stylish and cohesive look. 
Whether you use a fridge for wine, or for overflow from the main fridge in the home, if you have the space in your island base, this can be both a playful and practical addition – one to remember for modern kitchen island ideas.
3. Combine open and closed storage units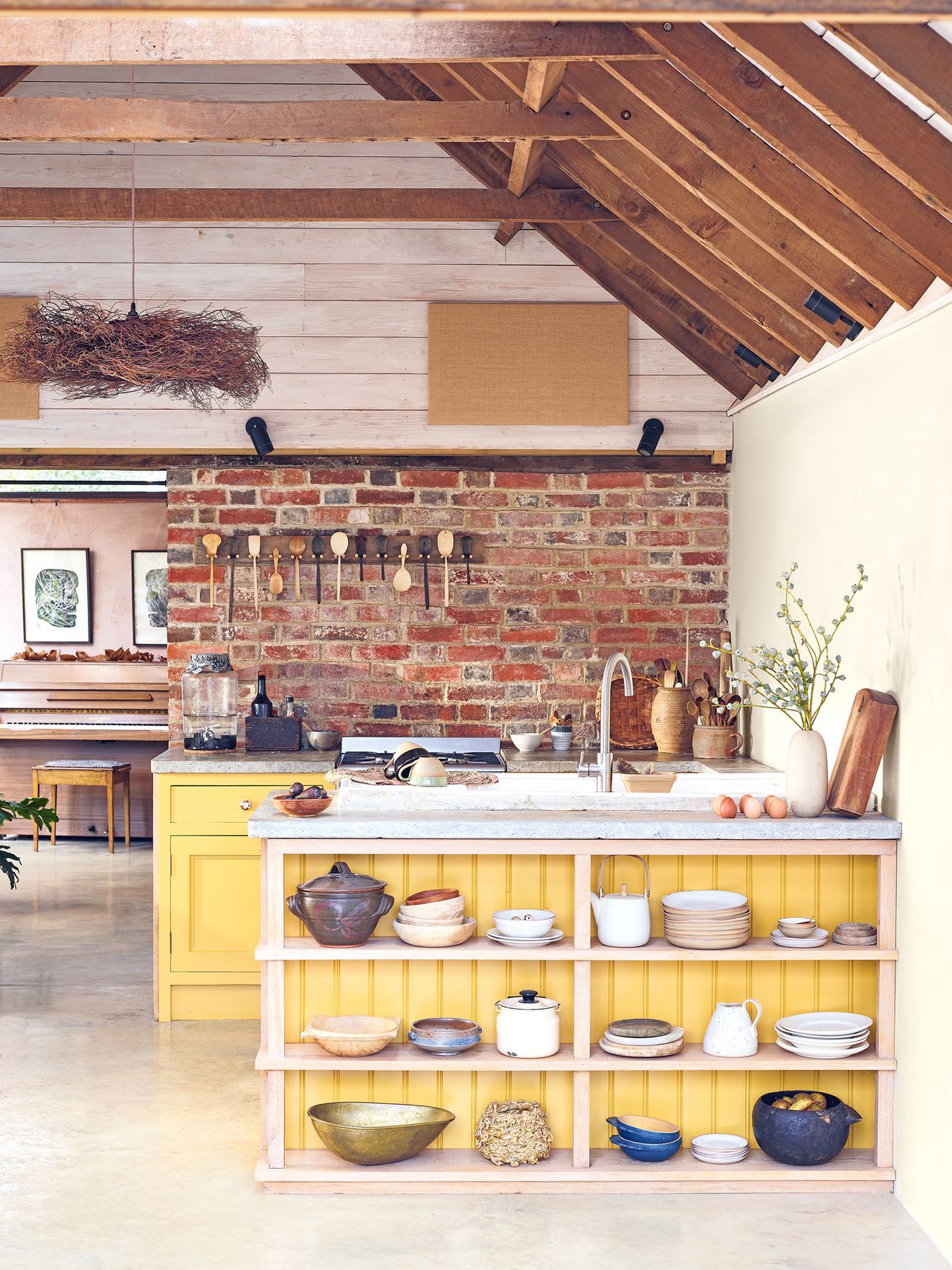 Having a mixture of open and closed storage designs on your kitchen island allows for you to both display certain decorative pieces and hide away more everyday, functional items. 
'From books, to beautiful glassware and ceramics, creating an inviting, open platform on your kitchen island, curated with meaningful decorative objects, can add an appealing personal touch to the space. For more inspiration, see our top tips for decorating shelves,' says Jennifer Ebert, Homes & Gardens' Digital Editor.
When combined with closed drawers and cabinets, you can create an island design that strikes the perfect balance between style and practicality.
4. Integrate large kitchen appliances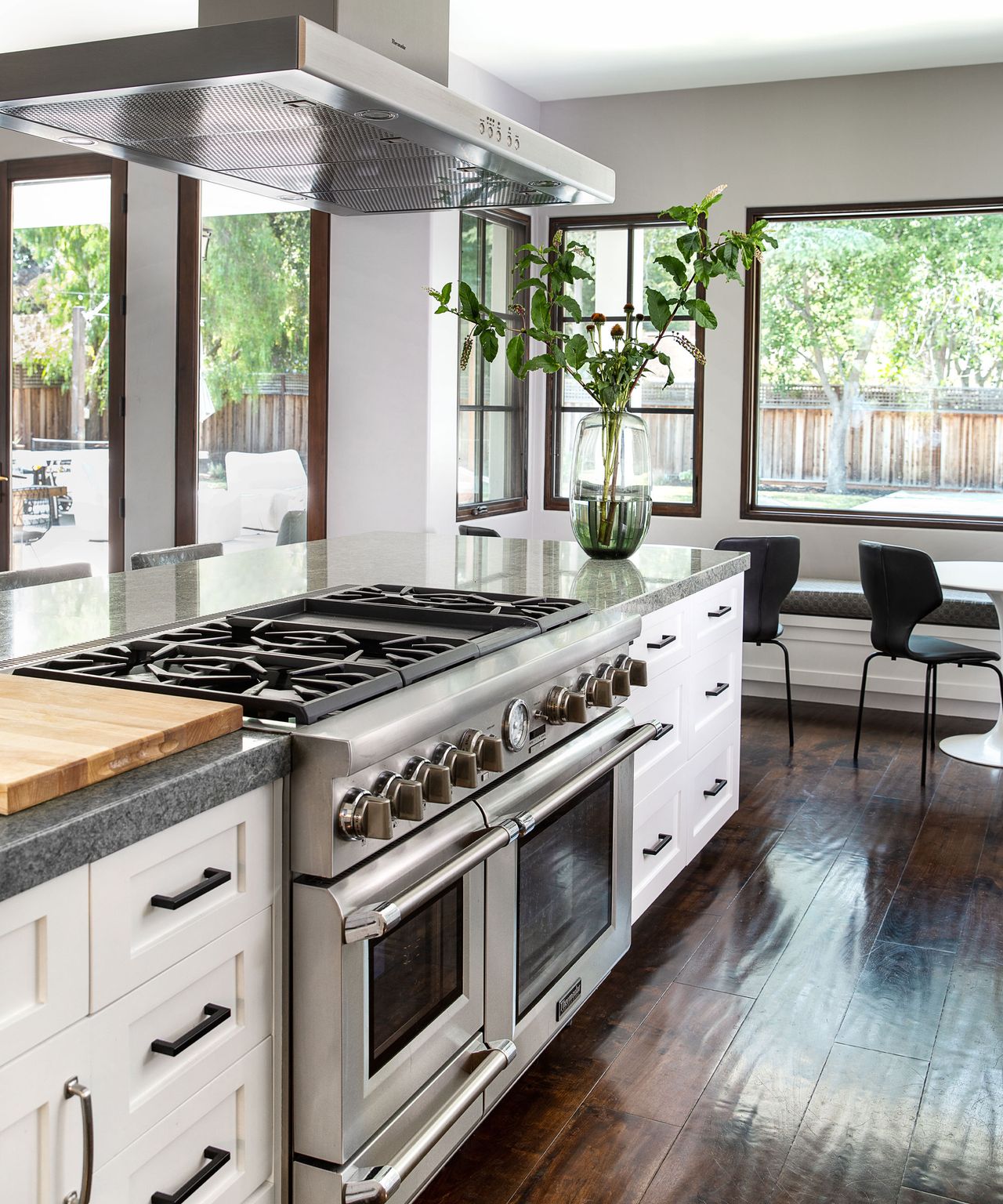 In this kitchen, designed by Susie Novak Interiors, the island has been innovatively planned to incorporate a large stove.
Not typically what you would associate with kitchen island storage ideas, carefully considering where to put larger appliances in your space, and properly looking into the ergonomics and layout of your kitchen, will ultimately help you to use the room to the best of its ability. 
The owners of this property decided when organizing their kitchen ideas that the large stove was best positioned in the central island, facing them as they look out onto their open-plan kitchen-living space.
Your kitchen island storage ideas do not just have to be about storing tableware and smaller objects, why not make the most of a larger space and incorporate essential appliances.
5. Create a large low shelf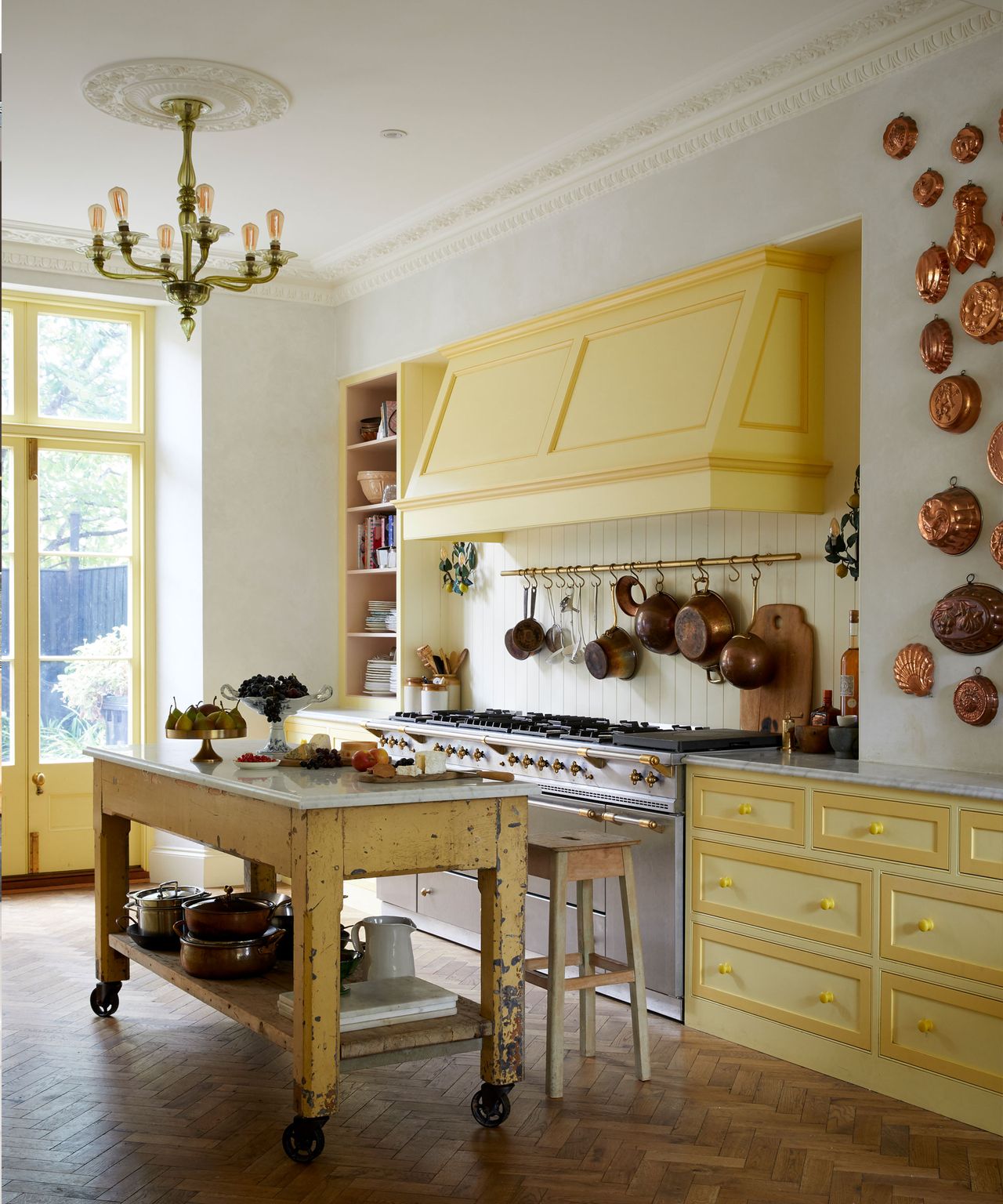 Island countertops are often one of the largest surface areas in the kitchen, therefore creating an open island base and including a low large shelf that mirrors the size of the countertop can create a practical storage and display area. 
In this chic, modern country kitchen, the rustic wooden island has a low level shelf that beautifully displays traditional cookware. 
When organizing kitchen shelving ideas, creating a large low shelf on your kitchen island is an innovative feature that frees up valuable cupboard space.
6. Elevate your island cabinetry with decorative designs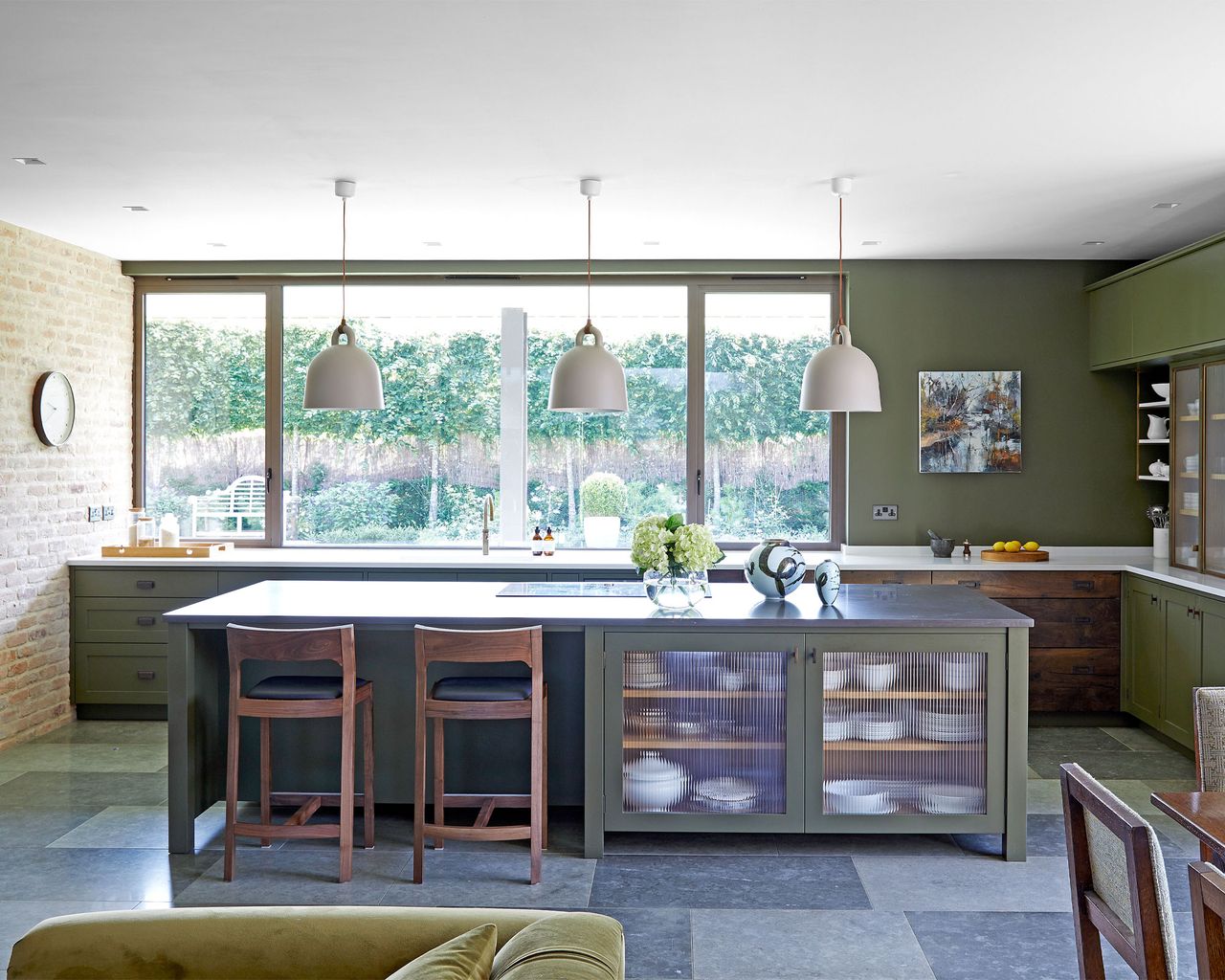 A kitchen island always benefits from cupboards to create efficient, hidden storage areas for plates, cookware and other everyday kitchen items. 
To add a stylish element to these practical island features, why not get creative with paint, color and material. 
In this calming green kitchen space, the large island cupboards have been finished with beautiful reeded glass doors. A simple yet elegant decorative touch, the glass detailing adds inviting texture and material to the wooden design, as well as making the cupboard more than just a purely functional kitchen feature. 
'Practically, glass fronted cabinets work wonderfully for storage ideas, they will help keep you and your cupboards neat and organized, as what sits within is constantly in view. Reeded glass is also a great option if you want to slightly conceal what is inside,' says Homes & Gardens' Editor in Chief Lucy Searle.
7. Make your island the central storage space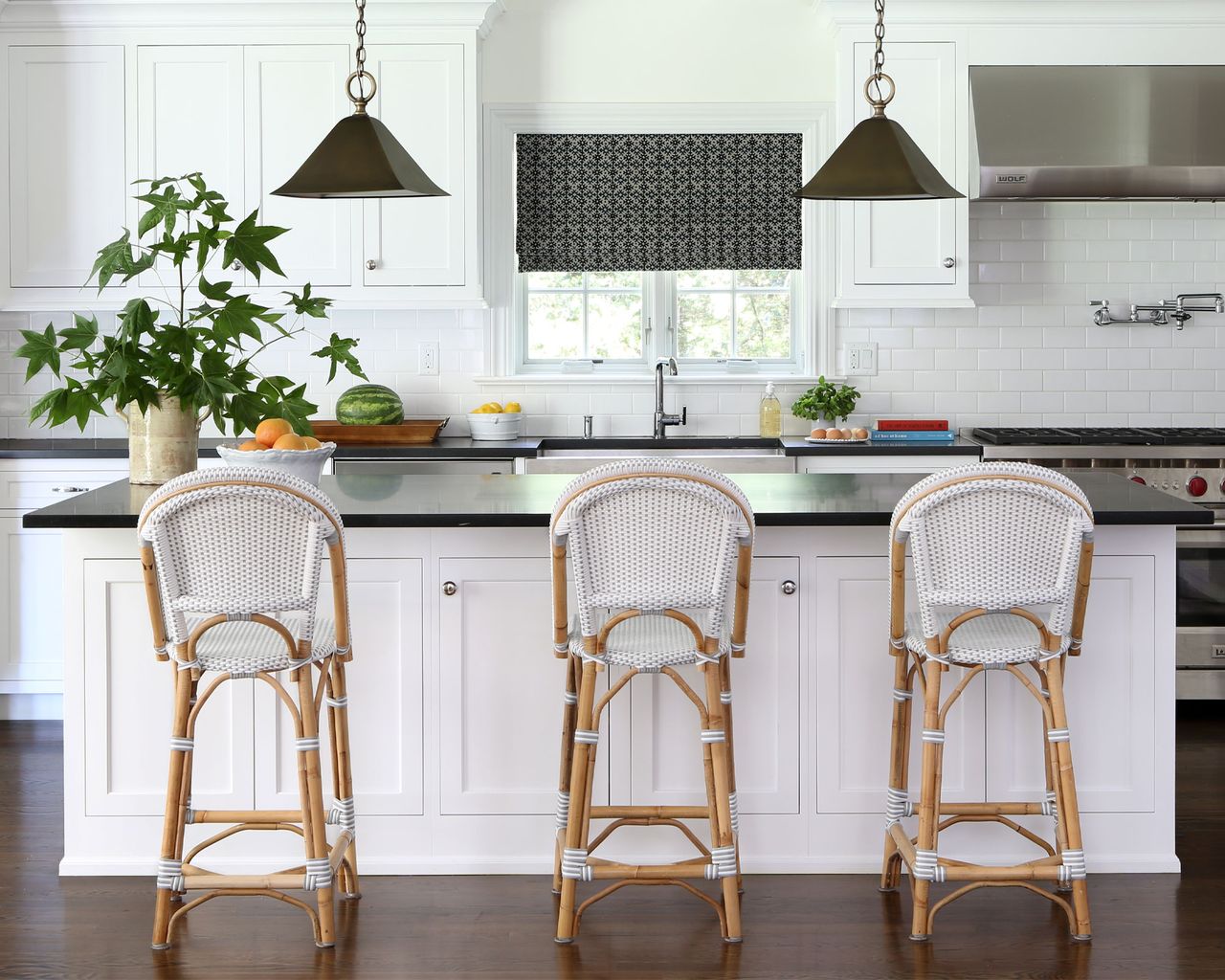 We are so used to kitchen designs with cupboards and storage units on the wall, but freeing up space and making the island your main storage area can transform the look and style of your kitchen.
In this kitchen, designed by Elizabeth Cooper Interior Design, the whole island base has been crafted to contain multiple, large matching cupboards. Elizabeth states that the clients, 'love to cook and often entertain friends and family, they also have extended family come to stay with them quite often.'
Ensuring you have enough space for large quantities of kitchenware and cooking appliances (especially if you love to cook) is key when planning your kitchen design, and an island base can provide the perfect space for an extensive storage area.
8. Store items on top of the island as well as within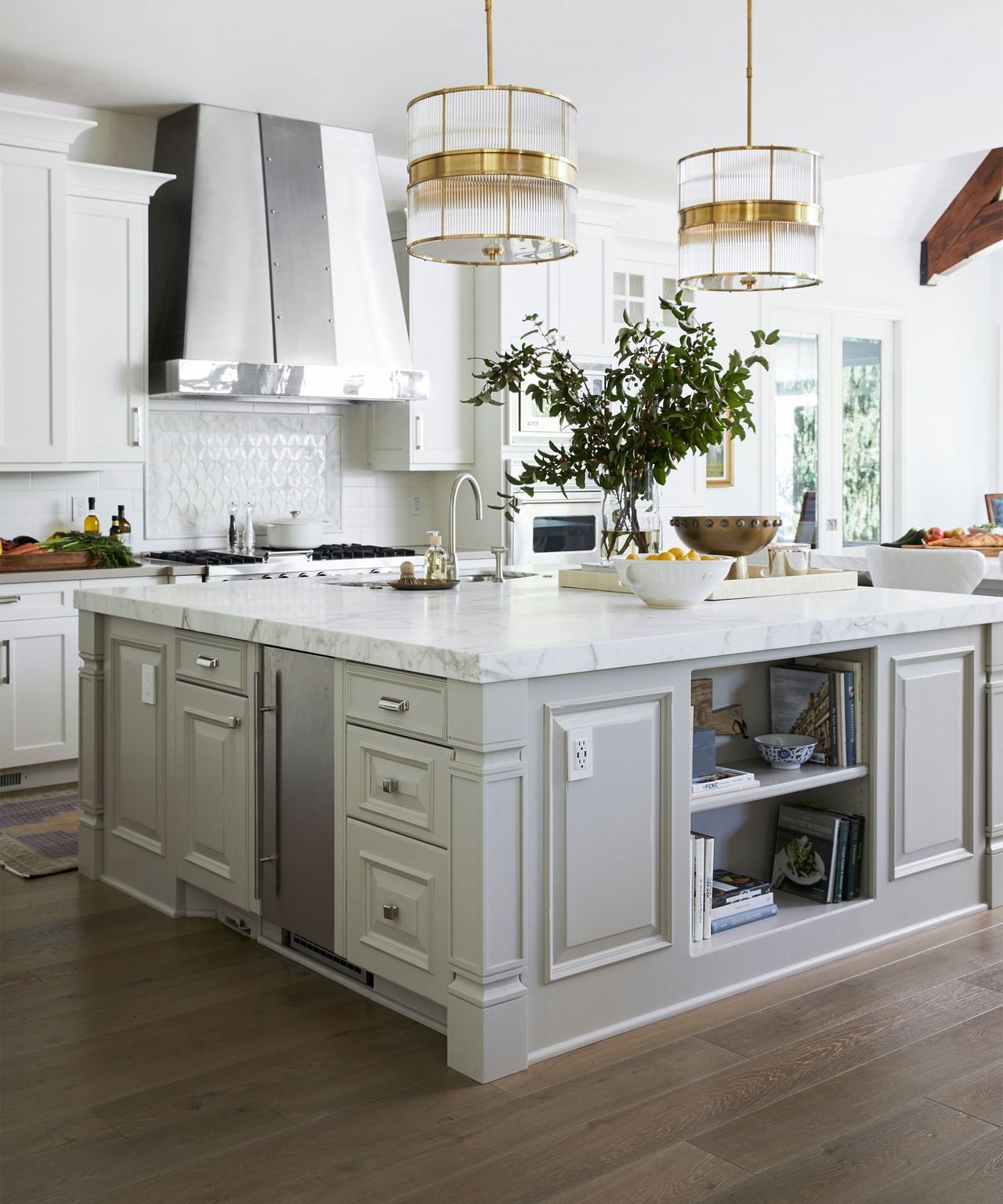 There are certain objects that you will always want on display in the kitchen, whether that is a vintage set of wooden chopping boards or a beautiful, ceramic teapot. 
Of course, the countertop does not want to be the central storage space in your island, but accessorizing and styling the space with a select few pieces can create a personal and meaningful display.
The island countertop is often quite a large expanse, so establishing zoned areas to store certain items can create an organized storage space that enhances the island to feel more homey and unique to you.
9. Create a seamless finish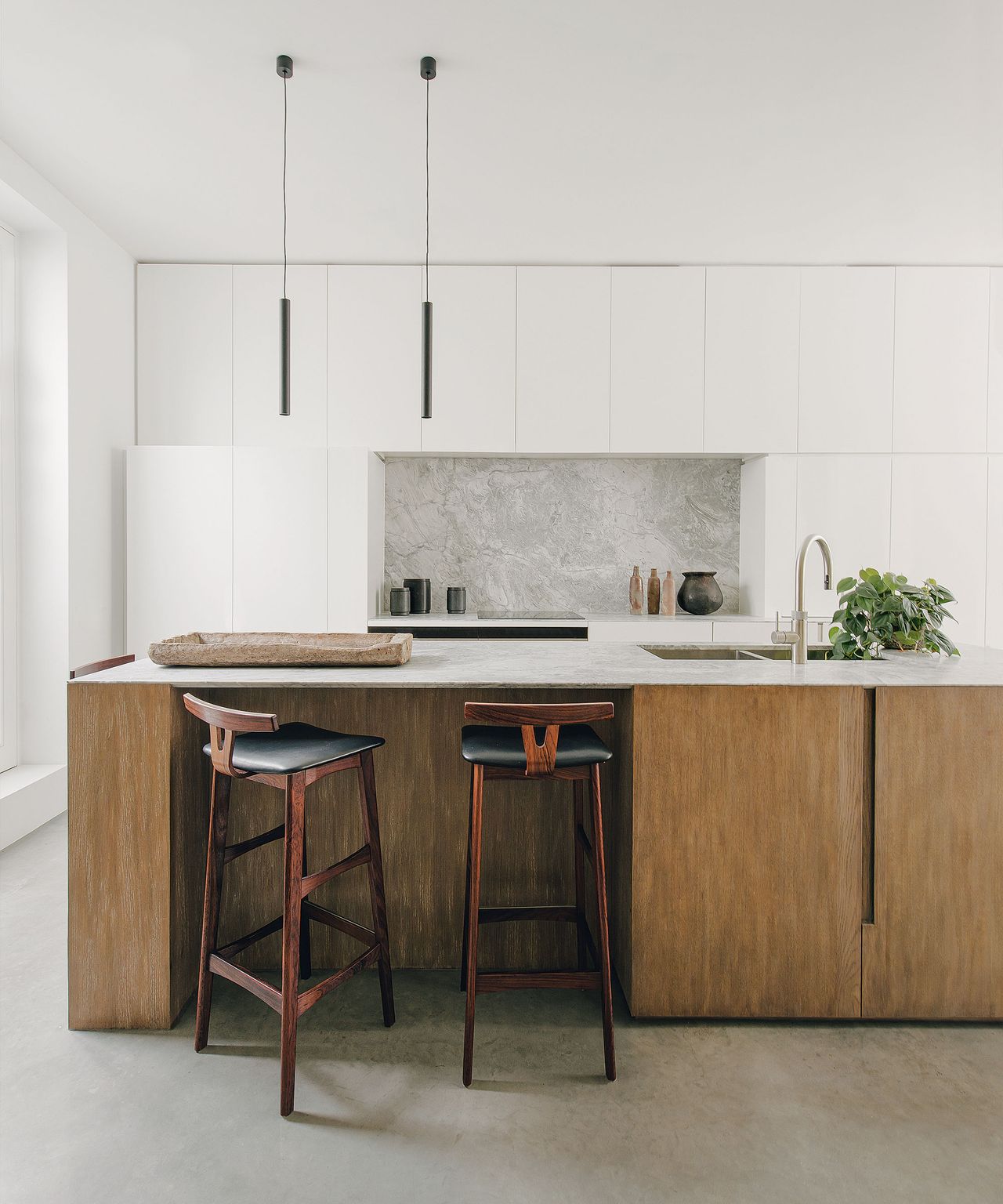 Whether you choose smooth pull out draws, coordinate your island cupboards with the other kitchen cabinets in the room, or design a disguised storage area, creating a seamless finish on your kitchen island can make your space feel well thought out and organized. 
In this modern kitchen, the stunning, dark wooden island base has sleek, built in cupboards that beautifully blend in with the design. Discreet storage solutions are ideal if you want to achieve a minimalist, uncluttered look. The cupboards on this island are almost unnoticeable, with the design crafted to celebrate the intricate and textured surface of the dark wood. 
Cleverly concealed storage designs are great for both small and large island spaces alike, allowing for you to get creative with materials and visuals.
10. Make the most of every inch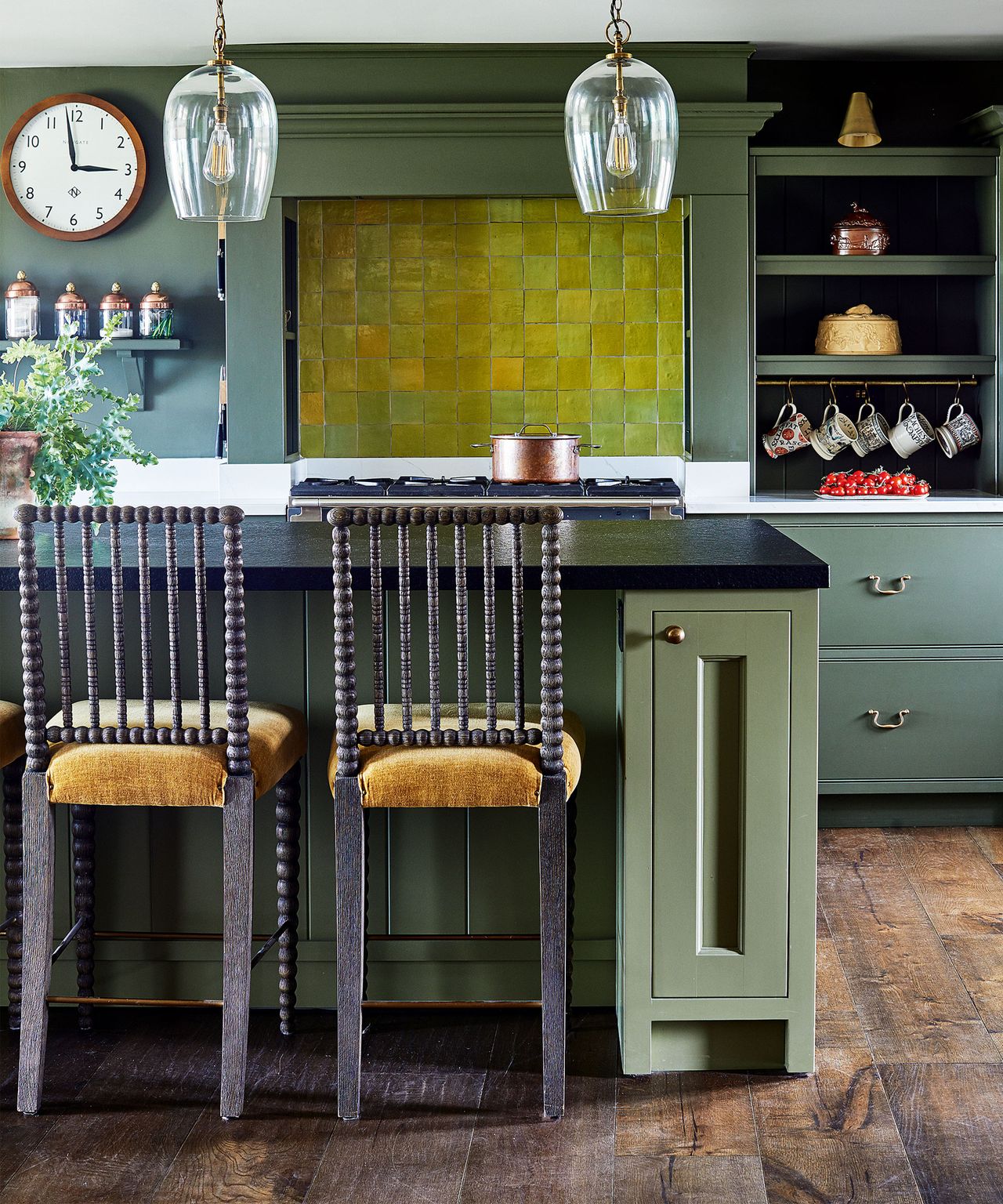 The slim cupboard on this painted island is an innovative way to utilize the empty area beside the counter seating. One to consider if you're planning a small kitchen island, clever draw and cupboard designs will only make your kitchen more functional and easy to use. 
'From a slim rail attached to one end of the island for books, to many draws and cupboards within the base, making the most out of every inch of space can enhance the organization and storage methods in your kitchen,' says Andrea Childs, Editor at Country Homes & Interiors.
How do I add storage to my kitchen island?
If you're designing your kitchen island from scratch, ensure to consider the integration of cabinets, draws and shelves if you want to maximize on storage – one of the biggest kitchen island mistakes is not planning storage and seating.
For bigger designs where larger appliances are involved, consider your kitchen island as a possible location to house these items, really study and work out how you will move around your kitchen and ensure that appliances are placed perfectly for practical use.
If you want to update the storage on your existing island, externally you can add hooks or rails to the base, or, like in the kitchen above, build a bespoke wooden frame and create a stand out storage and display area. 
Also consider for you kitchen island storage ideas the internal organization of the cupboards and draws. Using storage baskets, shelf inserts to create levels and grouping similar products together will make the inside island space feel systematized and ordered.
What should I keep in my kitchen island?
What you should keep in your kitchen island very much depends on how you will be mainly using the space. 
If you want your island to be a central gathering and social area, consider fridges, display points for glasses and decorative objects that will spark conversation. However, if it is mainly going to be used for cooking and food prep, have plenty of cupboards filled with the essential and go-to appliances that are used frequently. 
It is of course completely up to you how you style and fill your kitchen island, but considering the main use of the space will only help in creating an area that isn't wasted and used to the best of its ability.
https://www.homesandgardens.com/kitchens/kitchen-island-storage-ideas