Lily Chishan Wong Named Harry der Boghosian Fellow for 2022-23
4 min read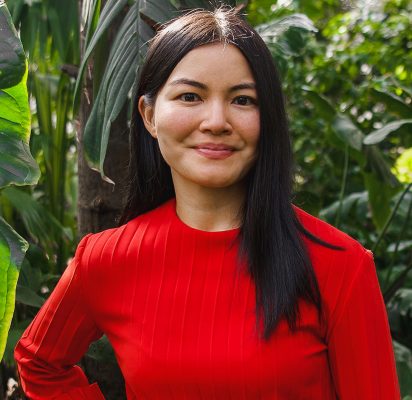 The School of Architecture has announced that architect Lily Chishan Wong is the Harry der Boghosian Fellow for 2022–23. Wong will succeed current fellow Assistant Professor Leen Katrib.
The Boghosian Fellowship at the School of Architecture—established in early 2015 in memory of Harry der Boghosian '54 by his sister Paula der Boghosian '64—is a one-of-a-kind program designed to give faculty members, early in their careers, the opportunity to spend a year developing a body of design research based on an area of interest while teaching at the School of Architecture.
Fellows play a significant role at the school by enhancing student instruction and faculty discourse while supporting both research and the development of research-related curriculum valuable to architectural education and the discipline.
"Lily Wong joins Syracuse Architecture as the seventh Harry der Boghosian Fellow, and like previous fellows she has a strong record of academic achievement, including work as an editor and curator. She also brings to the fellowship six years of experience as a practicing architect with expertise in cultural and landscape projects," says Michael Speaks, dean of the School of Architecture. "Our students and faculty look forward to welcoming her and to working with her during her fellowship year."
During the 2022–23 school year, Wong will teach an architecture studio and two professional electives focusing on her research project, "Producing Nature" that examines the use of vegetation in architecture and its spatial, socio-political and environmental dimensions. During the fellowship, Wong will study the architecture and infrastructure involved in the plant trade network and its multi-scalar registers and planetary effects.
"'Producing Nature' challenges the idealized notion of nature and considers live plants as atmospheric design—grown, shipped and stored globally to be used in architectural production," says Wong. "The goal of this research is to demonstrate how "nature" is produced and speculate on new forms of ecosystem. The project will also foster cross-pollination between architecture and other fields."
Like the six previous Boghosian Fellows, Wong will work closely not only with faculty and students at the School of Architecture but will also explore interdisciplinary collaborations within the University and its various centers and colleges. By emphasizing collective participation and conversation, her research will culminate in the form of an exhibition and interdisciplinary symposium exploring the material culture of the environment.
Wong has worked at the New York-based multidisciplinary design practice, Weiss/Manfredi, focusing on museum projects and site design. Licensed in New York state since 2019, she is a current member of the National Organization of Minority Architects and the America Institute of Architects. In addition to professional practice, Wong has taught at Columbia University and the University of Arizona.
Previously, Wong completed her master of architecture degree from Columbia University GSAPP, where she received the Award for Excellence in Total Design, the Lucille Smyser Lowenfish Memorial Prize and the William Kinne Fellows Traveling Prize from Columbia, as well as the Kohn Pedersen Fox (KPF) Traveling Fellowship from the KPF Foundation and the Fred L. Liebmann Book Award from the New York Society of Architects.
At Columbia, Wong was co-founder and co-editor of : (pronounced "colon"), a publication and workshop about the rhetoric and media that constitute the discipline of architecture. The collective was part of NEW INC, the first museum-led cultural incubator and an initiative of the New Museum in New York. Between 2015-17, Wong and her team's work was exhibited in various international venues.
Wong also holds a bachelor of fine arts in architectural design from the Parsons School of Design and a bachelor of arts in philosophy from the Eugene Lang College of Liberal Arts at The New School. Her research interests in water infrastructure and constructions of nationhood were supported by the Michael Kalil Endowment for Smart Design and the India China Institute.
"The Boghosian Fellowship will be a remarkable opportunity for my intellectual and professional growth. I am inspired by the School of Architecture's innovative and rigorous curriculum and am delighted to collaborate with Syracuse University's distinguished community of students, scholars and scientists," says Wong. "My project seeks to engage various disciplines and to enrich the ongoing, urgent conversations about designing the environment. Syracuse will be an incredible place for me to learn, to teach, and, ultimately, to initiate positive changes to our field."
The Boghosian Fellowship has helped the School of Architecture attract the best and the brightest emerging professors. Previous fellows include Maya Alam (2016–17), Linda Zhang (2017–18), James Leng (2018–19), Benjamin Vanmuysen (2019–20), Liang Wang (2020–21) and Leen Katrib (2021–22).
To learn more about the Harry der Boghosian Fellowship, visit this page on the School of Architecture's website.
Lily Chishan Wong Named Harry der Boghosian Fellow for 2022-23