Outdoor kitchen ideas: 10 ways to embrace alfresco cooking
9 min read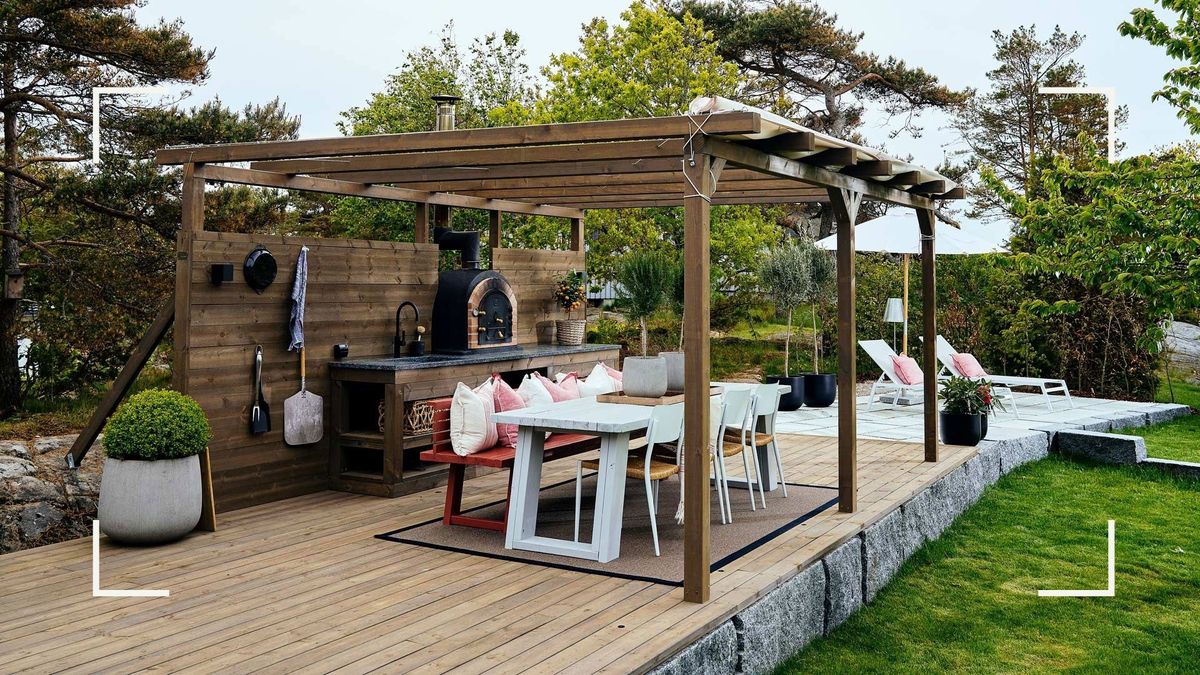 Outdoor kitchen ideas are a must if you're planning on updating your garden this summer to make alfresco cooking and dining a focal point of your design.
While the trusty kettle barbecue was once the go-to piece of kit, alfresco cooking has moved up a level and now a fully-functioning outdoor kitchen with all the mod cons is not only one of the top kitchen trends for 2022 but it's one of the top garden trends of 2022, along with outdoor living rooms, to extend indoor living spaces outside.
An outdoor kitchen means you can say goodbye to being stuck indoors cooking on a hot summer's day and allows you the freedom to prepare meals out in the open air to chat, throw garden parties and socialize with guests while you're cooking up a storm.
We've consulted expert outdoor kitchen designers to find out everything you need to know about how to incorporate outdoor kitchen ideas into your own garden for the ultimate alfresco cooking space…
Outdoor kitchen ideas and designs for your garden
Regardless of the size of your backyard and your budget, putting together outdoor kitchen ideas for your space is achievable in pretty much any kind of outdoor set-up. 
1. Choose the right spot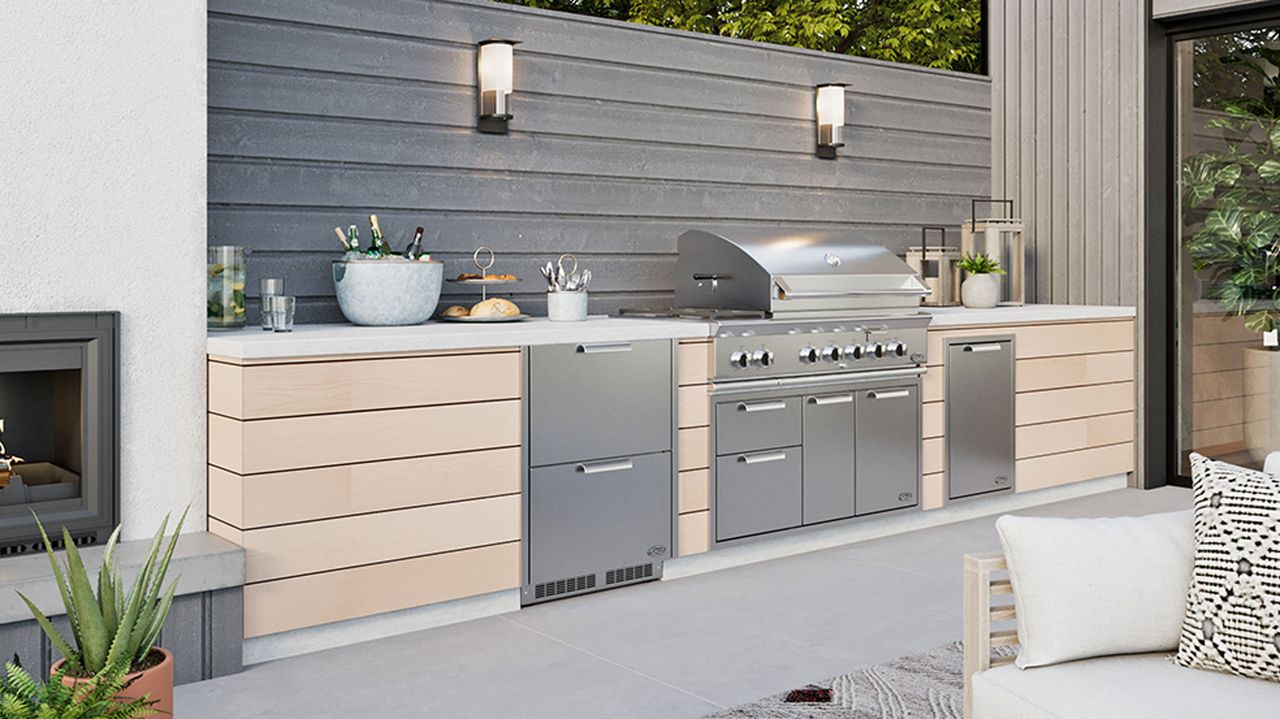 Where you set up your outdoor kitchen will most likely be dictated by the size and layout of your garden or outdoor space. The surface needs to be dry, level and stable – such as on a decked area or paved patio. This could mean that some prep work will need to be done in advance to ensure the plot is ready to build on.
Locating the kitchen close to the house will make transporting supplies indoors and out easier, but it needs to be far enough away so that cooking smells and smoke from an outdoor barbecue aren't constantly wafting into the house. Try positioning the kitchen so that you can make the most of a great view and the garden landscape.
"Find a nice spot in your outdoor space where you have enough room," advises Hege Lundh, at Lundhs Real Stone (opens in new tab). "The outdoor kitchen should not be fully exposed to sunlight, and if possible find the least windy spot."
2. Consider the utilities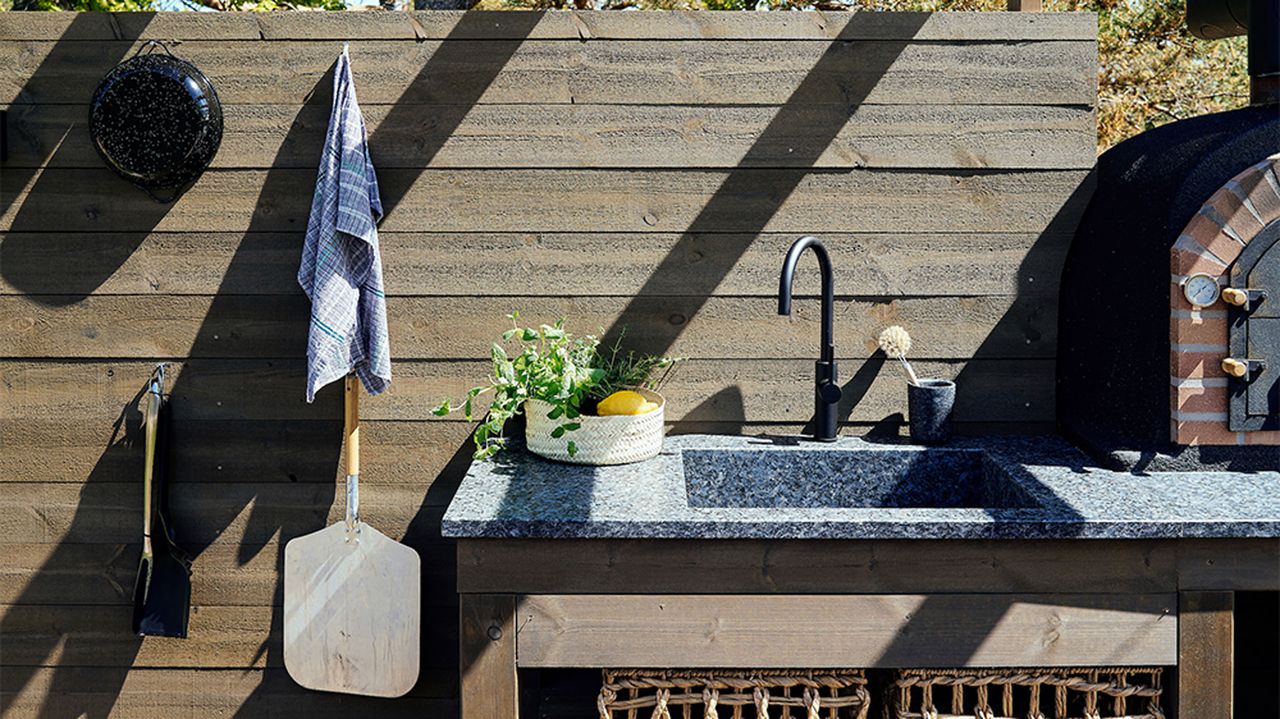 The location you choose for an outdoor kitchen idea will also need to take into account any utilities required, such as water, electricity and gas. Pipes can usually be run underground, but it will be less pricey to run utilities a shorter distance. And professional installation is always advised, so extra costs will need to be factored in for this too. 
3. Think about weatherproof finishes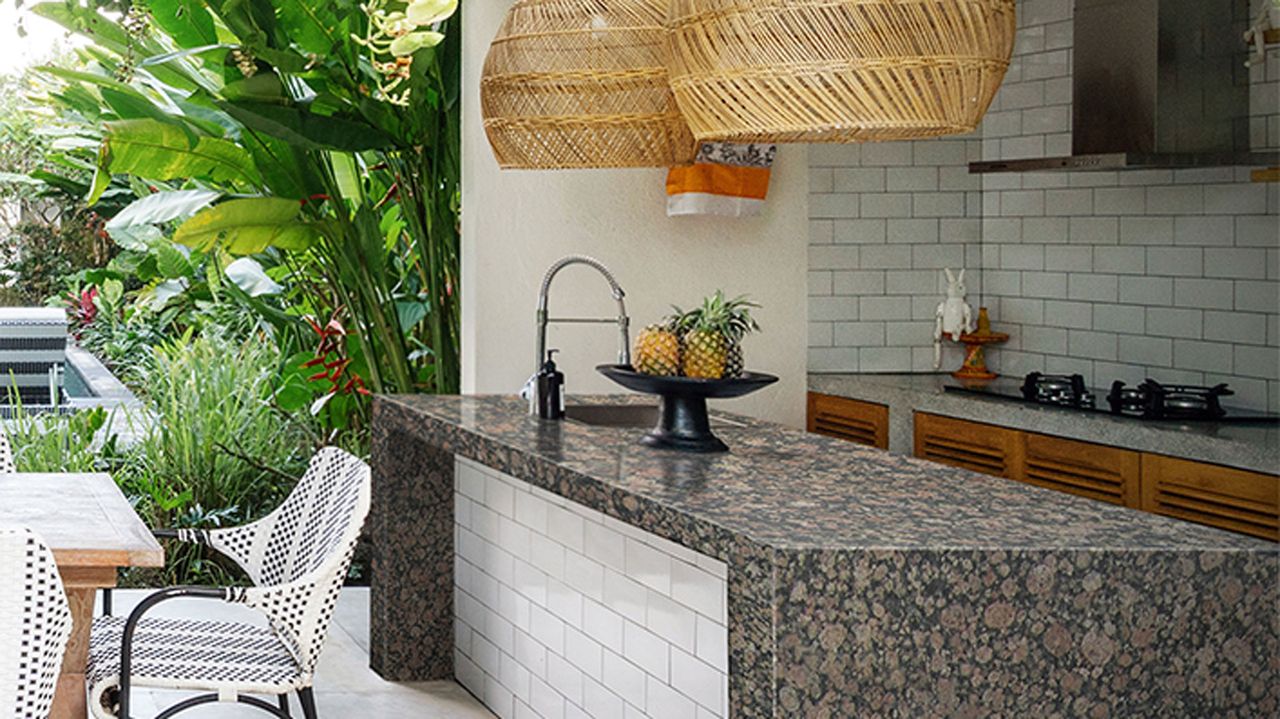 When it comes to outdoor kitchens, it's the surfaces that take the brunt of the weather, whether its intense heat from direct sun to excess moisture from heavy rain – not to mention frost and snow over the winter months. So choosing worktops that are weather-resistant, hardwearing and durable is essential.
Consider natural materials like stone and quartz, which are impenetrable to the elements, or opt for super-tough concrete or practical stainless steel, which won't stain easily or rust in wet weather. All the same qualities you seek for your best outdoor furniture, to ensure that is safe against the elements too.
"The key to a long-lasting outdoor surface is something that will stand the test of time against the elements," explains Hege. So a major consideration is the weather and the climate. "Make sure you choose materials that will withstand changes in temperatures, exposure to the sun's UV rays and also to the moisture of rain and dampness."
"Look for a material that has low porosity, low absorption and resistance to UV. Opt for a material that is easy to clean and is maintenance-free. A completely natural stone will be used to the elements and notoriously only requires very little maintenance – a simple wipe with a damp cloth will suffice!"
In agreement is Oliver Webb, Director at Cullifords (opens in new tab), "The key to durability outside when it comes to material and surface choice, particularly for outdoor kitchens, is something that can withstand UV," he said. "A good majority of granites are suitable for this, and any stones that are not heavily resined are suitable. Generally, surface resined quartzite materials, schists and soft dark granites will fade in color over time in strong UV light so aren't advisable."
4. Opt for a bespoke design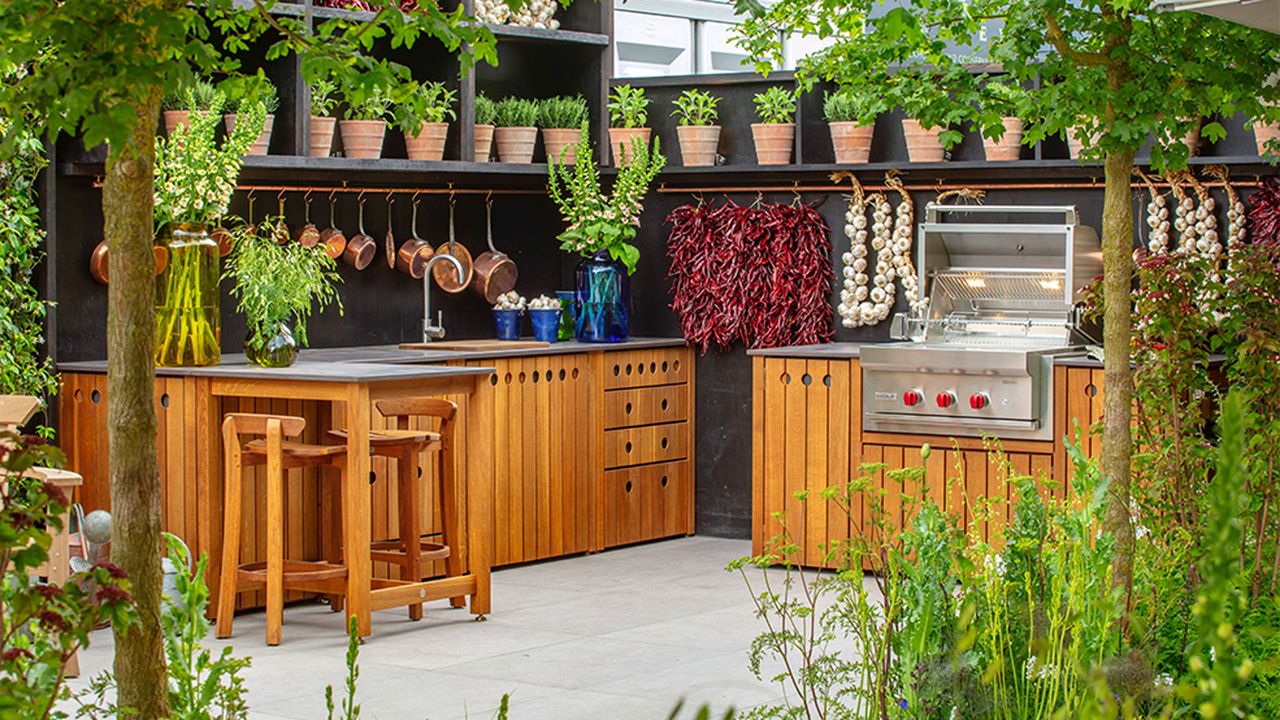 If you're a seasoned outdoor chef and aren't heavily restricted by budget, then consider a bespoke outdoor kitchen. While pricier, opting for a bespoke build means that you can tailor the design to suit your set-up. You get to specify the materials and select all the various elements you require, from worktops and sinks to cooking equipment and appliances, all of which make organizing your kitchen space easier.
"Attention to detail and years of making furniture and watching materials perform outdoors has given us the know-how to create luxury outdoor kitchens that last,'" says Simon Burvill at Gaze Burvill (opens in new tab). "Our units are designed to accommodate all weathers and avoid any moisture traps. We use oak that has been quarter-sawn which gives an exquisite pattern but also ensures the wood won't warp or distort out of shape."
5. Try building your own set-up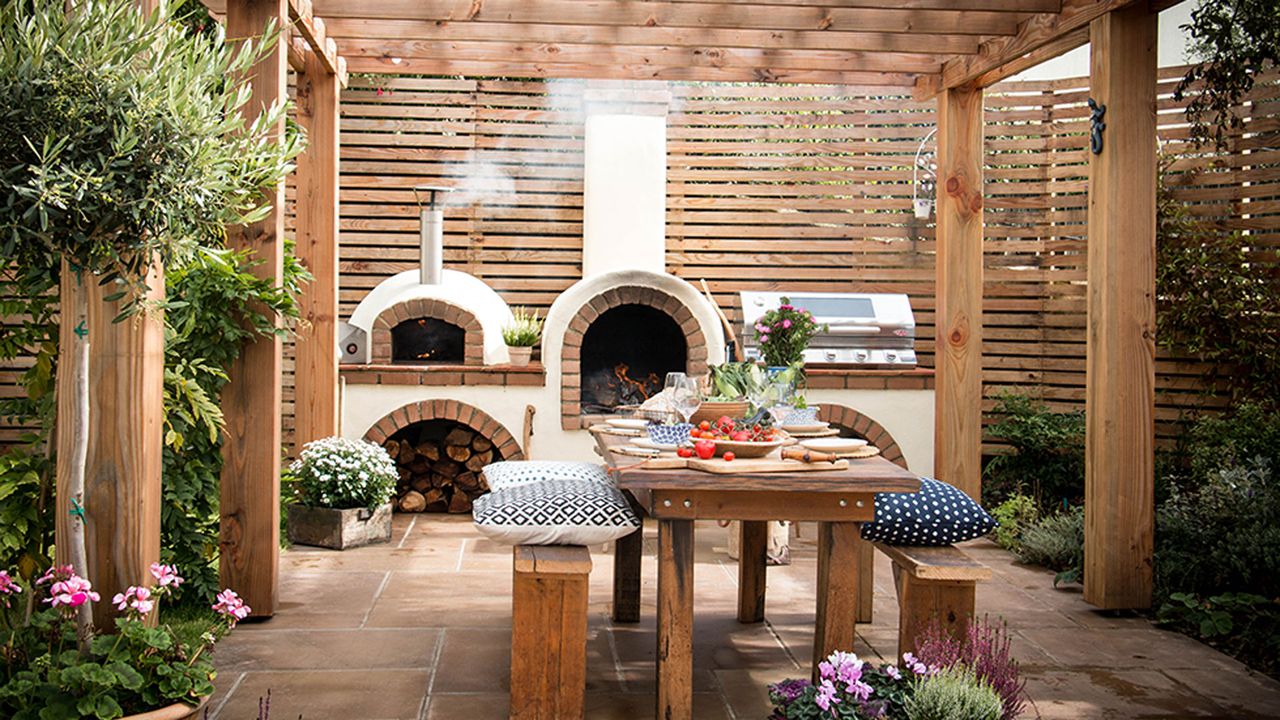 For something truly bespoke and original, consider building your own outdoor kitchen. If you have some basic construction skills and the space for a permanent set-up, a DIY brick-built kitchen is an affordable option and one that can be customized to your exact requirements and layout. 
A basic DIY charcoal BBQ kit with full instructions (not including bricks) starts at around $37.92 by Woodside at Amazon (opens in new tab) or £39.99 (UK -only) at Landmann (opens in new tab). Or consider a pre-built masonry and brick barbecue, from upwards of £900 (UK-only) at Wilko (opens in new tab) or $1,200 by Callow at Amazon (opens in new tab). Just add sturdy countertops alongside your barbecue build to create a rustic, open-style outdoor kitchen.
6. Make it modular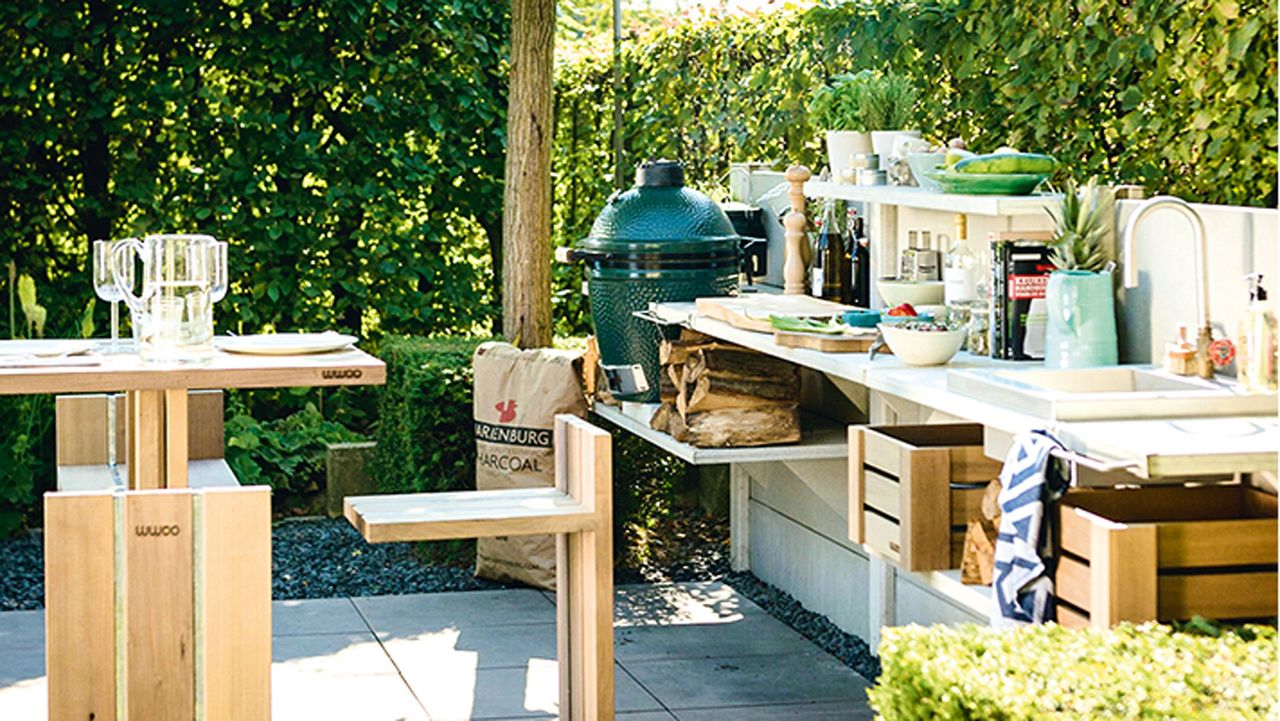 Pre-formed modular kitchen systems are a popular choice that can work out less pricey than fully bespoke built-in options. WWOO's (opens in new tab)outdoor kitchens are made of super-hardwearing concrete and come in 1.5m wide sections, allowing you to start small to begin with, allowing you to later extend the set-up with extra segments. Add-ons include barbecues, sinks, ovens and corner sections. You can even add a kitchen splashback idea to perk up your exterior walls and emulate your indoor set-up.
7. Work out the best layout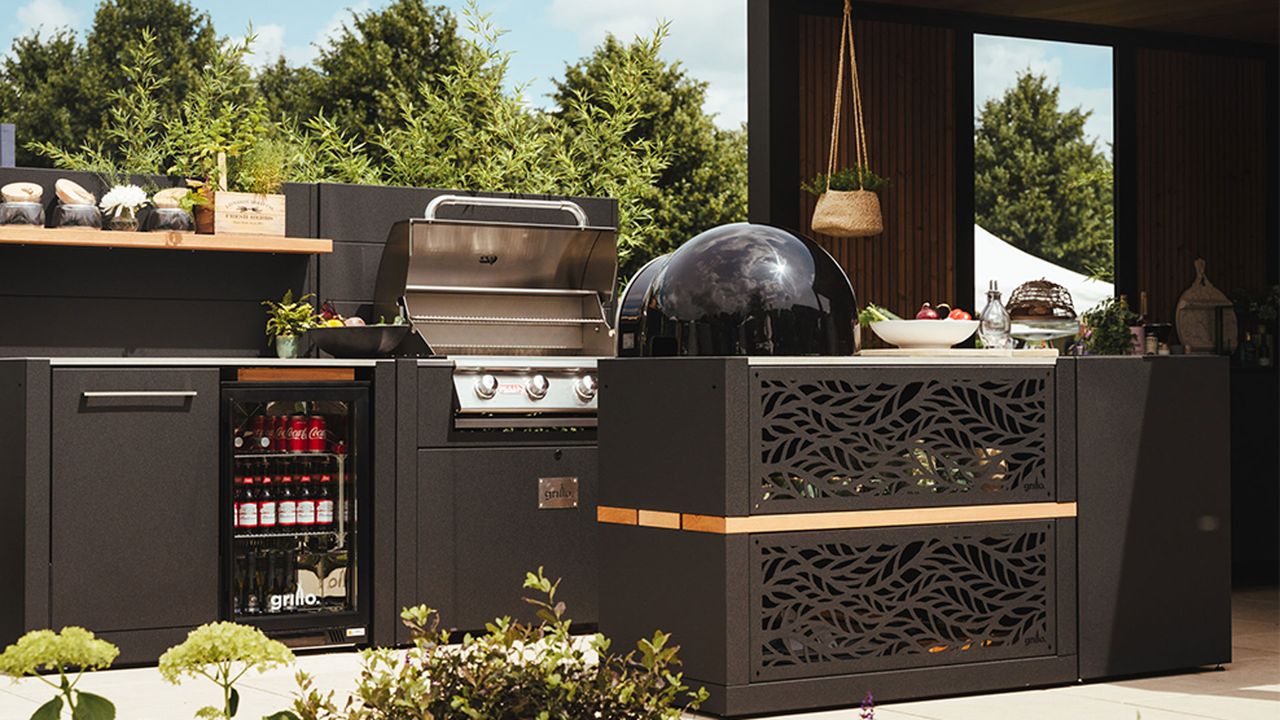 Factor in plenty of work surface and countertop space when you're planning your outdoor kitchen layout. Divide the space up into zones, with areas for prep, cooking and serving, plus storage and a sink unit and outdoor fridge if you have the space. 
Plan your 'work triangle' as you would with a regular indoor kitchen so that the key features of the grill, sink and fridge (or prep space) are all within easy reach. Galley-style units along one wall, plus a central island, is a practical configuration that works well. Or if you have more space, consider L or U-shaped layouts.
Follow the same principles as you would indoors when it comes to organizing kitchen countertops to ensure your outdoor kitchen is as streamlined and efficient as possible. 
8. Factor in shade and shelter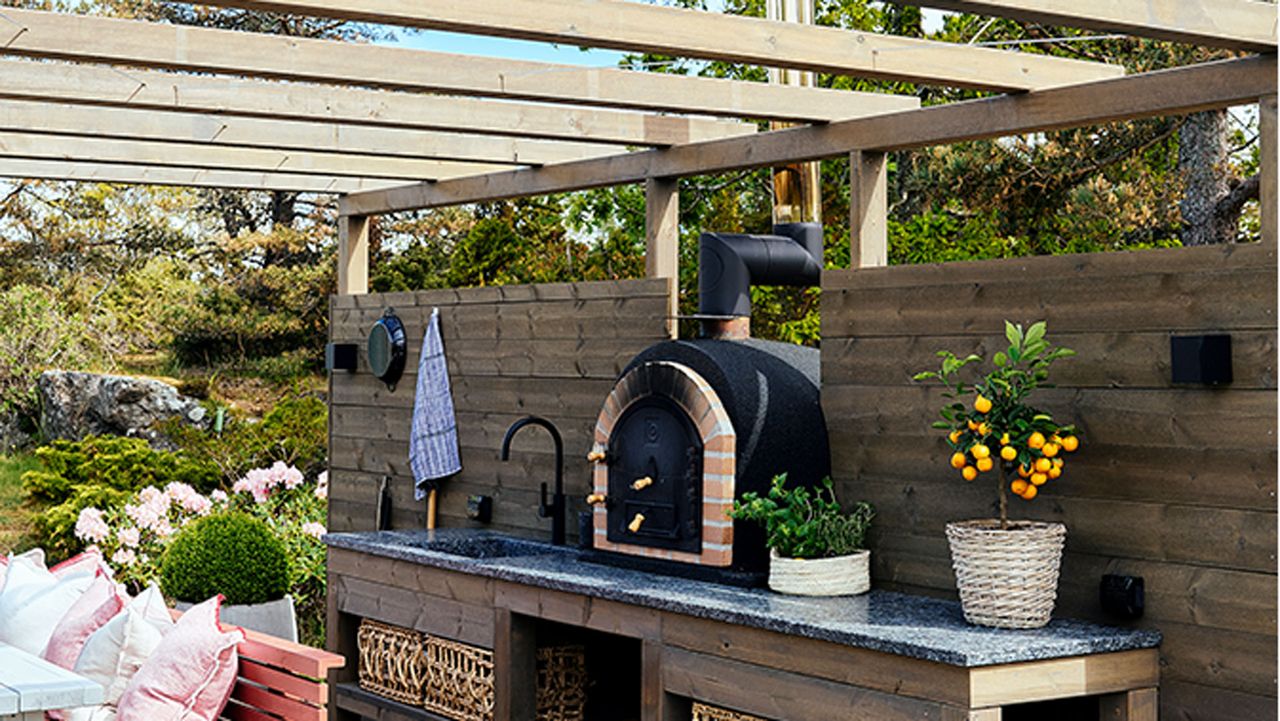 Incorporating some form of coverage to give protection from the elements is essential for any outdoor kitchen and will extend the length of time you get to spend outside while allowing you to keep the kitchen in action all-season long. Mid-day sun can get pretty intense, especially when cooking, so an outdoor shade will help to deflect some of the heat, as well as shelter the area from rain and wind.
Wooden pergolas are an attractive choice for an outdoor area that will provide a semi-sheltered spot and protection from the sun without full coverage. Keeping the area open will aid ventilation, which is essential with outdoor cooking appliances, so that steam, smoke and fumes won't build-up underneath. Training greenery to climb up and over a pergola is an easy way of adding a pretty touch to the structure.
9. Include an outdoor sink in the set-up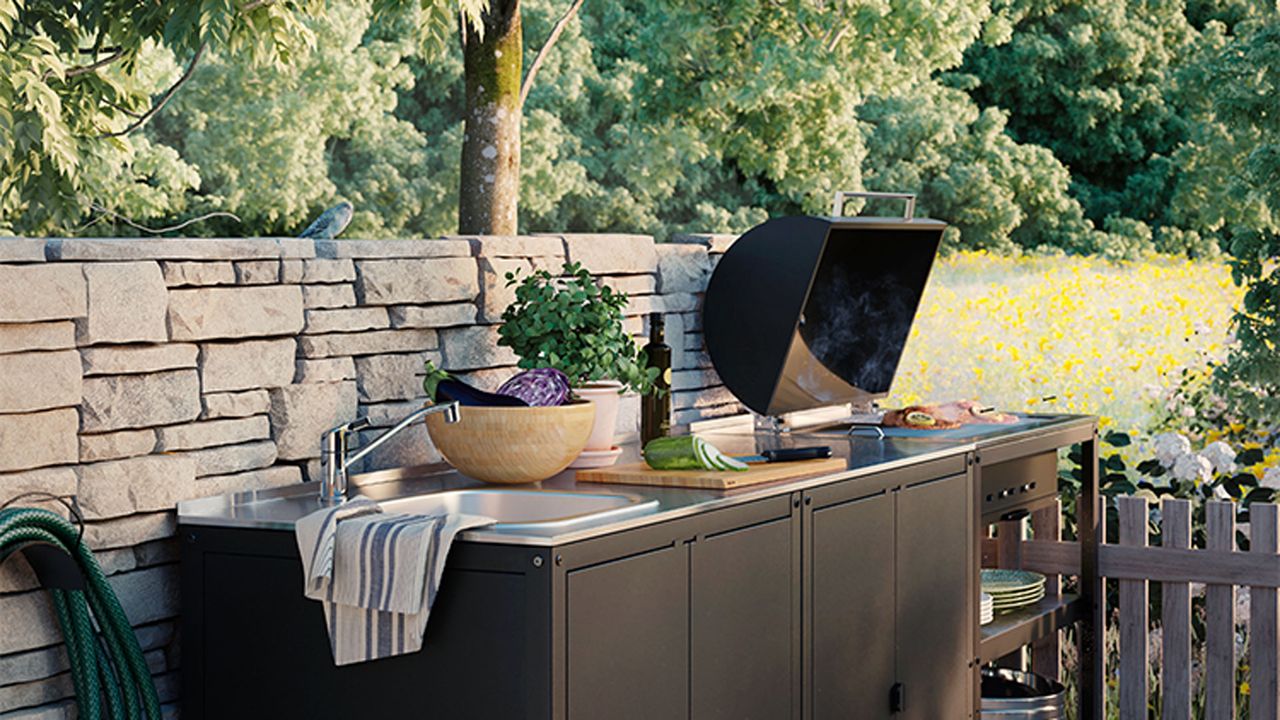 Another must-have that will improve the functionality of your outdoor kitchen to no end, is an outdoor sink and tap. Having a supply of running water will come in super handy for cooking, prep, rinsing and clean-ups, or just for topping up drinks on hot days or when entertaining friends for lunch.
Stainless steel is a practical and ever-popular option that will resist corrosion, erosion and staining. Simply read up on how to clean stainless steel to ensure your outdoor sink stays in tip-top condition. Alternatively, consider natural materials, like stone and granite with sleek integrated worktops in the same material. Seamless surfaces are easier to keep clean as they won't harbor dirt and germs in gaps or crevices. 
Whichever material you choose, look for the best ways to achieve streamlined organization under kitchen sink units to keep your outdoor kitchen clutter-free.
10. Organize appliances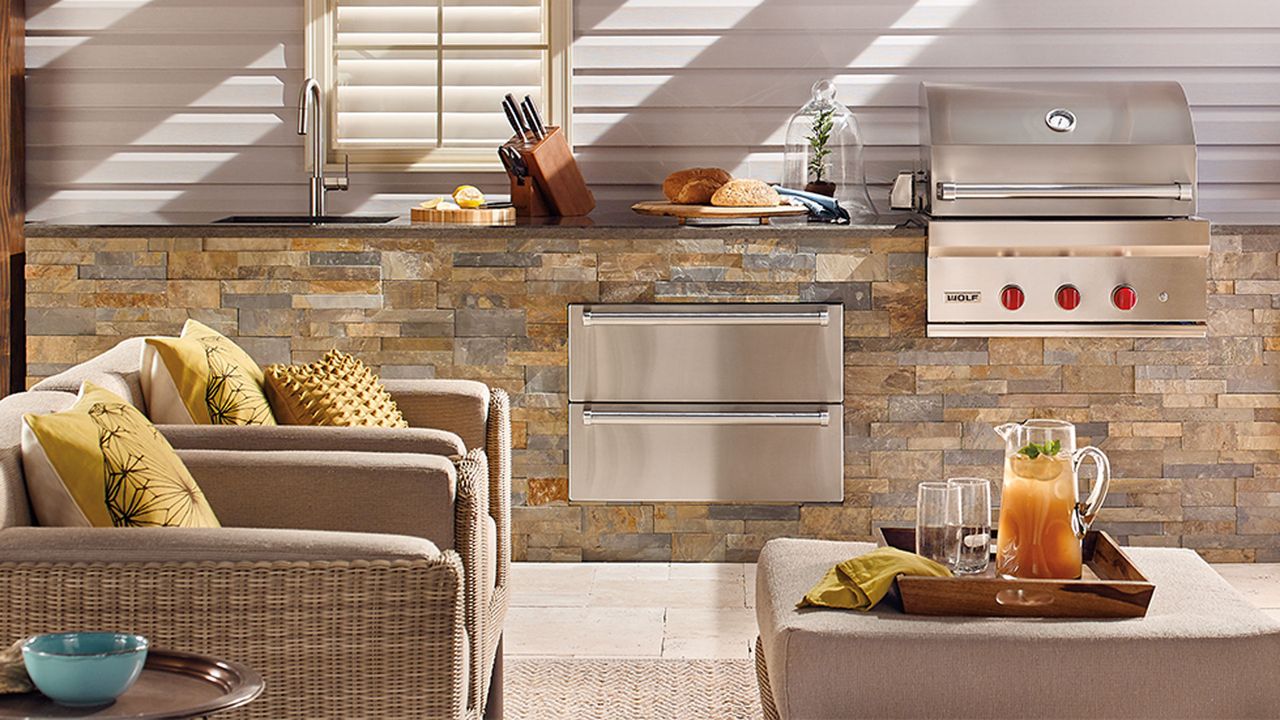 When it comes to planning how to cook in an outdoor kitchen, always start with your cooking appliances first. Whether you opt for a freestanding barbecue, built-in oven, grill and rotisserie, pizza oven, smoker, or a combination of kit, once the cooking equipment has been decided, it's easier to then work in the rest of the kitchen around them.
Cooking equipment should always be ventilated if it's to be sited under a covered or partially-covered area, while outdoor appliances like fridges and dishwashers should be installed underneath countertops to shade them from the hot sun.
Brush up on how to clean a BBQ and grill so your outdoor kitchen remains spotless after every use. 
What features should you include in an outdoor kitchen?
"When planning your outdoor kitchen space, really sit down and have a good think both about how you plan to use the space," says Simon Burvill. "How many cooks will tell you how much worktop space to factor in, and a good cruise around your indoor kitchen will help you make a thorough shopping list of the things you will want. Some are objects: a warming oven, or drinks fridge, and some are more notional, like a Bluetooth sound system, and good speakers, for example. Think about how much lighting will you want: a good lighting design will extend both the hours and seasons that the kitchen can be used for."
"Depending on where you live, the orientation of the kitchen, or at least its position vis à vis the prevailing wind, and shelter should also be considered," adds Simon. "We all love Cornwall, but positioning your kitchen – and dining area – in the lee of a garden wall or even hedge will be helpful, so a blustery Cornish evening doesn't send you scuttling indoors at dusk."
Can I build an outdoor kitchen without planning permission?
"It depends on where you live," says Simon. "Mostly, you don't need planning permission, as long as the outdoor kitchen is on the ground floor, which they usually are! They must follow the usual planning rules of being at least 1 metre away from the neighbour's boundary."
"There are other rules and guidance which are worth a look into too – some areas are sensibly getting strict with air quality, so better to go for a gas grill over a smoky fire pit, or ceramic oven, for example. In all cases, do take care with cinders in drought situations – common sense is key!"
How do I make an outdoor kitchen on a budget?
While bespoke built-in kitchens and some modular designs will require professional installation, DIY brick and timber-built set-ups are a less costly option to consider if budget is an issue and you're handy with a hammer and nails. 
Alternatively, off-the-peg pieces, such as outdoor trollies and flat-pack cabinets can work out less expensive to buy and can be arranged modular-style around a barbecue or pizza oven to create a more flexible outdoor kitchen. These can be bought from all the best outdoor furniture brands and unlike a permanent build, they can be stored away in a shed or garage out of season. 
https://www.womanandhome.com/homes/outdoor-kitchen-ideas-designs/