Renner to give away two duct cleaning packages at Home Show | Business & Finance
3 min read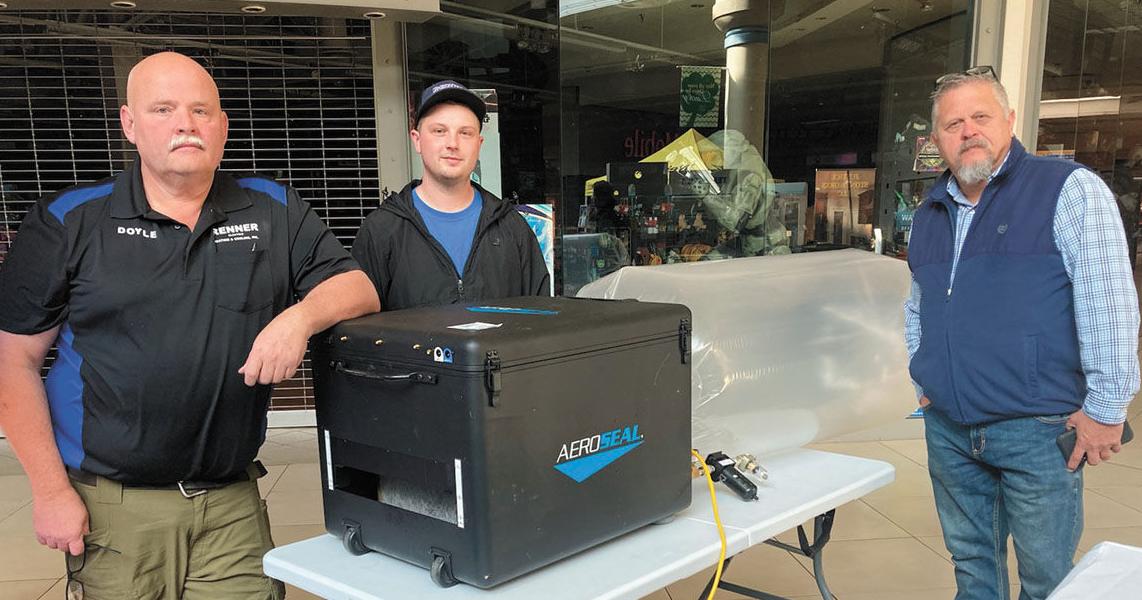 The Citizen Tribune Home Show returns to College Square Mall today.
The show will feature a wide variety of vendors who specialize in everything your home needs this season and more. From lawn care to home repair, from HVAC to hardwoods and renovations, the Home Show brings a plethora of home improvement ideas under one roof.
Among the vendors is Renner Electric, Heating and Cooling, which has joined with Healthy Home Duct Sealing and Indoor Air Quality.
Together, they hope to improve the lives of Lakeway Area homeowners by delivering comfort, healthy air and substantial energy savings.
Areoseal duct sealing technology was created by the DOE and EPA.
Consumer studies show that duct sealing is the most effective thing you can do to save energy costs – more than twice as effective as upgrading your heating equipment and even more than that when compared to insulating your attic or upgrading windows.
Leaky air ducts constantly waste money and disrupt comfort.
After sealing, utility bills could drop by 30% or more. You'll notice improved climate control. Rooms that were formerly too hot or stuffy will now be consistently cool in the summer.
Drafty areas that made you chilly in the winter will be evenly heated. Your home's humidity level will remain within the 30% to 50% range all year long.
The indoor air quality in your home will improve because debris won't be able to enter the sealed ducts.
You'll also notice less noise when your heating or cooling system cycles because holes and gaps in ducts cause a rattling sound.
The sealant fills those tears, which eliminates the rattling and whistling noises that may disturb your sleep. With less leaky air, your home's carbon blueprint will be smaller.
Aeroseal sealant is made from the same, non-toxic material found in baby pacifiers. The whole process only takes a few hour with no cleanup needed.
Best of all, you'll feel the difference immediately and it comes with a 10-year guarantee.
Two residential duct sealings will be given away at the Citizen Tribune Home Show at College Square Mall this weekend.
Sign up to win at the Renner Heating and cooling booth and the other will be the grand prize from the Home Show.
For more information and a free quote, call Healthy Home Duct Sealing and IAO at 423-312-4777.
Tribune Marketing Director Mike Walker noted Mall hours are 11 a.m. until 7 p.m. Friday and Saturday and noon to 6 on Sunday.
"We have a good variety of home improvement vendors that stretch from Kohls to beyond Great American Cookie Company" Walker said. "Vendors include siding and windows, mowers and tractors, guttering to roofs, heating and cooling to electric to construction, flooring and cabinets to real estate and home insurance and much more.
"As with all the previous home shows put on by the Citizen Tribune, there will also be grand prizes given away. We're happy again this year to give away a $250 Home Depot gift card, $250 cash and a duct sealing and IAQ from Healthy Home – a $2,500 value."
There will be entertainment on Friday evening with Saved Thru Faith performing from 5:30 to 6:30 p.m.
On Saturday, from 3 to 4 p.m. the Lakeway Community Worship will perform.
"I'm happy to say we will have a few favorite home show vendors back this year," Walker said. "The Home Show has become a really good tradition for the Lakeway Area."
https://www.citizentribune.com/news/business/renner-to-give-away-two-duct-cleaning-packages-at-home-show/article_c7d180d8-a15f-11ec-9adf-a7310aa3cb57.html