UFO-shaped residence designed by a frank llyod wright apprentice now up for sale
2 min read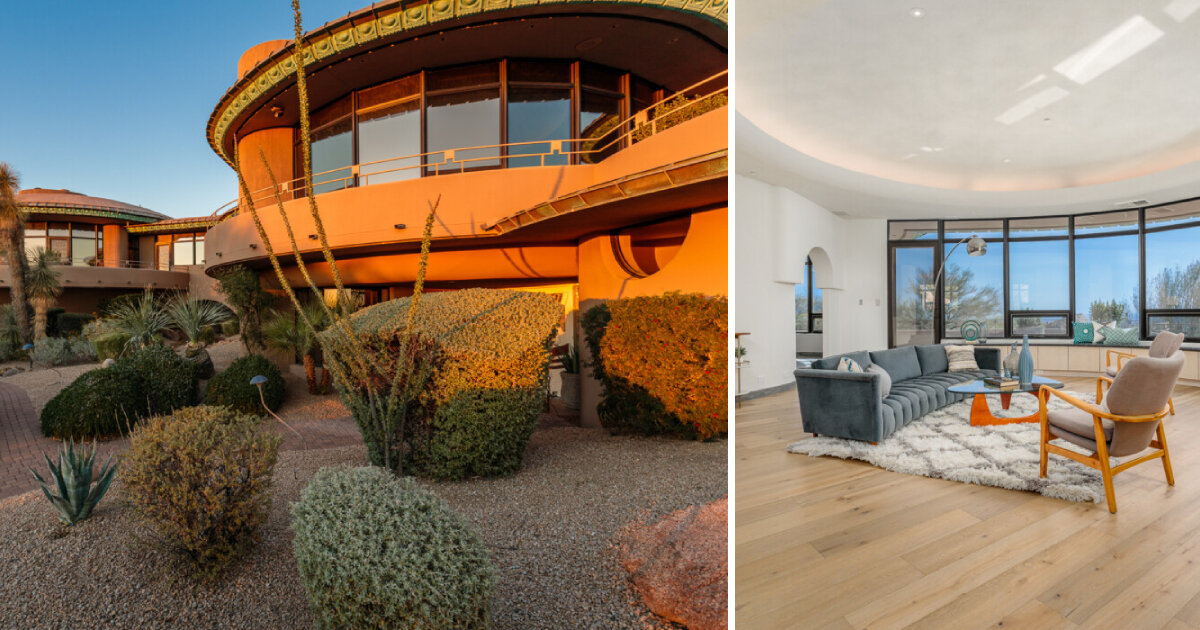 Frank Lloyd Wright nuance
Designed by a Frank Lloyd Wright apprentice and Taliesin Architects co-founder, John Rattenbury, the Charles and Alta Myers Residence – priced at  $5,995,000.00 – remains rooted in the principles of organic architecture, a nuance that Wright lived by in his design ethos. The residential architecture is located in the Desert Highlands community of North Scottsdale in the US, which seems to grow out of the hillside as it forms a bond with its surroundings.
Wright's protégé followed his instinctive acumen to lay the groundwork of the home via continuous curves that nestle into this boulder-strewn nature at the foot of Pinnacle Peak. At approximately 10,000 square feet, the design displays multiple roof forms to break up the spaces, all shaped like plates of spaceships, and to lend the residence a sense of individuality in sheltering people within its den and along the landscape it is embedded in.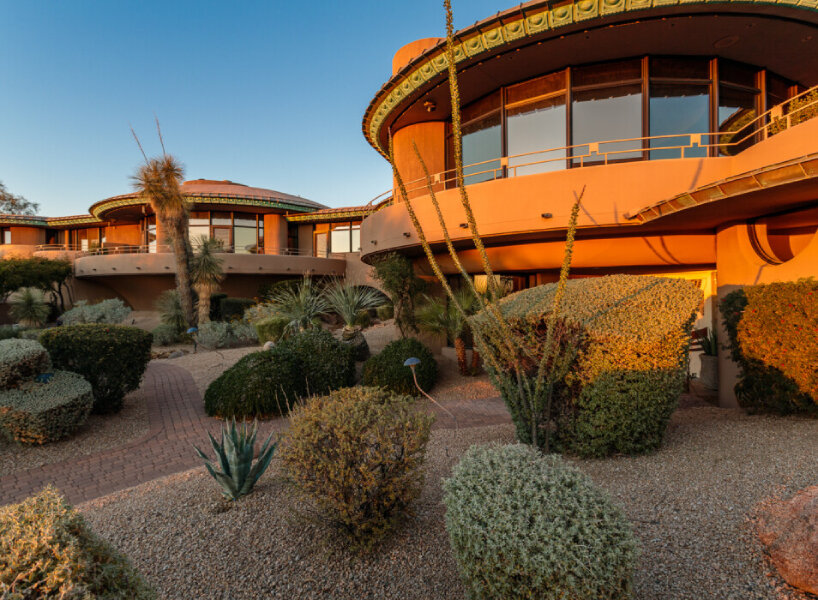 images from azarchitecture
details of the desert
Decorative details reflect the shapes, forms, and colors of the desert with the sand color helming the entourage. The home appears to be timeless and one-of-a-kind through its design history, as the sellers put it.
The home offers generous spaces that include an owner's suite, guest rooms, an in-house guest suite, a workout room with a sauna, offices, entertaining spaces, formal dining, family and living rooms, and a separate, freestanding guest house.
The pool area stuns guests with its boulders additives that add up to the drama of the design. A full outdoor kitchen area, shower, and pool bath complete the swim-side cabana shelter.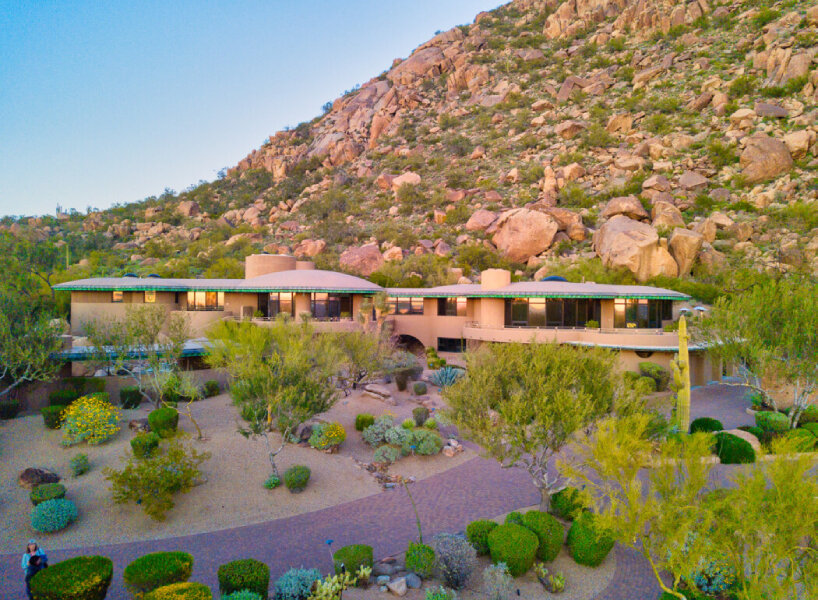 UFO-shaped residence designed by a Frank Llyod Wright apprentice now up for sale
Organic architecture
'On-site, the house offers extensive parking for five and then some. With widely abundant storage and shop space.  The custom, gated lot is very private where the gentle hillside conditions allow for sweeping views of the Valley and uninterrupted sunsets,' the sellers share.
In addition to its organic architecture and commanding site, the decorative elements – such as stained glass, doors, and other interior details – were all custom designed by Taliesin Architects and associated artists. A specially patented copper-colored frieze graces the roof edge, providing a unique accent, while the rooflines and massing are reminiscent of the natural surroundings.
The sellers say that the residence has never before been offered for sale. 'Recently refreshed with complete respect to the original design, you'll find contemporary materials that include wood floors, custom stone, fresh paint, carpet, updated faucets, appliances, and more,' they share.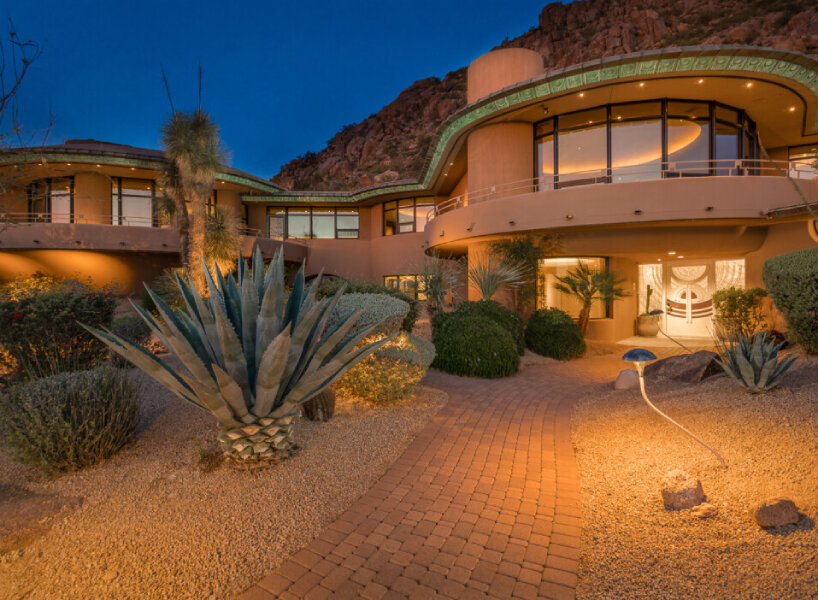 sand-colored residence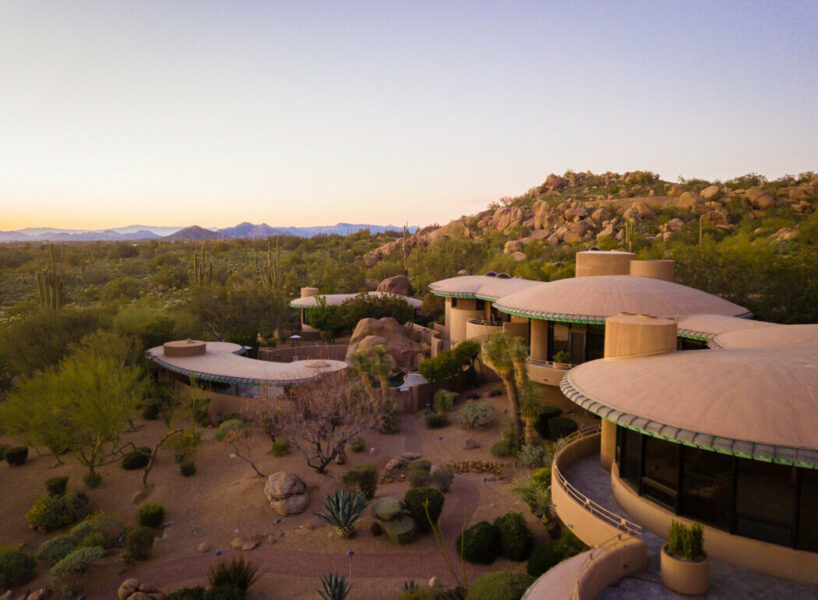 aerial view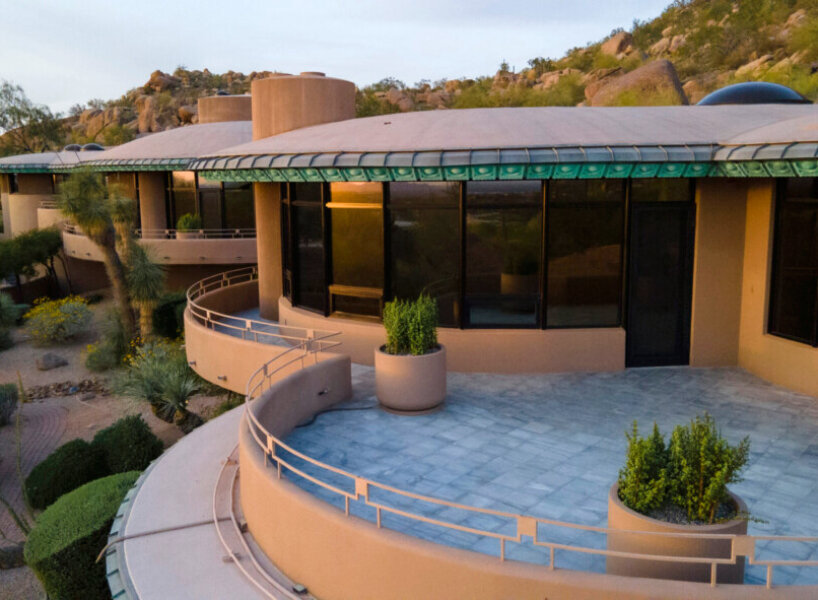 the design considers 'invidivual shelters'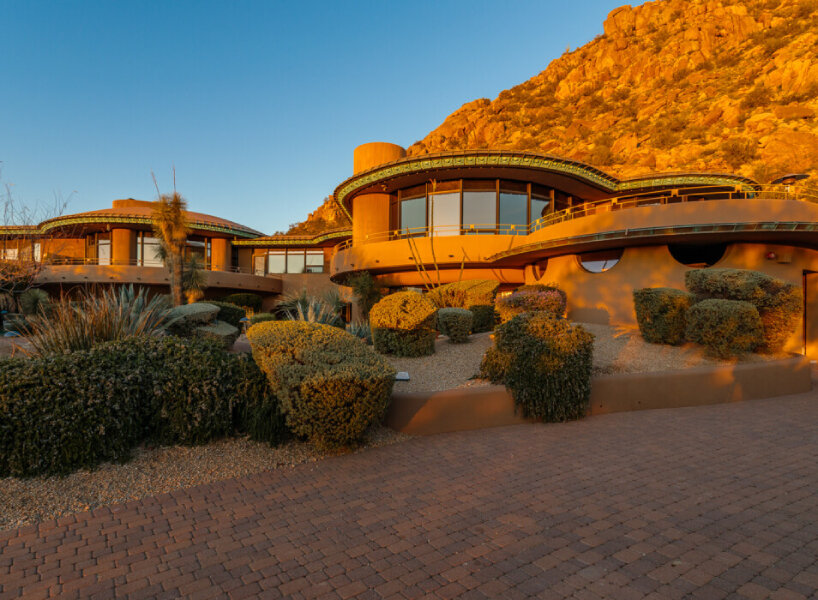 sunset makes its color form part of the surrounding nature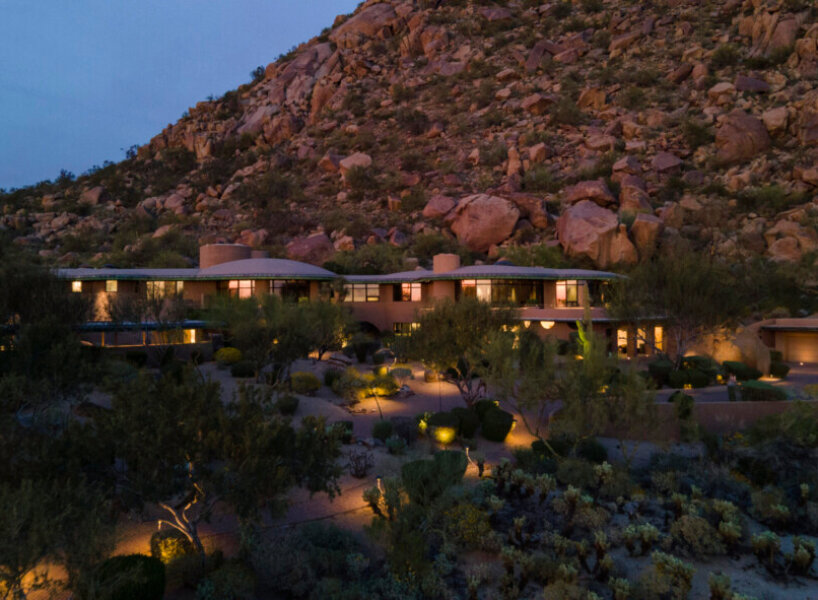 night view
project info:
name: The Myers Residence
architecture: Taliesin Architect John Rattenbury
location: Scottsdale, Arizona
size: 10,000 square feet
area: Desert Highlands
lot Size: 3.826 Acres
age: 1991
bedrooms: 5
bathrooms: 9
garage: 5 Car Garage
matthew burgos | designboom
may 19, 2022
UFO-shaped residence designed by a frank llyod wright apprentice now up for sale